One of the most controversial officials who worked at the top positions at Pakistan International Airlines in the last decade has resigned. It is probably an end of a saga, as the infamous and controversial ex-Chief Financial Officer of PIA was allowed to leave. PIA Chief Human Resource Officer Air Commodore Amer Altaf sent a letter to Nayyar Hayat accepting his resignation. Nayyar during his tenure at PIA was subject to numerous inquiries, both internally in PIA and externally with FIA, but was living off-court injunctions.
Nayyar fled the country last December after obtaining leave from the court. His social media profile suggests that he was working for XCell Business Managment as accountant from May 2018 to February 2020. This is the time period when he was also working for PIA. Nayyar was removed from the position of Chief Fiancial Officer on 16 August 2018 and moved to a positon as chief special projects. Later he was removed from that position and worked without a portfolio till he resigned. He continued to draw a salary without doing any actual job from August 2018 to beginning of this year.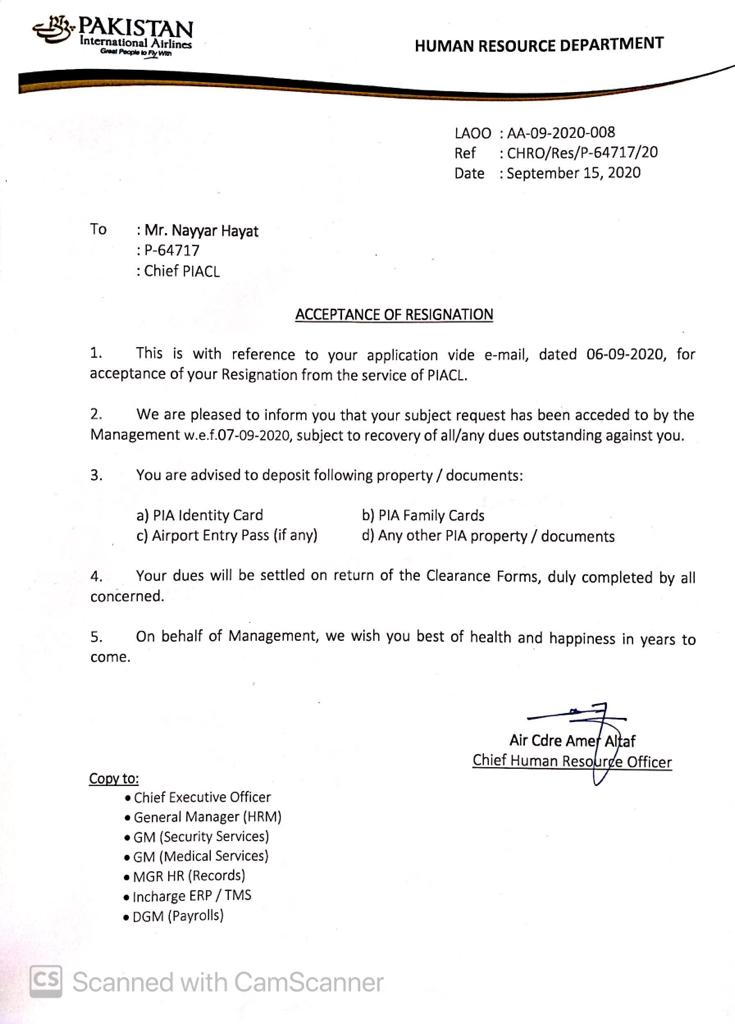 Nayyar Hayat was no stranger to controversy. It depends who you talk to but the common sentiments expressed by people who worked with him mention grit, greed and bran combined with ambition. Before joining PIA he worked at a small firm. In the span of seven-year, he became one of the most important people in the airline's history. Working as acting CEO twice as well as working at the finance department for most of his 7 plus years. Nayyar joined the company in 2010 as GM Budget, on an advertisement placed for GM Funds Management.
Mr Hayat first made headlines when he was suspended for opening up a Corporation Bank Account in KASB Bank violating State Bank Regulations and with suspicion of underhand dealings. However, PIA Board came to the rescue, validated his decision and his suspension was revoked but he was removed from Finance and appointed as Chief Internal Auditor, another statutory position as per corporate governance laws and handled by the Board.
However, at that time the external auditors raised a serious irregularity against his appointment as GM Budget in 2010. At that time he briefly left Pakistan and worked on Afghan Air International based out of Sharjah. When PMLN took over the government he decided to come back and his close proximity to a key figure in the government, he came back and joined PIA.
This time with much-needed strength and support from Islamabad, he allegedly started being reckless with the company funds. PIA finances took a tumble and the situation became worse. In the 3rd quarter of 2014, he utilized PKR 12 Billion worth of Corporation's Pension Provident Fund, a trust set up for the terminal benefits of the employees, to make operational payments. That was a serious SECP violation, against which PIA was slapped with a show-cause notice and the news made national headlines.
On SECP pressure, Mr Nayyar was removed as CFO again and was put in charge of implementing Enterprise Resource Planning (ERP) system in PIA. PIA was trying to get ERP implemented since 2003 but the internal status quo didn't let it get implemented. Nayyar may have brought the ERP system through hook or crook but he got it in place. Even today the airline is run thanks to the system he implemented. So he truly broke the chain and implemented a system. There were accusations of wrongdoings and awarding it to people closed to Nasser Jaffar, chairman PIA at that time. But Nayyar Hayat denies these allegations.
But soon after giving out the contract of ERP worth Rs. 690 million Nayyar Hayat was appointed back as CFO by none other than Nasser Jaffar. This was a period in PIA history when PIA was retiring its old aircraft and securing new ones on dry lease and wet-lease. The worst part of this period was securing planes on wet lease while PIA's own planes were standing in the hangers waiting for spare parts. This practice came to an end when Musharraf Rasool Cyan became CEO. Numerous cases or irregularities were observed and reported on aircraft acquisition on a lease, misuse of funds, unreconciled and unpublished accounts for the company for the year 2016, 2017 and 2018. But nothing came out of it for some reasons. PIA did not submit its financial reports for many years and only this year these reports were shared with the stake holders.
The most critical element was that of Government / Sovereign Guarantees issued to PIA to obtain financing to run the day to day operations. On a supreme court-mandated special audit of PIA, it was observed that out of PKR 273 Billion worth of guarantees, which were obtained from the government and funds were obtained against them, PKR 9 Billion were never recorded or accounted for in PIA books. On directions of the Supreme Court, he was issued a show-cause notice to which he responded with a technicality. In July 2018 he was removed as CFO by the PIA Board of Directors and major internal and external inquiries were initiated into his dealings. Nayyar Hayat claims that after Musharraf Rasool Cyan departure he was cleared from this case and nothing happened further. No other inquiry materialised either.
People within PIA and all the subsequent CEOs that came in at the helm of affairs of PIA all maintain that Mr Nayyar Hayat was kind of like a "mafia boss" within PIA with layers of loyalists. He would not allow any CEO to perform or undertake any reforms agenda and had deep ingress into all the pressure groups within PIA including the unions and associations. All financial demands of such groups were met by the CFO subject to the vows of loyalty. That was the reason that despite such a tainted profile, he was made Acting CEO PIA in February 2018 on behest of the then Secretary Aviation, however, subsequently was replaced by a full-time CEO on the pressure of concerned quarters. One PIA official working close to him said: "one thing I hated about him was that he was very notorious when it came to leaking stuff to the media. Two Karachi based journalists would visit him every day at 5 pm". It is important to note that both journalists were at the forefront of a media campaign against Bern Hildenbrand and Musharraf Rasool Cyan.
Another close aid to Nayyar Hayat said "the man has issues and carries a lot of baggage. I condemn the bad things he may have done but respect him for all the good things he did. PIA is like WWE. The characters they turn heel (bad guys) or face (good guys) depending on the storyline (circumstances). The Rock may be a good guy in feud vs Triple H but a bad guy when he goes up against Stone Cold Steve Austin. This also happens in PIA with key characters."
Nayyar continuously used court injunctions against disciplinary proceedings, however, it is not clear if the resignation was forced or was part of a deal whereby he will be allowed to exit as the severest penalty by PIA could only be terminated or is it because he has finally decided to call it quits, but regardless, for a person reckless with public funds should be taken to the task and all the mafias within PIA must be nabbed. Otherwise, the slogan of change is nothing but a gimmick.