On October 25, 1985, a flight from Dubai, United Arab Emirates, departed for Karachi, using an Airbus A300 aircraft and crew of the Pakistan National Airline. This historic flight was the first flight of Emirates that over the next 35 years turned out to become one of the biggest airline brands and best airlines in the world. An Airline, that radically changed the concept of air travel and luxury in the world. Guess who helped the rulers of Dubai achieve this? None other than Pakistan's national flag carrier Pakistan International Airlines and its pilots.
To suit the departure city and destination of this flight, Emirates chose the call sign of its flight which is 'E' of Emirates and 'K' of Karachi which is still in use today.
Emirates heritage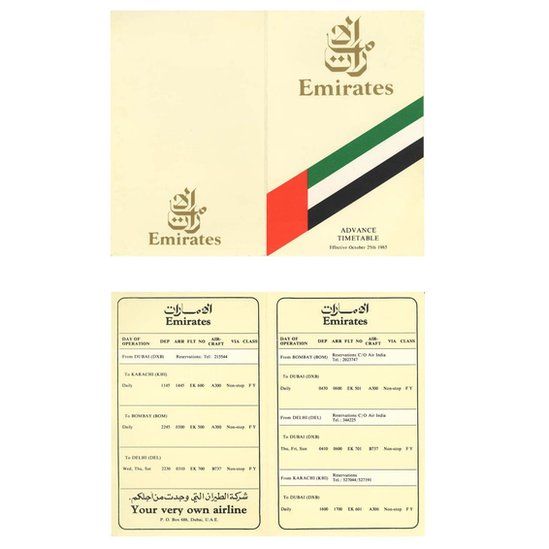 Emirates can trace back its history to the oldest airline in the Gulf region, Gulf Air. And the historic connection is a very interesting story.
Gulf Air was founded in 1940 by Freddie Bosworth, a British pilot. Ten years later, Freddie Bosworth registered an airline under the name Gulf Aviation Company Limited, the forerunner of today's Gulf Air. On this basis, Gulf Air is the oldest airline in the Gulf region.
In 1973, the now-defunct Emirate of Bahrain, in conjunction with the State of Qatar, the Emirate of Abu Dhabi, and the Sultanate of Oman, purchased shares of British Overseas Airways Corporation in Gulf Air. On January 1, 1974, the new proprietary company ownership agreement was signed. All four states had an equal share in the Gulf Air. Thus, Gulf Air emerged as the state airline of these four states or countries.
Gulf Air dispute with Pakistan
Gulf Air has been at loggerheads with Pakistan International Airlines since the early 1980s because of Pakistanis working in the Middle East. Since a large number of cheap laborers from Pakistan were coming to the Gulf countries, almost all of them used to take PIA to fly to and from the region. The main competitor in this field was Gulf Air who wanted a better share of this market.
The current ruler of Dubai, Sheikh Mohammed bin Rashid Al Maktoum, adopted an open sky policy for Dubai Airport, which meant that any airline could operate as many flights to Dubai as it wished, and PIA took full advantage of it.
Because Gulf Air wanted to increase its flights to Pakistan, it began to put pressure on the Pakistani government for this purpose, which the Pakistani government rejected to protect PIA.
When Gulf Air did not get a positive response from the Pakistani government, it began pressuring the Dubai government to reconsider its Open Sky policy, that PIA was using to its advantage. This was rejected by the Dubai rulers, even though the Abu Dhabi government jointly owned Gulf Air.
When this pressure failed to yield, Gulf Air significantly reduced the number of flights to Dubai to teach the Dubai government a lesson. While Gulf Air used to operate 84 weekly flights to Dubai in those days, more than half of them were canceled and the weekly flights were reduced to 39.
In this situation, the rulers of Dubai realized the importance of air travel for the future of their country and this reality dawned on them that how quickly they could be isolated. At the same time Iran Air, another major airline in the region, started facing the results of sanctions as a result of the Islamic Revolution in the country. Seeing the field clear, the rulers of Dubai began to work on starting their own airline.
Dubai National Air Transport Association (DNATA)
In those days Dubai was a desert with a few hotels, no big towers, or shopping malls, not even a fraction of today's city of dreams. Dubai's other major problem was that its connection to the world was largely by air, controlled by foreign airlines. That is why the rulers of Dubai had followed in the footsteps of Singapore by adopting the Open Sky policy to allow individual countries and airlines to fly as many flights as they wanted to Dubai.
That's why a lot of international airliners used Dubai as a refueling stop for their flights between East and West. To this end, the Dubai government, in association with British Airways, established the Dubai National Air Transport Association (DNA) in 1959.
To improve this company, the current ruler of Dubai, Sheikh Mohammed bin Rashid Al Maktoum, asked British Airways in 1978 to transfer a senior official to Dubai. As a result, Maurice Flanagan was appointed director and general manager of DNATA.
In the case of Danata, the Dubai government had one of the best travel agencies in the world and a ground handling agency, and a system that was complete minus aircraft or airline. The reduction of flight by Gulf Air made it clear that without air travel, Dubai's existence would be meaningless and that Dubai had limited options to either surrender to Gulf Air's stubbornness or start its own airline.
Sir Maurice Flanagan
Maurice Flanagan was a British businessman with extensive experience in the world of aviation. Prior to joining DNATA, he worked for British Airways, British Overseas Airways Corporation, and Gulf Air. Maurice Flanagan received a BA in French Language and History from the University of Liverpool and joined the British Air Force.
In 1953, Sir Maurice joined the British Overseas Airways Corporation, which later became British Airways as a trainee management assistant. After working at DNATA Maurice soon won the trust of Dubai's rulers, and when the Gulf Air crisis erupted, Sheikh Mohammed bin Rashid gave Morris a team of ten people in 1984 who quietly worked out an airline's business plan.
The team also included current Emeritus President Tim Clark. Who once recalled that business plan and said "The business plan was handwritten and had ten points. Which is still at the bottom of my drawer today,".
Maurice trained the majority of the current senior management of Emirates, including the chairman of the Emirates Group, Sheikh Ahmed bin Saeed Al Maktoum, who is the uncle of the current ruler.
Sheikh Rashid provided this team 10 million as seed funding. Sir Maurice, who passed away in 2015, once recalled the occasion, saying, while other people were talking about 40 and 50 million. Ten was a reasonable, Sheikh Rashid kind of number".
To help Morris, the team included a young Sheikh Ahmed bin Saeed Al Maktoum from Dubai's ruling family, who was appointed as the chairman of the airline a position he still holds. Sheikh Ahmed, who came back to Dubai in 1985 after completing his graduation from the University of Denver with a degree in political science. Sheikh Ahmed recalled in a farewell video for Maurice that "he was the first person I worked with. I worked with him in the same office for the first year or so".
PIA Connection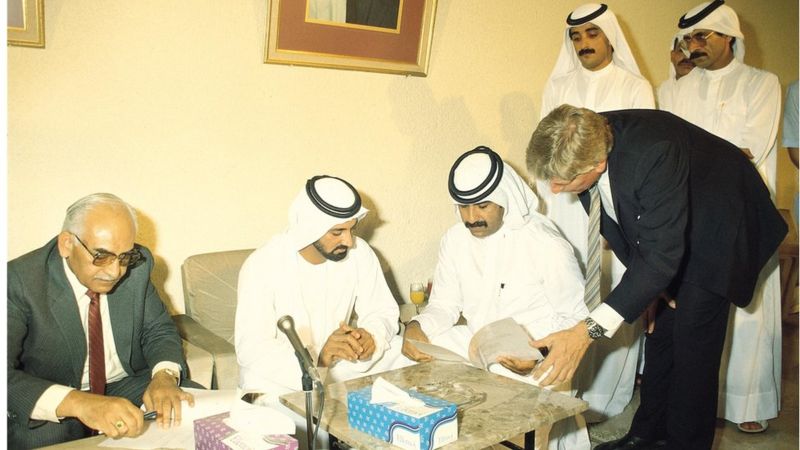 One of the modern and largest airlines in the region was Pakistan International Airlines and Maurice was familiar with PIA and Pakistan as he used to work with them at Danata so he turned to Karachi for help.
PIA not only provided technical and administrative support to the new airline. This help was important in turning the concept of Emirates into reality within one year. PIA also leased two of its aircraft, including crew, to launch the flights. Dubai Royal Air Wing also provided 2 of its used Boeing 707 aircraft to Emirates. After that, the planning of the first flight was started, which was captained by Fazal Ghani and First Officer Ijaz-ul-Haq, who was to fly the Airbus plane from Dubai to Karachi.
For this flight, PIA provided its Airbus A300 aircraft, which was only six years old, and it was delivered to Emirates on October 21, 1985. The aircraft remained with the Emirates for the next three years. At the same time, PIA provided it's brand new Boeing 737-300 that it acquired just a few months ago directly from Boeing to Emirates for two years.
Sir Maurice said, "we leased two aircraft from PIA and made a profit in three or four years, putting us in a position to buy our aircraft".
First flight
Lady Audrey Flanagan, the wife of Sir Maurice Flanagan, remembered the occasion when the launch date was decided. She recalled "Maurice was going into the old Intercontinental on the creek and he was called to reception. Sheikh Muhammad (Dubai Ruler) was on the phone. Sheikh Muhammad said what date did you say would be a good one to start this airline. And Maurice said October the 25th, the beginning of the winter schedule. Sheikh Muhammad said we are going ahead".
On October 25, 1985, the day came when members of the Dubai royal family, journalists, and passengers arrived at the Dubai airport to board the first Emirates flight to Karachi. On the runway of Dubai Airport, all four Emirates planes were standing with its now-iconic red, green, white, and black tail. One of them was the Airbus A300, registered in Pakistan that was used for the inaugural flight.
To prepare for the flight, Emirates cabin crew were trained at the PIA training center in Karachi. Sheikh Ahmed bin Saeed Al Maktoum, Maurice Flanagan, and a few other Gulf dignitaries boarded the plane to take this historic flight to Karachi. Pakistani food, prepared with the help of PIA was served to the passengers on the flight. The flight landed at Karachi's old international airport, that is still intact. There were PIA management and staff on the tarmac to welcome the guests with flowers and garlands.
Karachi's International Airport was the main gateway to Pakistan in those days. The majority of international flights from Pakistan went from Karachi where the government of Pakistan had adopted an open sky policy. Emirates took full advantage of that and there was a time when Emirates operated only seven daily flights using its Boeing 777 to Karachi along with 2 to 4 flights by Emirates Group's airline FlyDubai.
After that on July 14, 1998, Emirates started flights to Peshawar and the following year to Islamabad and Lahore. Then Emirates started flights to Sialkot in 2013 and to Multan in 2015, but flights to Multan were discontinued by the end of 2018.
These days, Emirates operates 53 weekly flights to Pakistan, connecting five cities in the country to Dubai and other parts of the world. And along with Emirates, its company FlyDubai and UAE's other Airlines like Etihad and Air Arabia also operate flights to Pakistan.
The misfortune of PIA
Morris Flanagan arrived as a Messiah for the region, changing the region and the world of aviation. While Emirates broke Gulf's monopoly, Gulf former shareholders Qatar, Abu Dhabi, and Oman eventually broke off and started their own airlines, reducing Gulf Air to a very small airline.
But the most unfortunate thing happened to PIA and the bad days of PIA started with the good days of Emirates. Since 1985, the situation in PIA has visibly deteriorated and it reached such a point that Karachi, over which the entire dispute with Gulf Air erupted has slipped out of the hands of both PIA and Gulf Air.
Whereas the Emirates has a monopoly over the route and as we said above at one point Emirates operated seven daily flights to the city. On the other hand, PIA the legacy airline that held a monopoly on the route has reduced its flight to only one daily flight. Emirates used around 400 seaters Boeing 777 while PIA resorts to using an Airbus A320 with less than 200 passenger capacity.
It is also important to note that the PML-N government has been especially kind to Emirates, by allowing its expansion and rights to flights without any regard to the local airlines. In the Second Nawaz Sharif government, Emirates was given permission to fly to Peshawar, Lahore, and Islamabad, while in the third Nawaz Sharif government Multan And Sialkot were also cleared.
Now the situation is that Dubai is not quite a profitable or preferred route for PIA or Airblue. And Emirates or FlyDubai has a monopoly over most of the routes. It is also important to note that so far Emirates alone has taken 28 million passengers from Pakistan in the last 35 years.
Thus, with the help of PIA, Emirates started its operations. Emirates also adopted good practices, experience, and other practices from PIA and wiped out PIA on its home turf. Only because it innovated and revolutionized air travel.
But PIA continued sliding down and never learnt anything from Emirates or its management or its success. It continued to decline with every passing year and never recovered after that. Because no one paid attention to reforms or changing dynamics of the air travel that were reshaped by the launch of Emirates.
Most importantly, the people with whom Emirates started the airline are still operating the airline today. Tim Clarke, who was part of the initial ten-man squad, is now the airline's president, and Sheikh Ahmed bin Saeed Al Maktoum is still the airline's CEO and group chairman. While at PIA during the past 35 years dozens of managing directors, chairmen, and CEOs have come and gone. All of them trying to do adopt different strategies sometimes steering the airline in a completely opposite direction from its predecessor. And the result is in front of us.