Lahore's Allama Iqbal International airport has seen significant disruptions due to bird strikes or just the bird activity in the airport premises. Recently a Russian Airbus A321 belonging to Ural airline made an emergency landing in a cornfield near Moscow after striking a flock of birds. At least 74 people were injured in the incident, which saw the plane land with its engines off and landing gear retracted. The Airbus 321 hit the flock of gulls shortly after take-off, disrupting its engines. Here is a piece that was written by BBC Urdu's Riaz Sohail.
In Pakistan, the helicopter of Punjab Chief Minister Usman Bazdar survived a major crash on Tuesday because of a bird strike. There have been more than one incidents of bird strike damaging PIA planes. If a plane is hit by a bird it is called a 'Bird Strike', or technically it is named as Bird Air Craft Strikes Hazard.
Bird Strikes have been a known and common hazard since the Wright brothers started flying. The first recorded bird strike occurred while Wilbur Wright was flying over Huffman Prairie in Dayton in 1905.

In his diary, written on September 7, 1905, he recorded, "Twice passed over fences into Bread's cornfield. Chased flocks of birds on two rounds and killed one which fell on top of the upper surface and after a time fell off when swinging a sharp curve."
The earliest known fatal aeroplane crash involving a bird took place in 1912. The plane, a Wright Model EX, which was a single-seat exhibition model version of a 1911 Wright Model B, flown by Wright trained Calbraith Perry Rodgers.

Little bird big loss
Aeroplane collision events can sometimes cause major accidents as it can cause engine malfunctions, canopies or windshields, which can disrupt the air pressure in the cabin, making it prone to accidents.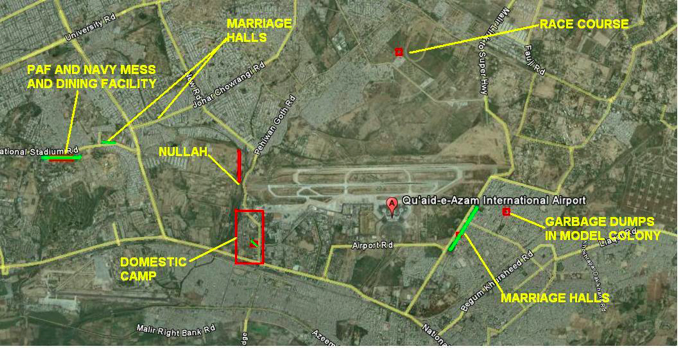 Pakistan Civil Aviation has divided these accidents into three parts, inside the airport, close to the airport and away from the airport.
Retired wing commander Syed Naseem Ahmed, head of the Society of Air Safety Investigators of Pakistan, says if a bird collides and the plane is small, the crash could also result in the death of the pilot as the plane's canopy can be broken. Or the engine can be damaged.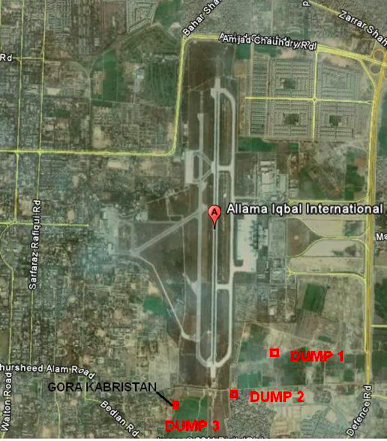 In March this year, a spokesman for Pakistan's national airline PIA reported that four aircraft, including two Boeing 777s and two Airbus A320s, were involved in bird strikes at Lahore and Karachi airports. According to statistics available, there were more than 34 incidents of bird strikes with PIA aircraft from January to July.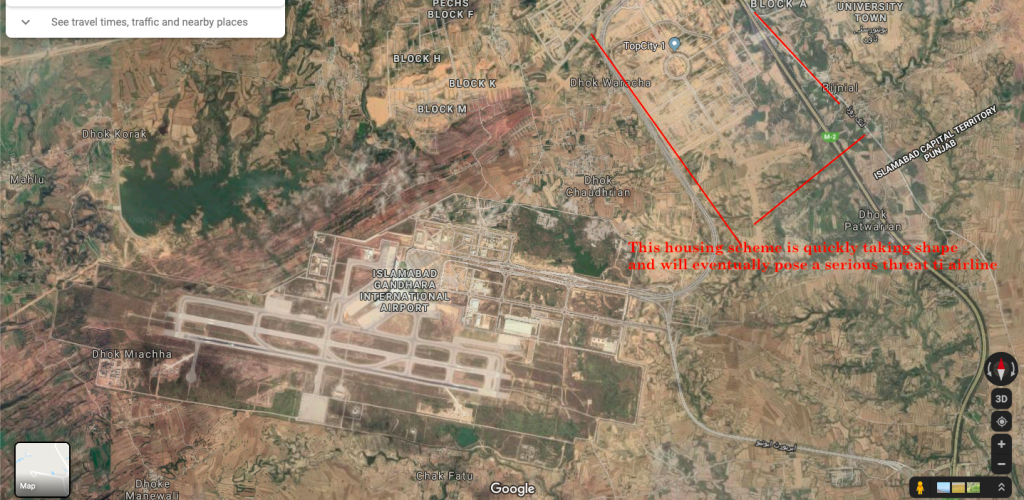 A director of a private airline said that if a bird was hit by a plane, the minimum cost could be $50,000, but if the engine had to be replaced, it could cost millions of dollars.
What does a pilot do if the bird is hit?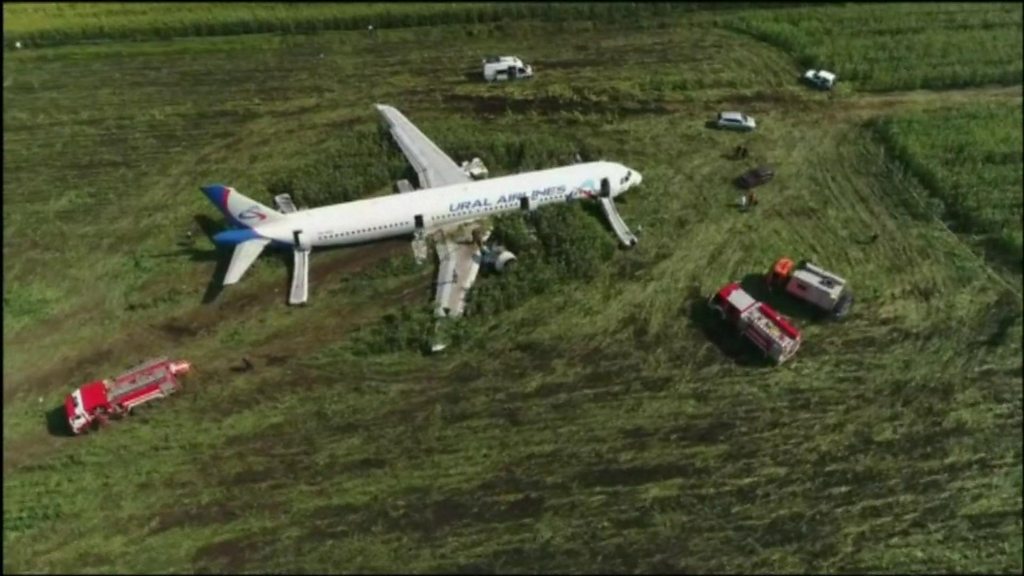 There are two different types of reactions and actions when a bird collides at a landing or take-off. The captain of a private airline told that if a bird collides during take-off, a decision has to be made as to how much of the aircraft's speed and runway are left. If the bird collides after take-off, then it is necessary to immediately check for the equipment and its durability, and if any faults appear, the aircraft has to be brought back on the ground safely.
Where do the birds come from?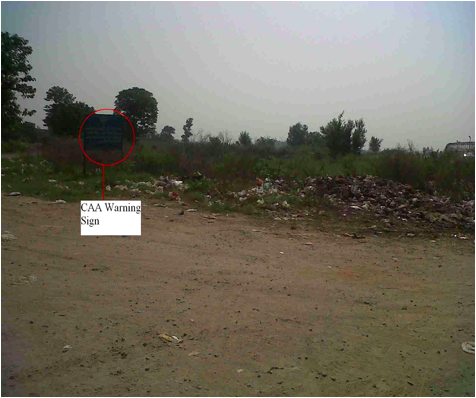 The head of the Society of Air Safety Investigators of Pakistan retired wing commander Syed Naseem Ahmad says "we do not have problem with sea birds, but eagles, crows and kites who scramble over trash dumps in search of food."
Civil Aviation Authority is responsible for cleaning up the area in an eight-kilometre radius around the airport runway. The Authority may issue a restraining order for goods that are attractive to birds or any product that may endanger the aircraft.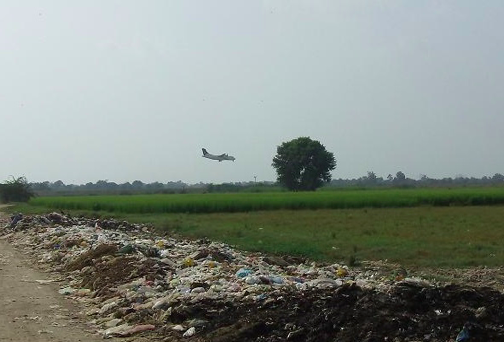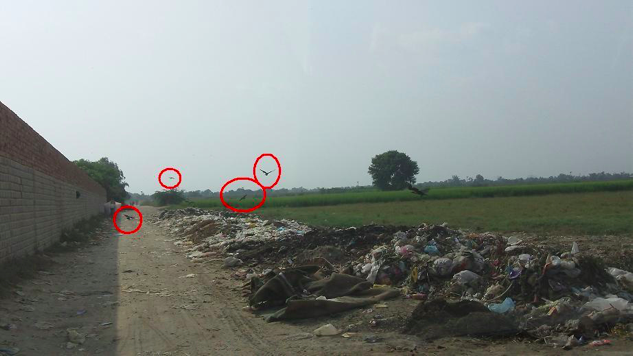 According to the rules, no one is allowed to throw leftover food at the landing site of the aircraft. If this has been done, the Director-General can order the removal of that waste. If the person concerned does not execute it, he will be fined Rs 10,000 and imprisonment for 6 months.

Syed Naseem Ahmed says that civil aviation authority rules allow the authority to shut all wedding halls, all factories or any places that could endanger the aircraft, but the authority does not exercise its powers.
Bird shooters at airport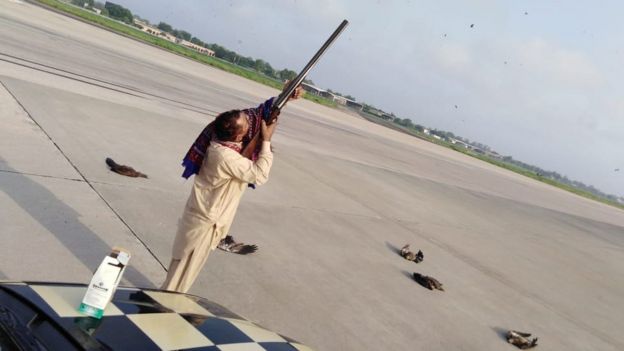 According to a civil aviation spokesman, the traditional method of getting rid of the birds is to use shooters that kill the birds. Syed Naseem Ahmed says that internationally the birds are not killed, but various methods are used to scare the birds when they come closer to aircraft.
The responsibility of the civic bodies and general public
Civil Aviation Spokeswoman says that the civic agencies are not doing enough to implement the rules and dispose of the 'solid waste' outside the airport. The CAA has an Environmental Protection Officer who is in constant contact with these agencies.
On the other hand, the authority runs a public awareness campaign putting up banners and running adverts on cable TV around the airport.
Special campaigns are lanched before and around Eid ul Adha to inform the public how they can dispose of the animals remains after Qurban. In addition to these trees within the airport, the area is regularly trimmed and bird nests are removed to discourage birds.
A modern system for large airports
The Director of Civil Aviation's Safety and Quality Management System has issued tenders for the installation of a modern system for bird control. After this process is complete, an automated system will be activated at major airports like Karachi, Lahore and Islamabad. This system is called the ABRS, the 'acoustic bird repellent system', which produces electric waves that cause birds to fly away in fear.
It is important to mention that there are 27 active airports for commercial aircraft in Pakistan including the 5 airports in provincial capitals and Islamabad. Out of these 27, 9 airport handle international air traffic.