Pakistan International Airlines has announced that it will operate 3 flights to the United States of America. The first two flights will be operated to Washington. A third flight is planned from New Ark, New Jersey. PIA's Boeing 777 will fly from Islamabad to Canada. It will then fly onwards to Washington. It is understood that no passengers will be going on the outbound flights from Pakistan. This will be the first time PIA will fly to Washington after an absence of 22 years.
This will be the first time in history when PIA will be operating non-stop flights to the United States. The first flight will depart from Washington for Islamabad on 10th May. The second flight will depart from Washington for Karachi on 13 May. And later on, another flight will operate from New Ark airport New Jersey to Lahore. It is important to note that this is an interim decision to facilitate stranded passengers in both countries.
The airfare is said to be around $2000/-. Passengers are requested to contact the PIA call center on 021-111 786 786 and those who have registered with the Pakistani Embassy will be called by the embassy about flights.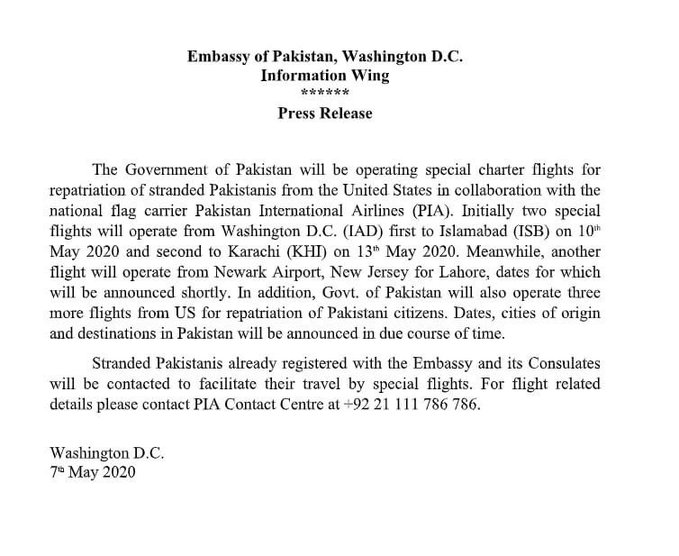 Pakistan International Airlines has formally requested US authorities to allow it to operate non stop flights to bring back stranded Pakistanis. In 1961 PIA started flying to the united states via London Heathrow using its newly acquired Boeing 707 aircraft. PIA wet-leased a Boeing 707 from Pan American Airlines. Initially, this plane was flown by PanAm pilots, thereby making PIA the first Asian airline to induct and commercially operate a jet aircraft in its fleet. An all-Pakistani crew began operation of the 707 from 20 June 1960 onwards.
2 PIA aircraft that are allowed to enter the US
Boeing's model B777-240LR, serial number 33781 (registration number AP-BGY)
Boeing model B777-240LR, serial number 33782 (registration number AP-BGZ)
With the newly acquired aircraft, the airline introduced its first trans-Atlantic route Karachi-New York via London on 5 May 1961. Before the 9/11 attacks, PIA planes did not have the capacity to fly directly to the US, which is why they had to make a stop somewhere. But after 9/11 US authorities did not allow PIA to resume direct flights because of security reasons. In 2004 PIA received its first Boeing 777s that technically enabling it to operate nonstop transatlantic flights. In February and march of 2006, PIA received its pair of Boeing 777-200 LR (Lone range) aircraft. With the specific intention of flying non stop to the US. Both wordliners AP-BGY and AP-BGZ are only be allowed to operate these special flights.
According to a letter by the US Department of Transportation, dated April 29, PIA will be allowed to operate twelve round-trip or one-way passenger or cargo flights. The permission will expire on April 29, 2021.