Today ARY News, an aviation forum and few social media users shared a fake story claiming that the "International Civil Aviation Organisation stops Pakistan Civil Aviation Authority from issuing new licenses". This news story was published by ARY News, reproduced by aviation forum History of PIA and few social media users tweeted about it.
As a matter of fact, ICAO has only shared recommendations as per its mandate with Pakistan Civil Aviation Authority. ICAO communication officer at the office of secretary-general said that "contrary to what you have reported our agency is neither designed nor empowered to issue such directives. We are helping Pakistan to recognize concerns and if they do not take swift action on them we will actively notify other countries about them." And he goes on to ask these publishers to make necessary retractions.
Well respected forum like History of PIA even got it wrong and reported that "ICAO stops Pakistan CAA from issuing licenses". Which is not expected from the country's oldest aviation forum run by respected Abbas Sahab. While it is common knowledge that this is not ICAO's job to do. The social media user went a step ahead and went on to falsely claimed that "ICAO has issued notice to Pakistan Civil Aviation Authority that it is no longer allowed to issue licenses to pilots, crew engineers".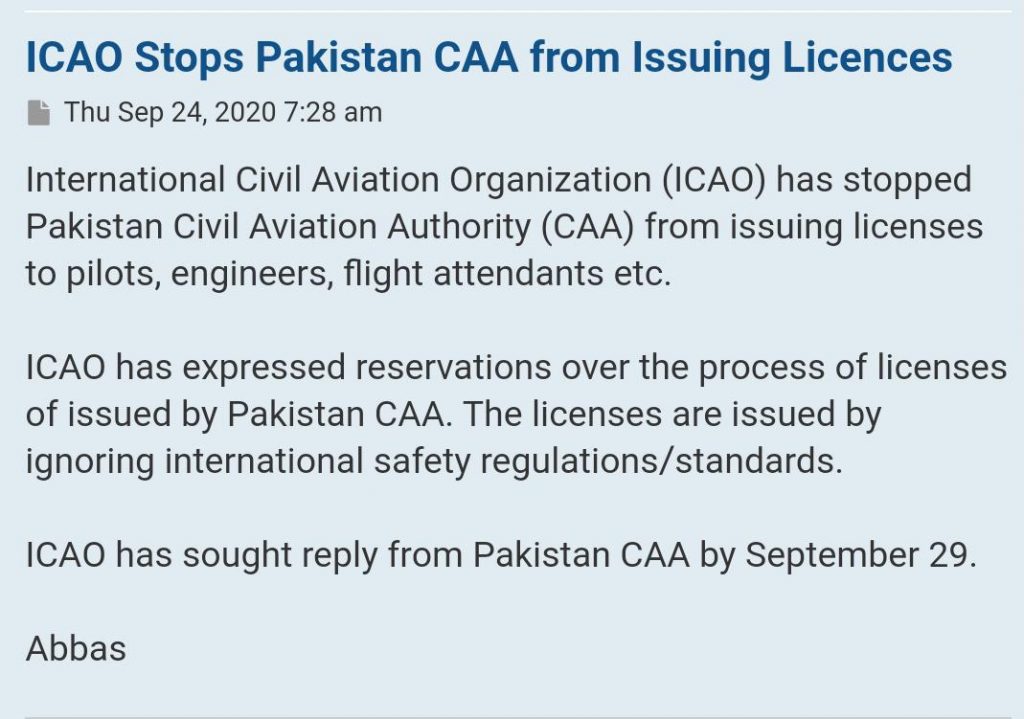 The news sent shock waves among airlines, lessors and other aviation related business and frantic communication ensued after this news was circulated. At a time when the whole industry is reeling from the calamity of Ghulam Sarwar Khan's speech such fake news items or misreported and misrepresented news stories are not helpful. At the same time it is very important for the aviation division and Pakistan Civil Aviation authority to improve it media and communication and work on a prompt reply to such news items.