Airlive a website run by Aviation enthusiasts has published a story about the incident regarding PIA Airbus A320 AP-BLB. The website falsely attributed to PIA spokesperson saying "The flight was travelling from Islamabad to Karachi when a sudden technical fault was discovered in the aeroplane's engine, according to PIA Spokesperson Abdullah Khan." When we asked the PIA Spokesperson Abdullah Khan if he made this statement his reply was "I never said engine. It was internal navigation system".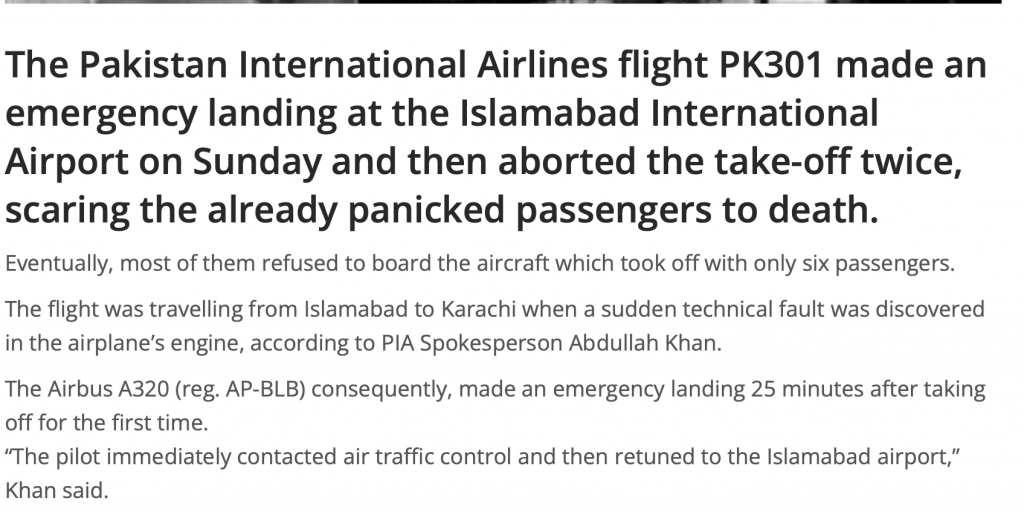 Then the story goes on to claim that "the Airbus A320 (reg. AP-BLB) consequently, made an emergency landing 25 minutes after taking off for the first time". This is also factually wrong because the aircraft took off at 07:55 and touched down again at 08:05 that makes it no longer than 10 minutes. Then the story makes another claim "a team of engineers checked and fixed the issue. However, when the flight tried to take off again, loud noise from one of the engines was heard. This scared the passengers who had been waiting in the aircraft for over six hours". We checked with multiple passengers and PIA engineers, PIA staff and data available to us and none of them confirmed the fact that the plane tried taking off twice. The plane took off six hours later and continued to fly to Karachi and from there to Madina. But the most dangerous claim that "loud noise from one of the engines was heard" is made out of thin air. We asked several people in PIA and a few passengers but no one confirmed this.
According to PIA, the aircraft had problems with its internal navigation system and the pilot announced that he has decided to return to base because of some technical issue. Upon landing the pilot made a speech while standing in the cabin that is the source of all the tweets and scaremongering. According to people privy to the cockpit recording the pilot told them that the aircraft had a technical issue and that they should thank god that they landed on time at the airport and avoided any further problems. He also said that they should all be happy that they made it back and how difficult the situation was and how he returned to base after take-off.