Faisalabad airport is not progressing on the pace that it should be and there are issues with the quality of work too. The advisor to Prime Minister on Aviation Sardar Mahtab Ahmad Khan was visiting Faisalabad airport on a surprise visit. Sardar Mehtab has shown dissatisfaction and consternation over the quality and pace of expansion and renovation at Faisalabad international airport. And he did say as all his predecessors have said on such occasions that "authorities concerned should complete the project within stipulated time" and "no delay will be tolerated in this regard."
He said that currently renovation and expansion of five different national airports is in progress which will not only be beneficial in short term but also will be favourable in long term. He added that the expansion of Faisalabad International airport is divided into two parts; 1.3 billion rupees are allocated for the first phase, which would be completed in the month of January 2018. Whereas we are focusing to install latest navigation system in the 2nd phase of this project. He further added that in order to modernize and upgrade the Faisalabad International Airport as per international standards, induction of latest and modern technology is being ensured to maximize the efficiency and productivity of this Airport.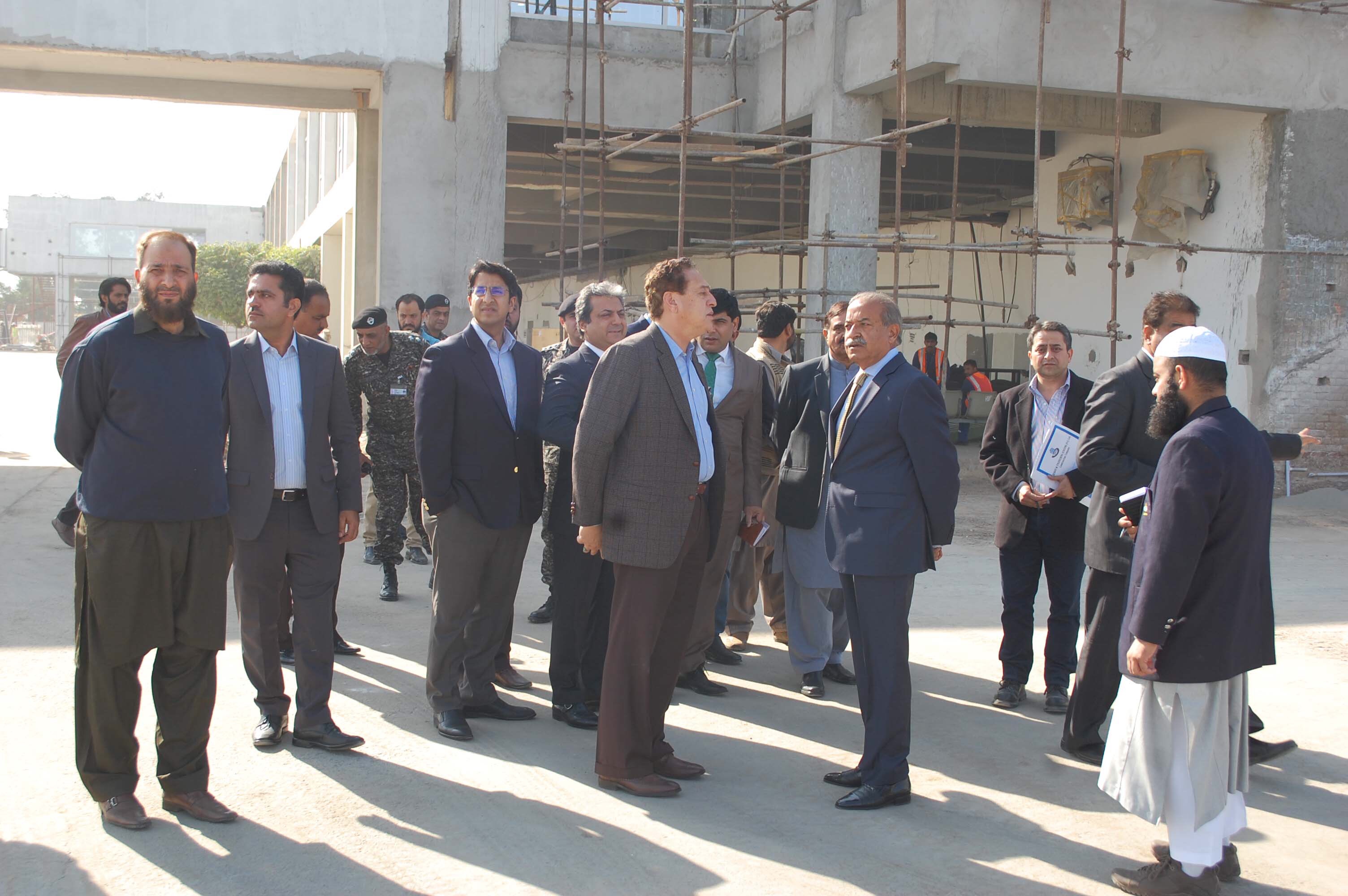 He did not mention what he or the government will do if the project is not completed on time. Because with chronic delays in the Islamabad airport project the government has resorted to just give new dates for the airport's opening. The advisor was accompanied by local Member of National Assembly Mian Mannan, CAA Director-General retired Air Marshal Asim Suleman and other officials.
Its newly constructed and renovated lounge will serve the sitting capacity of 600 passengers at the same time, while expanded airport apron will allow 3 big planes to land and load simultaneously. He further directed to establish the new cargo shipment system at the airport to improve the cargo facilities. He shared with media that two bridges are also being constructed for viable movements of passengers across the airport. On this occasion, Advisor to Prime Minister on Aviation Sardar Mahtab Ahmad Khan directed the officials to install latest landing lights (instrument landing system?) to cope with smog and fog and to ensure smooth schedule of all flights. He also directed the officials to start daily flights from Faisalabad to Jaddah.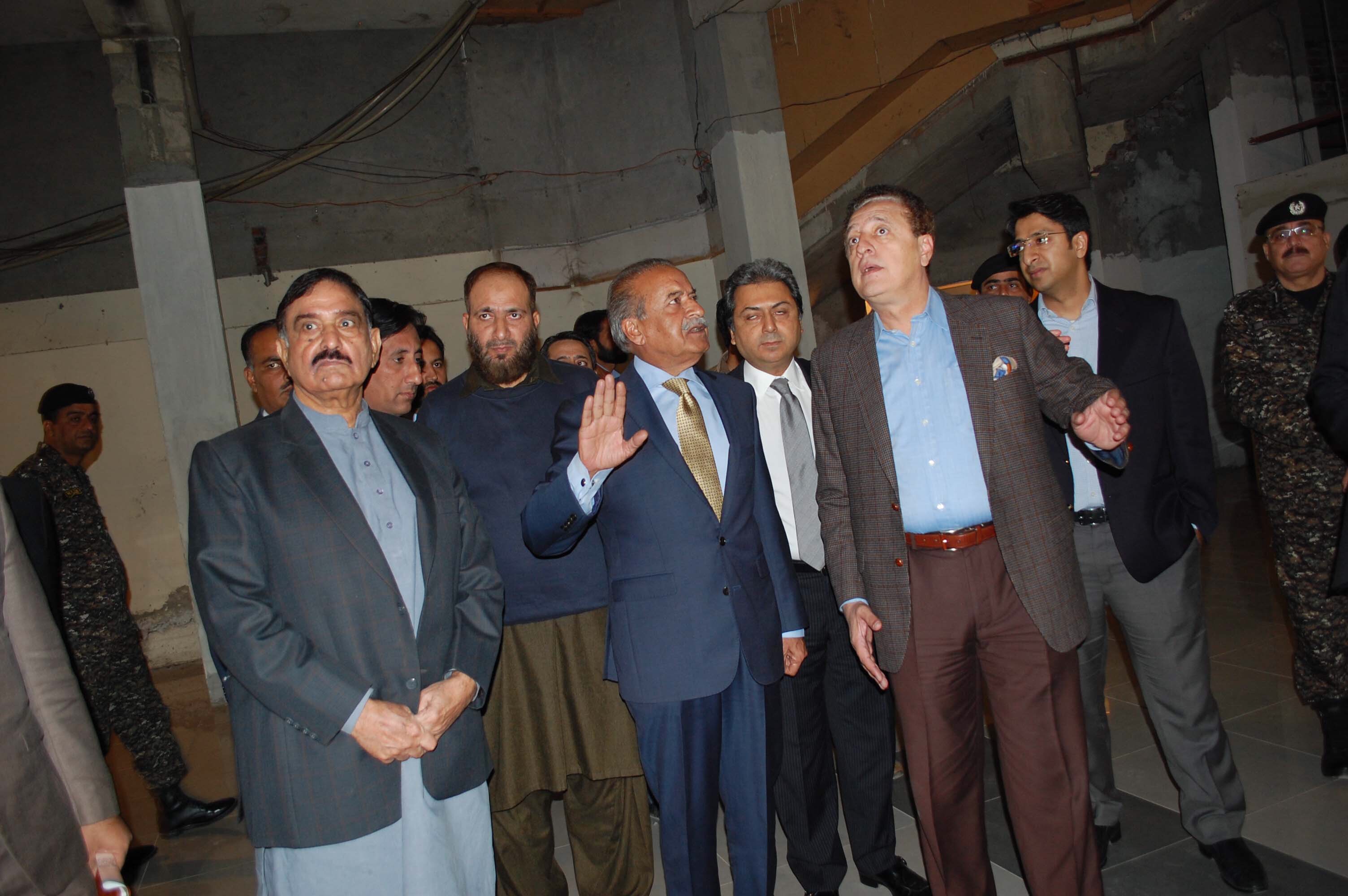 Advisor to Prime Minister on Aviation Sardar Mahtab Ahmad Khan also visited the office of PIA at Faisalabad Airport and instructed to construct a new cutting edge office of PIA and asked to present one feasibility report in this regard.  He further instructed all the officials to facilitate the passengers and to pay attention to cleanliness and level of other facilities. He asserted that he will again visit the Faisalabad airport soon to inspect the pace of work and quality measures.
وزیراعظم کے مشیر برائے ہوا بازی سردار مہتاب احمد خان نے فیصل آباد انٹر نیشنل ائیر پورٹ کے توسیعی منصوبے کے تعمیراتی کام کا جائزہ لیتے ہوئے ترقیاتی منصوبے کی رفتار پر برہمی کا اظہار کرتے ہوئے کہا کہ منصوبے کو نہ صرف بروقت مکمل کیا جائے بلکہ تعمیراتی کام کے معیار اور شفافیت کو بھی یقینی بنایا جائے اور اس ضمن میں کسی قسم کی کوتاہی برداشت نہیں کی جائے گی۔
انہوں نے اس خیالات کا اظہار فیصل آباد انٹر نیشنل ائیر پورٹ کے پہلے مرحلے کی توسیع وتجدید کے منصوبہ کا جائزہ لیتے ہوئے کیا۔ اس موقع پررکن قومی اسمبلی میاں منان اور ڈائیر یکٹر جنرل سول ایوی ایشن اتھارٹی عاصم سیلمان سمیت دیگر متعلقہ حکام بھی موجود تھے۔مشیر ہوابازی کوفیصل آباد ائیر پورٹ کی توسیع اور تعمیراتی کاموں میں پیش رفت کے حوالے سے تفصیلی بریفنگ بھی دی گئی ۔ مشیر ہوا بازی نے میڈیا سے گفتگو کرتے ہوئے کہا فیصل آبا نہ صرف پاکستان کا تیسرا بڑا شہر ہے بلکہ یہ کاروباری، صنعتی اور معاشی سرگرمیوں کے حوالے سے سے بھی اپنی منفرد پہچان رکھتا ہے۔ موجودہ حکومت کی خواہش ہے کہ فیصل آباد کے باسیوں اور کاروباری سرگرمیوں کے لیے یہاں آنے والے لوگوں کو بہترین سہولیات فراہم کریں تاکہ کاروباری و معاشی سرگرمیوں کو فروغ ملے اور ملکی معیشیت مستحکم ہوسکے۔
وزیراعظم کے مشیر برائے ہوا بازی سردار مہتاب احمد خان نے میڈیا کو بتایا کہ موجود ہ حکومت نے جامع حکمت عملی کے تحت ملک بھر کے پانچ بڑے ائیرپورٹس کی توسیع کے منصوبے شروع کیے ہیں اور فیصل آباد ائیر پورٹ کی توسیع اور جدید سہولیات کی فراہمی کا منصوبہ بھی اس سلسلے کی اہم کڑی ہے ، جس سے نہ صرف عارضی طور پر بلکہ مستقبل میں بھی دور رس اثرات حاصل ہوں گے ۔
انہوں نے کہاکہ فیصل آباد انٹر نیشنل ائیر پورٹ کی توسیع کو دو مرحلوں میں تقسیم کیا گیا ہے، جس میں پہلے مرحلے میں فیصل آبادانٹر نیشنل ائیر پورٹ پر عالمی معیار کی سہولیات کی فراہمی اور توسیع کا منصوبہ 1.3 ارب روپے کی لاگت سے آئندہ سال جنوری تک مکمل ہو گا جبکہ دوسرا مرحلے کا کام بھی بلا تاخیر شروع کر دیا جائے گا جس میں نیوی گیشن کا جدید نظام انسٹال کیا جائے گا۔
سردار مہتاب احمد خان نے کہا کہ ائیر پورٹ کی توسیع کے منصوبے میں آمدورفت کو بہتر بنانے کے لیے دو پُل بھی تعمیر کیے جائیں گے ۔ انھوں نے کہا کہ جدید سہولیات سے لیس کثیرا لمنزلہ اس عمارت کے نئے لاؤنج میں بیک وقت 600 سے زائد مسافروں کی گنجائش ہو گی جبکہ اپیرن کو بھی وسیع کیا گیا ہے جس میں بیک وقت 3 بڑے جہاز کھڑے کیے جا سکتے ہیں ۔ انہوں نے ہدایت کی کہ کاروباری سرگرمیوں کے فروغ اور سازو سامان کی ترسیل کو بہتر بنانے کے لیے ائیر پورٹ پر جدید کارگو شپمنٹ سسٹم فوری طور پر قائم کیا جائے، تاکہ کارگو سہولیات کو مزید بہتر بنایا جاسکے۔ انھوں نے مزید ہدایت کی کہ سموگ اور دھند میں فلائٹس شیڈول کو رواں رکھنے کے لیے جدید مشینری اور جدید لینڈنگ لائیٹس نصب کی جائیں۔ اس موقع پر انھوں نے مزید ہدایت کی کہ مسافروں کی سہولت کو مدنظر رکھتے ہوئے فیصل آباد سے جد ہ کی پروازوں کو روزانہ کی بنیاد پر شروع کیا جائے ۔
مشیر ہوا بازی سردار مہتاب احمد خان نے فیصل آباد ائیر پورٹ پر پی آئی اے کے دفتر کا بھی خصوصی دورہ کیا متعلقہ حکام کو ہدایت کی کہ جد ید سہولیات سے لیس، پی آئی اے کا نیا دفتر تعمیر کیا جائے اور اسکی فیزیبلٹی رپورٹ جلد از جلد انھیں پیش کی جائے۔ انکا کہنا تھا کہ منصوبے کو نہ صرف بروقت مکمل کیا جائے بلکہ تعمیراتی کام کے معیار اور شفافیت کو بھی یقینی بنایا جائے اور اس ضمن میں کوئی کوتاہی برداشت نہیں کی جائے گی۔ مشیر ہوابازی سردار مہتاب احمد خان نے ائیر پورٹ پر صفائی کی صورتحال سمیت مسافروں کو دی جانے والی سہولیات کا بھی جائزہ لیا اور انہیں مزید بہتر کرنے کی ہدایت کی۔ انہوں نے کہا کہ تعمیراتی کام کی وجہ سے مسافروں کو درپیش مسائل ، اور مشکلات کو فوری طور پر حل کیا جائے اور  صفائی کا بھی خاص خیال رکھا جائے۔ سردار مہتاب احمد خان نے کہا کہ کام کی رفتار اورمعیار کا جائزہ لینے کے لیے میں جلد ہی فیصل آباد ائیر پورٹ کا دوبارہ دورہ کروں گا.