Gulf giant Emirates airline will be sending it superjumbo Airbus A380 aircraft to Islamabad's new International airport that is equipped to handle the superjumbo. The airline has sent out a message that invites people to become part of this historic flight.
According to the details, the first Airbus A380 flight to Pakistan will be EK-2524 from Dubai and the first flight out of Pakistan will be EK2525 from Islamabad to Dubai. It is confirmed that this will be a special flight arriving at Islamabad International airport on 8th of July at 12.10. The return flight will depart at 17:45 same day for Dubai. From next day the airline will start flying regular A380 flights 4 times a week between Islamabad and Dubai.
So Emirates is going to upgrade the flight EK615 to Islamabad from Boeing 777 to an Airbus A380.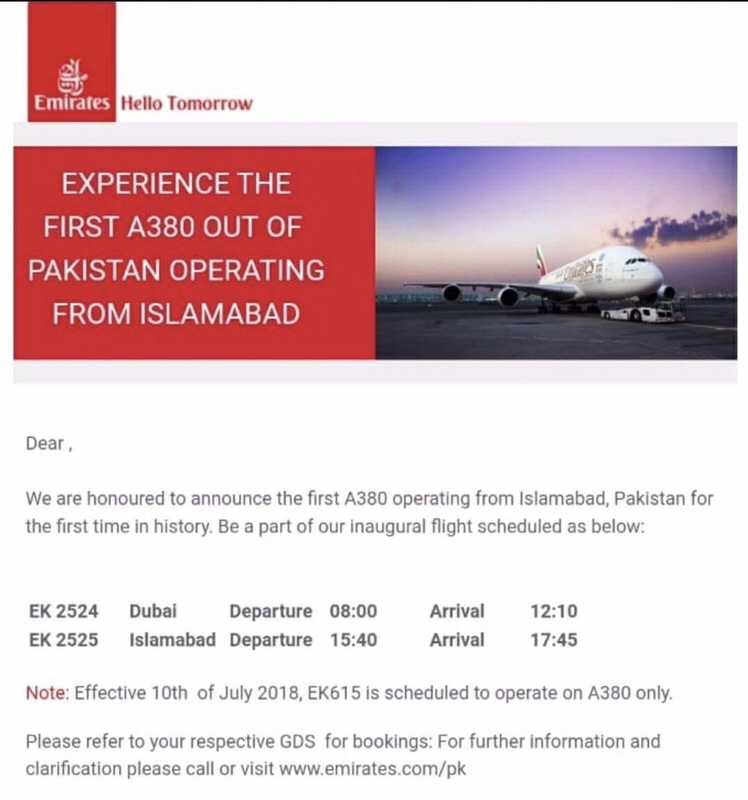 Many aviation enthusiasts and travellers were anxiously waiting for this to happen but it is not going to spell out good for domestic airlines and other airlines operating on the same route. It is feared that Emirates can increase capacity and as a result be in a better position to dump more capacity on this route effectively killing the competition or bringing it down to its knees.