A Pakistan International Airlines ATR 72 registration AP-BKW has collided with a Shaheen Air International's grounded Boeing 737-400. The incident resulted in the damage to PIA aircraft's fuel tank and engine. PIA engineering was conducting engine runs when the plane moved from its position and hit the Boeing 737 that was parked from past many years. This aircraft is the fourth ATR that is grounded in recent months and it's going to have severe effects on the airline schedule.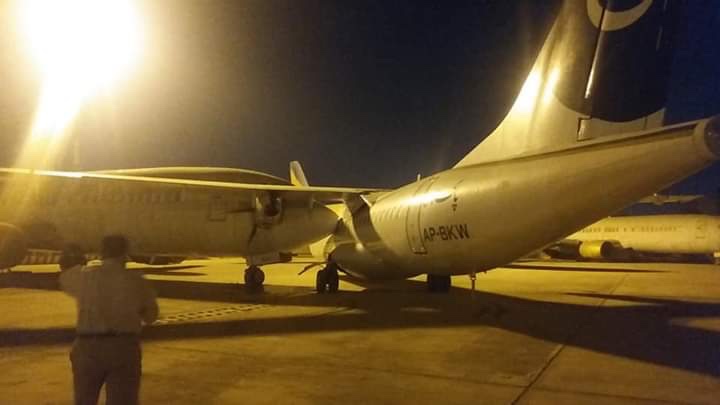 At the time of this incident, there were no passengers onboard both aircraft. Contrary to local media reports the aircraft was not taxing anywhere but it was stationary and had a test flight scheduled for tomorrow. AP-BKW aircraft was grounded from past many months for maintenance and was without engines. The aircraft engines were also removed for quite some time and very recently it was prepared for flights.
This is the 5th PIA ATR that is now grounded for various reasons. On 10th November another PIA ATR-72 aircraft skidded off the runway at Panjgur Airport. The other grounded ATR aircraft include AP-BKY, AP-BKZ, AP-BKW and AP-BHP. And AP-BHN is grounded since a very very long time and chances of its return are very slim.