Pakistan's Civil Aviation Authority has suspended the airline transport pilot licences (APTL) of 12 pilots who are working as a pilot for 3 Pakistani Airlines with immediate effect. It has also barred them from exercising the privilege of their APTL. In a letter with subject "irregularities observed in personal examination record for obtaining airline transport pilot licence," the regulatory authority has mentioned the names of 12 pilots.
It is further stated that during the course of scrutiny for verification of personal licensing examination record certain anomalies regarding APTL qualification of 12 Pilots have been observed. As a consequence CAA has asked these pilots to submit their original licences in personal licensing office.
Out of these 12, two pilots Najeeb Ur Rehman Baloch and Ali Mustafa Rizvi are ex Pakistan Air Force pilots. S Mustafa Rizvi is currently employed by Shaheen Air International. One pilot with the name Naeem Masood Khan is written as Ex Army APTL(H) 44.
7 pilots Who are working with Pakistan International Airlines are
Ali Hassan Yazdani

licence number 1639

Muhammed Uzair

licence number 1699

Saqlain Akhtar

licence number 1698

Syed Saleem Ali

licence number 1689

Thala Ahmed Khan

licence number 1674

Wasim Akhtar

licence number 1701

Yahya Mussawar

licence number 1708
While Syed sibtain Rizvi licence number 1673 is currently working with Serene Air and M Jawad Mirza with working with Airblue.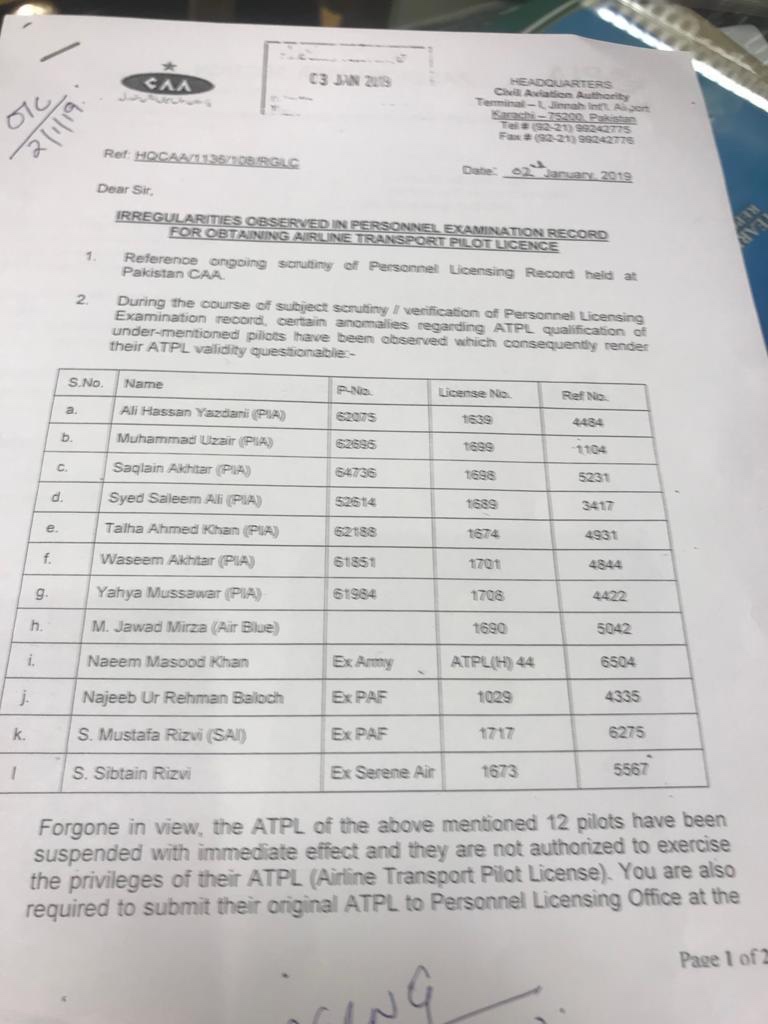 It is not clear what sort of anomalies were found in the APTL data of these pilots but it will too early to judge. This whole thing puts a huge question mark over the competence of the Civil Aviation Authority as the regulatory authority overseeing this matter. It is utter negligence and failure of CAA to not raise this issue earlier and let these pilots (if they have serious issues with their licenses) fly in Pakistan. The matter came to light after the supreme court started scrutiny of the airline and pilots records.