Pakistan International Airlines headquarters is rife with rumours that the former CFO and acting CEO Nayyar Hayat has resigned. But a senior journalist tweeted that Nayyar Hayat refuted these claims and said: "there is no such thing". The tweet has since been deleted but the rumours are still strong. Nayar Hayat was removed for the second time from his position as the company's chief financial officer with immediate effect on 16 August 2018. He became Chief Special Projects after that.
After the Supreme Court removed the former CEO and president Musharraf Rasool Cyan Nayyar was lobbying to reclaim his position or even become CEO. But after the arrival of Air Marshal Arshad Malik, he was keeping a low profile. A few days ago a serving Air Force officer working in PIA without a portfolio had an argument with him. Later on, it was revealed that the Air Commodore told Nayyar to vacate his office.
After this argument staffers were seen throwing stuff out from Nayyar Hayat's office into the lobby. This scene was witnessed by many PIA officers. This is seen as the evidence that the new management might not be interested to have Nayyar around.
In 2018 before his removal, PIA issued show cause notice to the Nayyar Hayat for failing to "conduct duties with due diligence". The show cause notice given to Nayyar Hayat was a direct result of a letter sent to PIA by the Auditor General of Pakistan office. In the letter sent to PIA, the Auditor General of Pakistan has asked PIA to explain the discrepancies of over 7 billion in the financial information provided.
More information on this link
PIA issues show cause notice to CFO Nayyar Hayat
This was the second time Nayyar Hayat was removed from his position. On 29 January 2016, he was removed from the position of Chief Financial Officer after Securities and Exchange Commission of Pakistan issued show cause notice to PIA over violating its rules. This was related to Rs 20 billion missing from employees provident fund. Nayyar Hayat was accused of "consuming Rs 20 billion of employees provident fund under various heads instead of depositing it in provident fund accounts."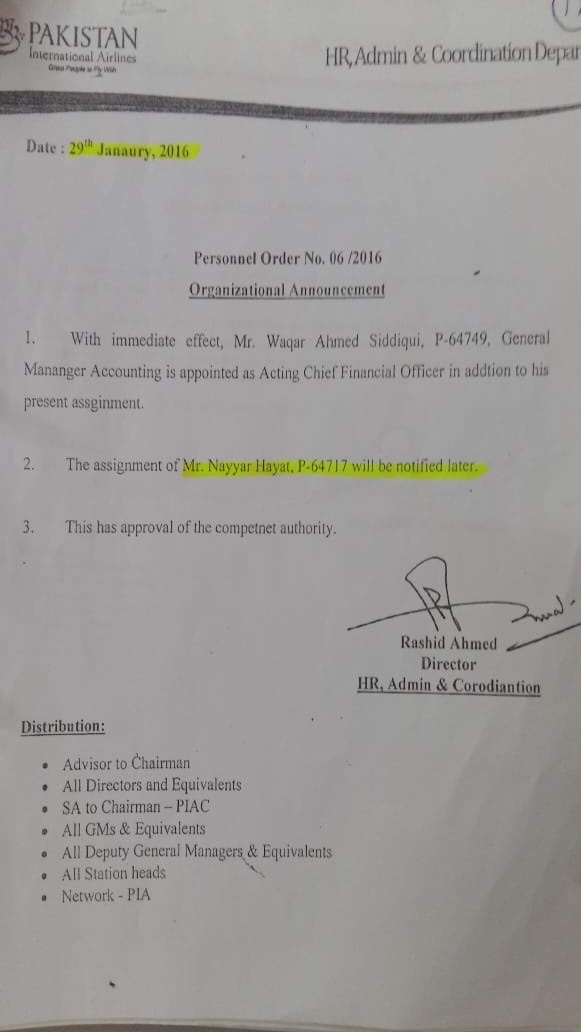 If the rumours are true and Nayyar Hayat resigns or he is forced out this will be a huge game changer for PIA. Nayyar is notorious for his incompetence and bad financial management and has been called out by the auditor general of Pakistan as well as other government departments.
His departure will be a tectonic shift in the way PIA is run financially and could prove to be a game changer. Previous three sets of management failed to move Nayyar Hayat and thus failed to deliver. Musharraf Rasool Cyan struggled to reign in and out of the three was the only one to get anything done. But his departure will also open a pandora box of how and where PIA money was spent for the past many years under his watch.