Pakistan International Airlines has issued show cause notice to its chief financial officer Nayyar Hayat for failing to provide correct information to the audit team and failing to "conduct duties with due diligence". The show cause notice given to Nayyar Hayat is a direct result of a letter sent to PIA by the Auditor General of Pakistan office. In the letter sent to PIA, the Auditor General of Pakistan has asked PIA to explain the discrepancies in the financial information provided.
The letter written by Altaf Ahmed Sheikh Director general commercial audit evaluation south states that "during the scrutiny of finance fund section record regarding Government of Pakistan support to PIACL during the years 2008 to 2017, it was observed that Finance fund section of PIA provided a figure of Rs 23.565 billion, whereas Ministry of Finance Government of Pakistan provided a figure of Rs 31.80 billion for the same period."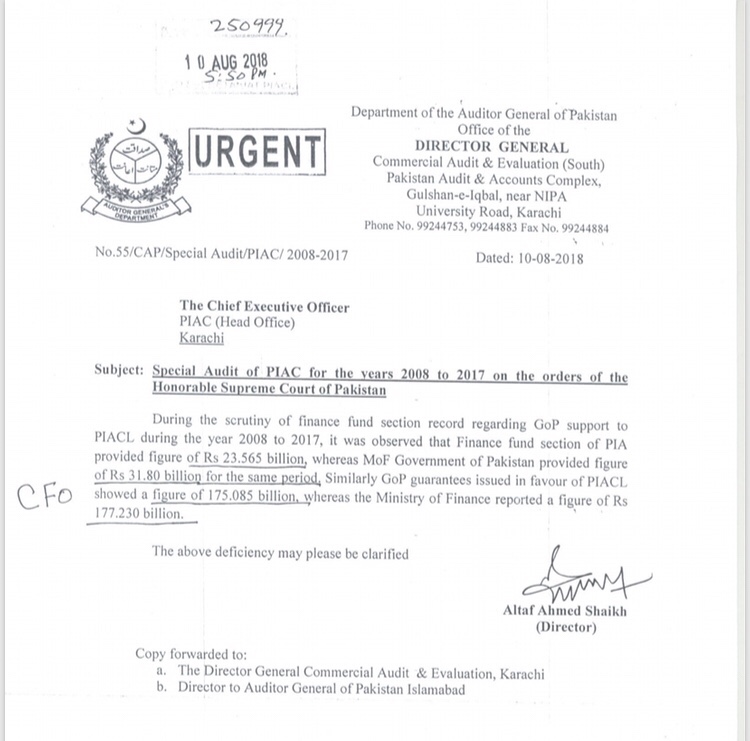 The discrepancies were not int he funds but in guarantees too and the in the letter it is added that "Government of Pakistan guarantees issued in favour of PIACL showed a figure of 175.085 billion, whereas the Ministry of Finance reported a figure of Ks 177.230 billion."
The Auditor General has asked PIA  to clarify the above deficiency.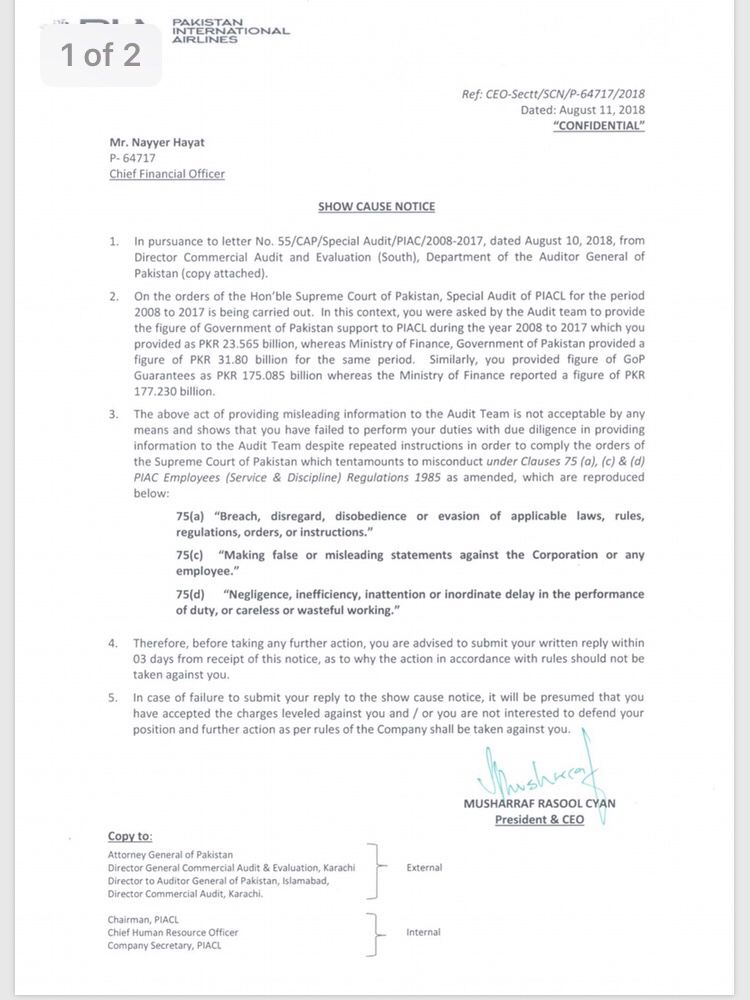 On the base of this letter, PIA CEO Musharraf Rasool Cyan has issued a show cause notice to CFO Nayyar Hayat stating that "the above act of providing misleading information to the Audit Team is not acceptable by any means and shows that you have failed to perform your duties with due diligence in providing information to the Audit team despite repeated instructions in order to comply the orders of the Supreme Court of Pakistan which tantamounts to misconduct under Clauses 75 (a), (c) & (d) PIAC Employees (Service & Discipline) Regulations 1985 as amended."
PIA management has asked the CFO to reply in written in 3 days before any action is taken, as to why the action in accordance with rules should not be taken against him.
Nayyar Hayat has been PIA in April 2010 as General Manager Finance and later became airline's chief financial officer. In 2017 he served as acting CEO when Bernd Hildenbrand was removed from the post in April 2017. He served as acting CEO for 3 months before Musharraf Rasool Cyan took over as the first CEO of PIA.
There have been corruption charges against Nayyar Hayat in the past and on 29 January 2016, he was removed from the position of Chief Financial Officer after Securities and Exchange Commission of Pakistan issued show cause notice to PIA over violating its rules. This was related to Rs 20 billion missing from employees provident fund. Nayyar Hayat was accused of "consuming Rs 20 billion of employees provident fund under various heads instead of depositing it in provident fund accounts."
According to section 27 and 29 of companies ordinance 1984, misuse of provident fund is a criminal act. Appointment of any person who was dismissed for such offences is against the rules of PIA. But in complete disregard of this PIA management reappointed Nayyar Hayat as CFO and later as acting CEO.
Nayar Hayat has been at the centre of controversy for many years and a lot of leakages against Bernd Hildenbrand and the current management are reportedly stemming from his hands. In PIA it is well known that he hides key information from senior officials and drags his feet in implementing important decisions. He aspires to be the CEO but according to information available from his LinkedIn profile, he is not even qualified as CFO. There are corruption charges against him as well and he is notorious in PIA for "taking pleasure in teasing other officers by holding their files unnecessarily and raising irrelevant objections."