There is a viral video going rounds on social media where a woman is hysterically screaming and asking the crew of a PIA plane to open the door. This is the PIA flight PK-750 from Paris to Islamabad where some passengers are seen agitating. As per initial reports, this incident occurred on the flight PK 750 from Paris to Islamabad on August 3rd 2018. Before the take-off at Paris Charles De Guele Airport, there was a delay of 30 minutes. The aircraft doors were closed, and it was ready for pushback, however, clearance from Air Traffic Control was not given and hence the aircraft engines could not be started as it was still parked at the jetty.  Also the doors could not be opened as it would have been a severe safety violation. The video on social media shows one portion of the whole incident. But one passenger on the flight told Pakistan Aviation that" it was not 2 hours or so delay but around half an hour delay. And the baby was straight away shifted to the front of the cabin with the mother so they can relax."
So what went wrong?
The Auxiliary Power Unit (APU) in the plane in question was not working. It could have malfunctioned at the said moment. We know from reliable sources that some PIA plan'e have APUs that are not in working conditions or have issues.
Normally in hot climate there are Portable power units or AC vans that can provide relief. Question is if this facility was available at Paris airport. If it is available why PIA did not use it?
Certain airlines are very strict to open doors for air crossing but some airlines do allow the crew to open the doors provided that opened doors are manned by two cabin crew members. In PIA's case this is not allowed due to safety concerns.
Whatever circumstances were PIA crew's timely action in moving the baby away from congested cabin could have helped. Although they were following the procedures set out by the airline. So PIA should review its policy in the light of changing climate.
But the story is not that simple once the video was discovered.
According to our sources in PIA, the flight was not an issue but when someone in a position of power in PIA found out, they leaked it to certain quarters in media. This person who aspires to become the CEO but hasn't got an appropriate qualification for his current job is leaking confidential and important information previously as well. We urge the PIA management to take such culprits to take who are washing their dirty laundry in public and through that bring disrepute to the airline.
The aircraft flew back to Islamabad with the satisfaction of the passengers. Nobody raised any problems or issues even after the flight. As it was explained to all of them that things were beyond the control of PIA crew who were caught in a difficult situation.
PIA spokesman further said that on the matter of inconvenience caused to passengers CEO PIA Mr. Musharraf Rasool Cyan has ordered detailed inquiry into the matter. PIA is touch with the family which traveled on this flight. Explanation notices have been given to the Captain in Command, Ground Handler at Paris Airport and the airline's Chief Operating Officer.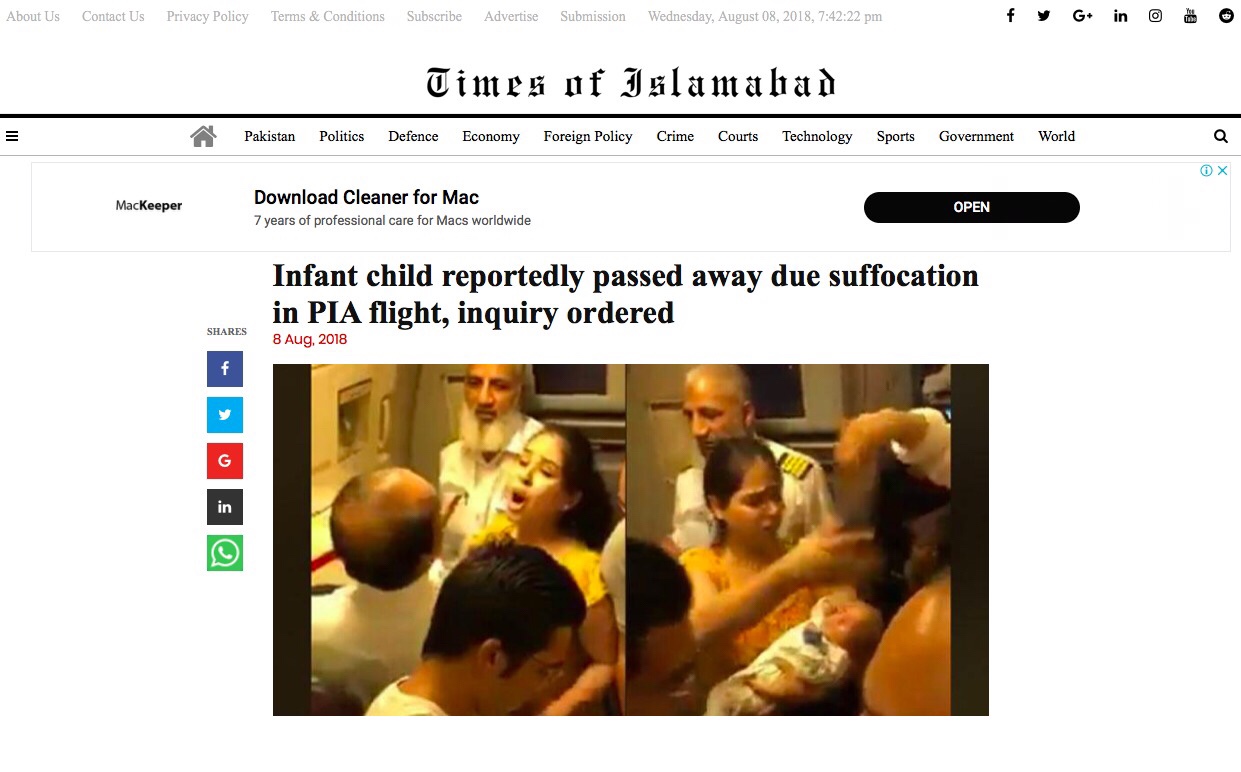 A website claimed in its headline that the infant "passed away" but when you click the news story it says "passed out" which clearly shows that media is playing a sinister role in order to amplify this video.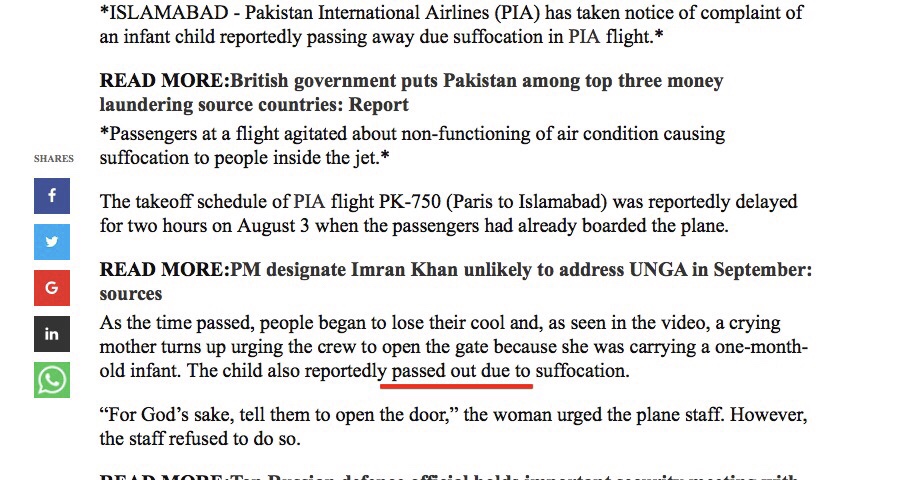 We can also predict that this video will soon travel through WhatsApp and make its way to courtroom number one of Supreme Court.