Pakistan International Airlines flight PK853 from Beijing to Islamabad was delayed as a crew member accidentally opened the door and ended up deploying the emergency slide. The flight is operated by PIA's Boeing 777 registration AP-BMH. And the aircraft arrived from Tokyo's Narita airport a few hours ago.
This is the second such incident in a month when PIA aircraft has faced such an issue. On 9 June a PIA flight PK 702 from Manchester to Islamabad was delayed by 7 hours because a passenger erroneously opened the emergency door causing the emergency slide to activate.
According to PIA spokesperson Mashood Tajwar "PIA flight, PK 853 for the sector Tokyo – Beijing – Islamabad operated by Boeing 777 was parked at Beijing airport when emergency slide got activated at the time of loading of inflight meals. This incident caused a delay in departure of nearly 3 hours. As per standard operating procedure, PIA had to offload nearly 50 passengers joining from Beijing along with their luggage."
PIA spokesman also said that the "offloaded passengers were informed about the cause of delay and provided hotel accommodation. These passengers will be adjusted on the next available flight to Pakistan.

In the statement issued by PIA, the CEO has taken notice of the incident and has suspended the crew responsible for this blunder. And as usual an inquiry is ordered just like the one that was ordered for the incident that took place at Manchester airport. We have yet to find out what came out of the inquiry of PK702 incident.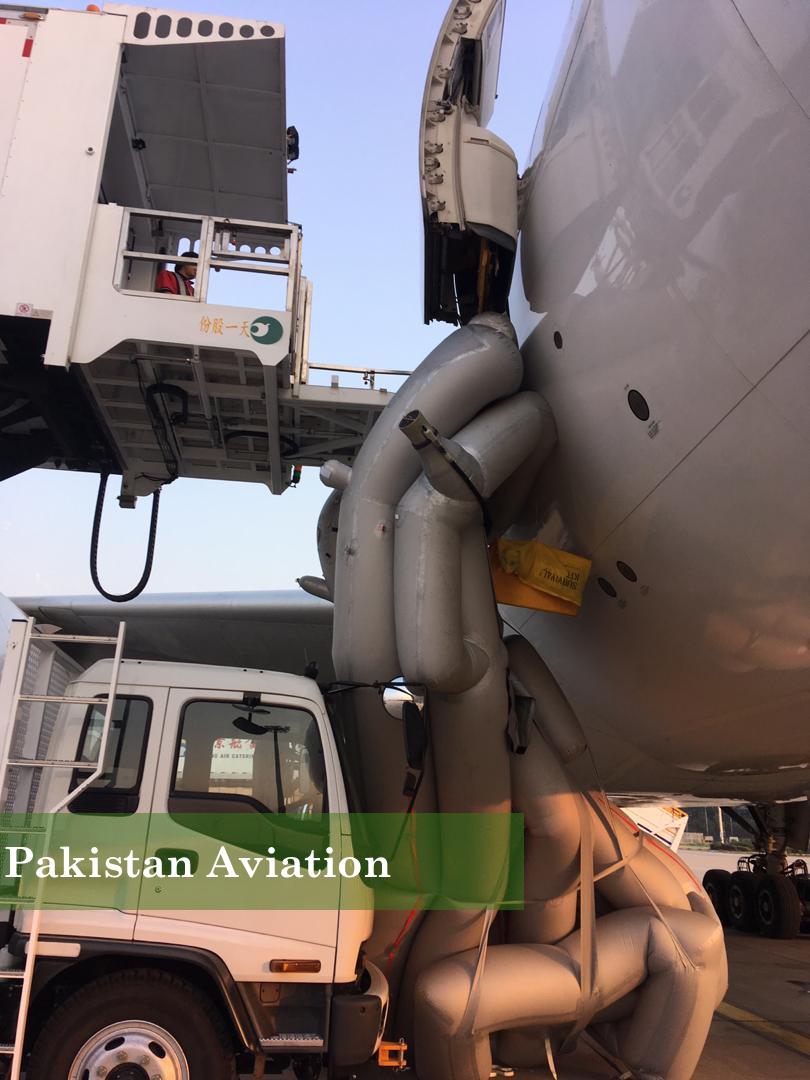 PIA incurred losses of millions of rupees due to the incident at Machester and in this case, it is also going to end up adding to the pile of losses.

پی آئی اے کی پرواز پی کے 853 جو بیجنگ سے اسلام آباد آ رہی تھی میں روانگی سے قبل بیجنگ ائیر پورٹ پر ایک دروازے کی سلایئڈ غلطی سے کھل گئی۔ جسکی وجہ سے پرواز کی روانگی میں تقریبا" ڈھائی گھنٹے کی تاخیر متوقع ہے۔ سی ای او ائر مارشل ارشد ملک نے واقعہ کا نوٹس لیتے ہوئے متعلقہ ذمہ دار کریو کو فوری طور پر معطل کرنے کا حکم دیتے ہوئے معاملے کی تحقیقات کی ہدایات جاری کر دی ہیں۔ جو یکم جولائی تک مکمل کی جایئگی۔ ذمہ دار کریو کے خلاف کارپوریشن کے قواعد کے مطابق تا دیبی کاروائی کی جائے گی۔
ترجمان کے مطابق پرواز کی روانگی کے سلسلےمیں ایوی ایشن انڈسٹری کے مروجہ تمام حفاظتی اقدامات کو یقینی بنایا جائے گا ۔اور اس ضمن میں کوئی کوتاہی برداشت نہیں کی جائے گی۔
پرواز میں تاخیر پر پی آئی اے انتظامیہ معذرت خواہ ہے۔