In January 2018 we reported about a new airline with the name of Air Falcon. Well after the preparation of two years the airline is ready to launch its operations with its first Boeing 737-300 aircraft with registration AP-BNZ. The Lahore based Express Cargo / Charter airline will get the former Southwest Airlines airframe. The first aircraft has arrived at Karachi, while the second one would be soon on its way to Pakistan. The airline has acquired a place for its office at Lahore airport on the ground floor adjacent to the Pakistan Post office. The aircraft is leased from Rostrum Leasing, Ireland.
In a joint press release, Air Falcon and Rostrum Leasing, Ireland announced the delivery of their first Boeing 737- 300BCF, MSN-27713 to Air Falcon in Pakistan. This aircraft will commence operations during the first fortnight of June 2020. Rostrum Leasing will be delivering the second aircraft within a month.
Rostrum Leasing's Boeing 737-300 Freighters were converted by PEMCO and have the winglets and TOW kitted engines which provide a reduced fuel burn and better-operating costs.
Air Falcon announced in a statement that "We are excited to receive our first freighter aircraft from Rostrum leasing for induction in Air Falcon".
Two more freighters will join the fleet soon to complete the fleet of three freighters in phase-1 of Air Falcon's business plan. This Boeing 737-300 would provide service to our Domestic and Regional clients.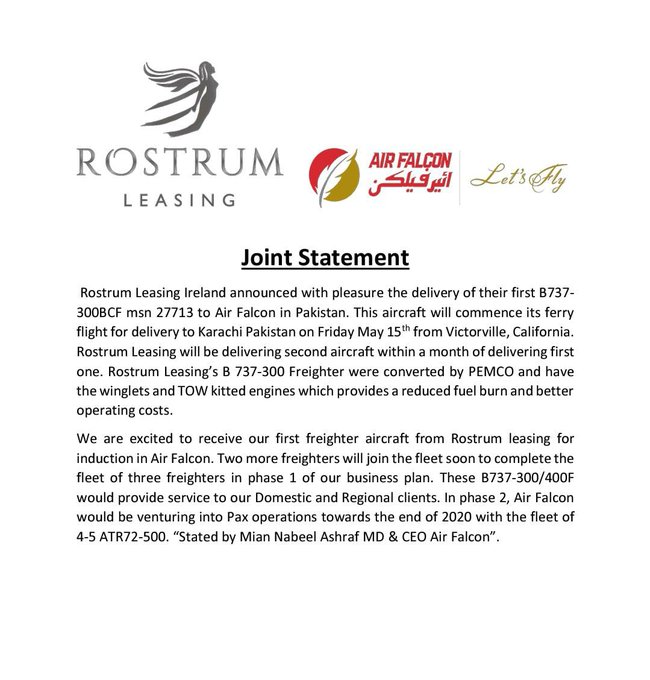 The airline MD & CEO Mian Nabeel Ashraf said that: "Besides 03 freighters, Air Falcon plans to induct a fleet of 4 to 5 ATR72-500 in phase-2 as Air Falcon ventures into passenger operations towards the end of 2020".
Air Falcon aims to provide passenger and cargo Air Charter. The airline has contracted PIA to provide maintenance facilities to its fleet.
The airline will start its cargo services providing fast and convenient transportation of goods across a network of domestic destinations. In this regard, Air Falcon has also partnered with major freight and goods logistics companies and is providing them delivery solutions on a turnkey basis. To provide ground support, Air Falcon is going to use Shaheen Airport Services (SAPS).
The airline's managing director and CEO is Mian Nabeel Ashraf and its head office is based in Gulberg Lahore. The executive leadership includes Captain Ijaz Ahmed, as the Chief Pilot-Operations; Captain Irshad-ul-Haq as Chief Pilot Technical, Captain Masroor as Chief Pilot Training, Mustafa Abbasi as GM Admin, Faza Chaudhry as GM HR, Khizar Hayat as CFO, Rasheed Ahmed as Chief Engineer, Imran Asghar as GM Procurement and Saad Ahmed as Corporate head of IT.
The whole team is highly professional, vastly experienced in Aviation, and has diverse skill-set / expertise in their respective areas of responsibilities pertaining to the Airline industry.

The airline's managing director and CEO is Mian Nabeel Ashraf and its head office is based in Gulberg Lahore. Captain Ijaz Ahmed an ex-Air Force Pilot is the chief pilot operations. He has also worked for a domestic airline and in airline operations, he has flown A319, A320, A321, and his total flying experience exceeds 7,000 hours. Muhammad Naeem is GM Engineering who is also an ex PAF Aeronautical Engineer.