The government of Pakistan has decided to extend the suspension of international flight operations as effected earlier has been extended up to Sunday, May 31, 2020, at 2359 hours PST. At the same time, the government has decided to allow limited domestic flight operations. According to the press release issued by Aviation Division the domestic flights will be operated from the country's five major airports. This includes Islamabad, Lahore, Karachi, Peshawar, and Quetta. The government has set up strict SOPs for that to ensure social distancing and safety.
Previously it was decided to keep the domestic flight operations suspended until 30 May 2020. The Federal Minister for Aviation Ghulam Sarwar Khan at one point said that the National Command and Operation Centre has in principle decided to open the domestic flight operations.
In the beginning flights between five key, airports will commence and the airlines will be allowed to operate a limited number of flights with 50% capacity. flight operations between these cities. These cities include Karachi, Quetta, Islamabad, and Lahore. Flights between these cities will be allowed as per the decision.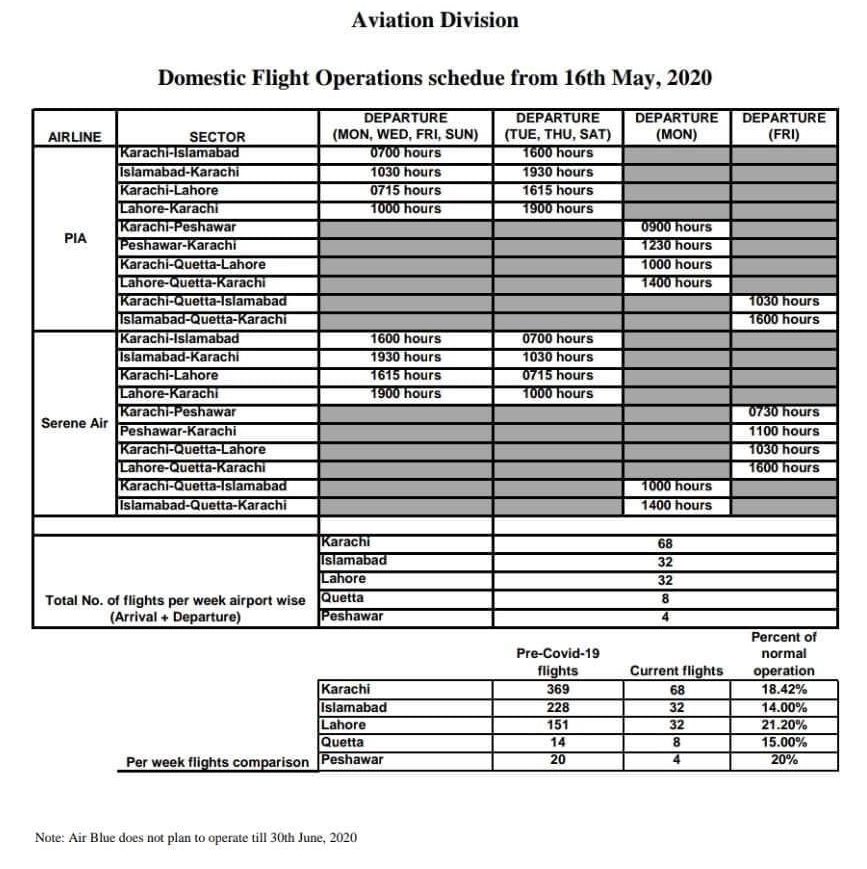 This decision was taken at the National Command and Operation Centre. NCOC the meeting was attended by the members from military, NDMA, health department, different ministers, as well as chief ministers of four provinces and chief minister of Gilgit Baltistan and prime minister of Azad Kashmir, took part in the meeting.