A special charter flight to bring stranded Pakistanis from Bishkek, Kyrgyzstan to Islamabad is "postponed till further advice". Now the flight will not take place until Monday when the Kyrgyz charter airline will reschedule the flight after approvals. The flight today was delayed and rescheduled twice and the latest arrival time updated was Saturday early morning at Islamabad International Airport. The flight's arrival time was 10.20 PM on Friday, then it was changed to early morning at 2:25 AM. The flight is repeatedly delayed due to a delay in the Kyrgyz Aviation Authorities' approval.
This flight will be operated by Kyrgyz Airline Avia Traffic and it is arranged by Skyline Team LLC. Avia Traffic will be using a Boeing 737-300 aircraft for this flight that can seat up to 148 passengers. The airline plans to operate 3 special charter flights. The flight was initially scheduled for 9 AM local time and arrival in Pakistan was scheduled at 10:20.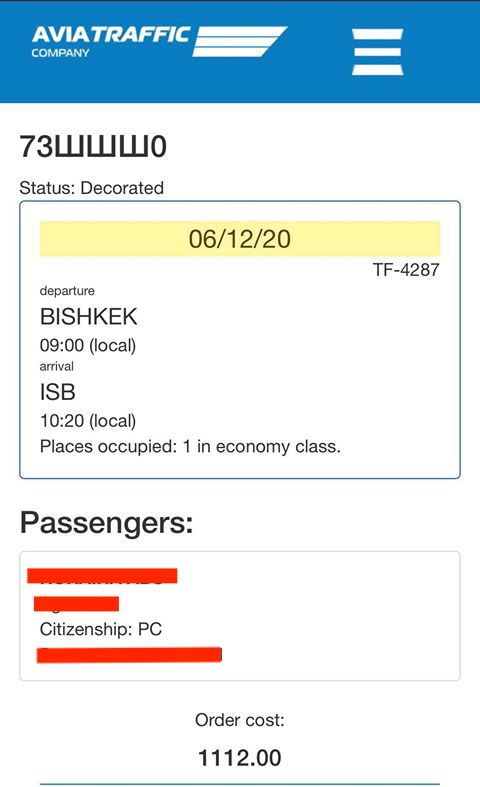 Avia Traffic Company is an airline with its head office in Bishkek, Kyrgyzstan. Its flights operate from Manas International Airport. The flight will now depart at 02:25 AM local time. The airline is on the List of air carriers banned in the European Union. It has a fleet of 5 aircraft,3 Boeing 737-300 aircraft, and 2 Airbus A320-200s.
On 6 June the Special Assistant to the Prime Minister for Overseas Pakistanis said that the government of Pakistan has scheduled a special flight to bring back Pakistanis stranded in Kyrgyzstan on 11 June. But there was no flight yesterday. From the past many weeks, stranded Pakistanis have been sharing their experiences with Pakistan Aviation and we have been raising their voice. Pakistan International airline is also planning a special flight in the coming days.