A group of newly trained female cabin crew have passed out ceremony from the PIA Training Centre on 25, November 2016.
This group underwent 12-week training program on various aspects of safety, first aid, grooming and customer care for ATR and A-320 aircraft. PIA plans to deploy some of them on its premier service after few short training sessions.
PIA's acting CEO Bernd Hildenbrand was the chief guest and was informed that currently 54 trainees. PT are undergoing initial cabin crew training at the PTC. PTC also offers training courses for other PIA employees, including pilots and engineers, are also underway.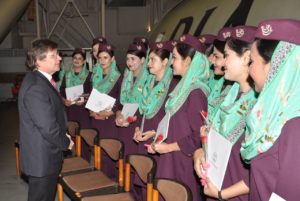 Senior PIA management, families of graduating air hostesses and faculty members of PTC were present on the occasion.