I travelled on PIA premier flight PK758 to London Heathrow airport and here is what I thought of the trip and flight. I have traveled on the same route many times on PIA and that is why I think I have a better understanding of what to expect on this flight. Hope you will find it worth reading. 
The flight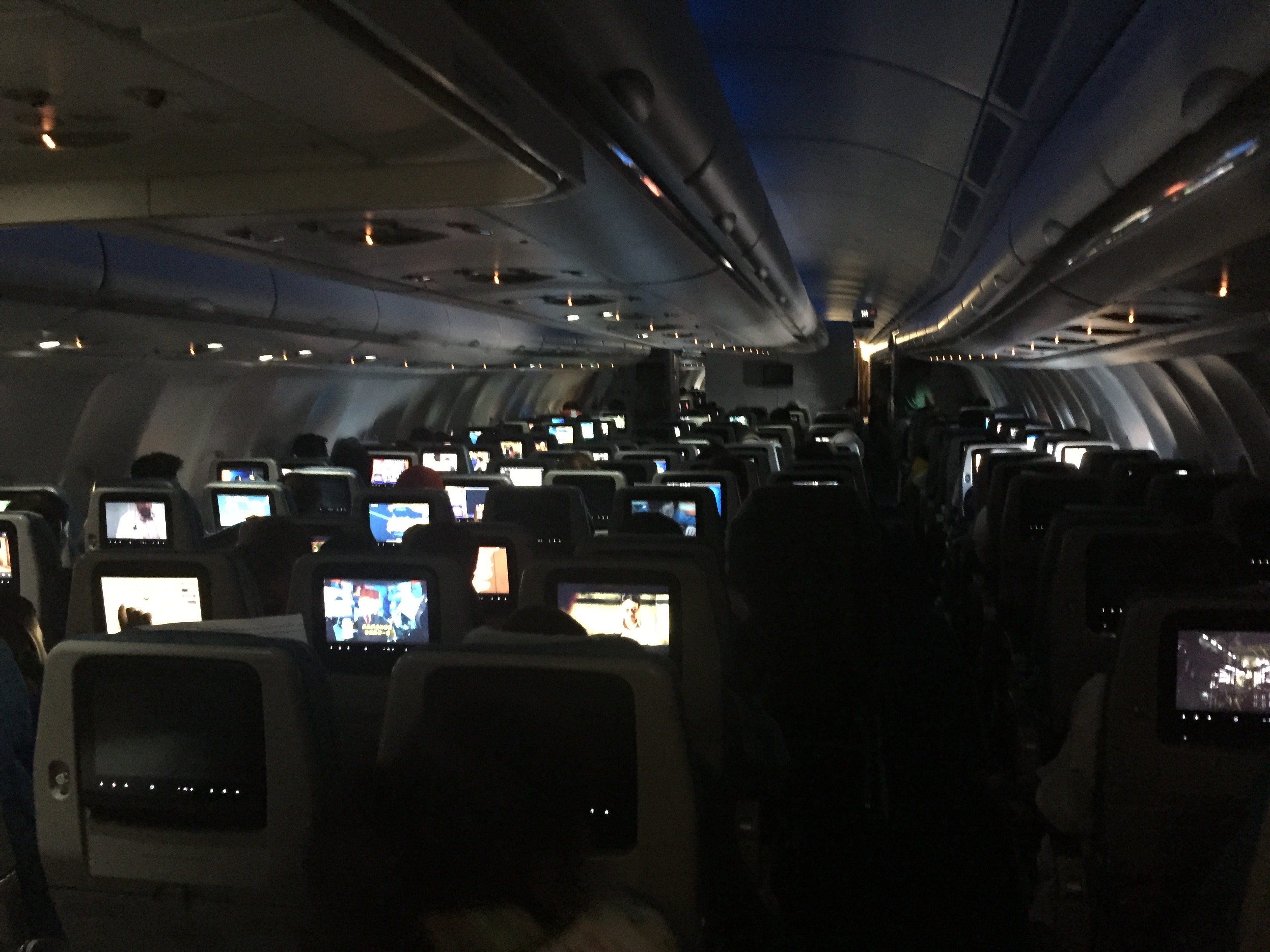 It was a smooth flight and throughout the flight I felt comfortable and kept myself busy with the onboard entertainment. The seats are nearly the same as routine PIA aircrafts but in better condition. The toilets were clean but only contained tissue papers and liquid soaps. There was a baby nappy changer available, which is a great addition as many families prefer to fly with PIA. Blankets and pillows were available for everybody, although I felt the pillows could slightly more comfortable as they were very basic. Even the local Pakistani bus service provides better ones. The blankets were very heavy which is good perhaps something the airline can look into when its also trying to lighten up to save fuel costs.
The safety demonstration was very good and it had many added elements as compared to PIA routine flights. They also did an emergency exit demonstration at the end of the flight before landing.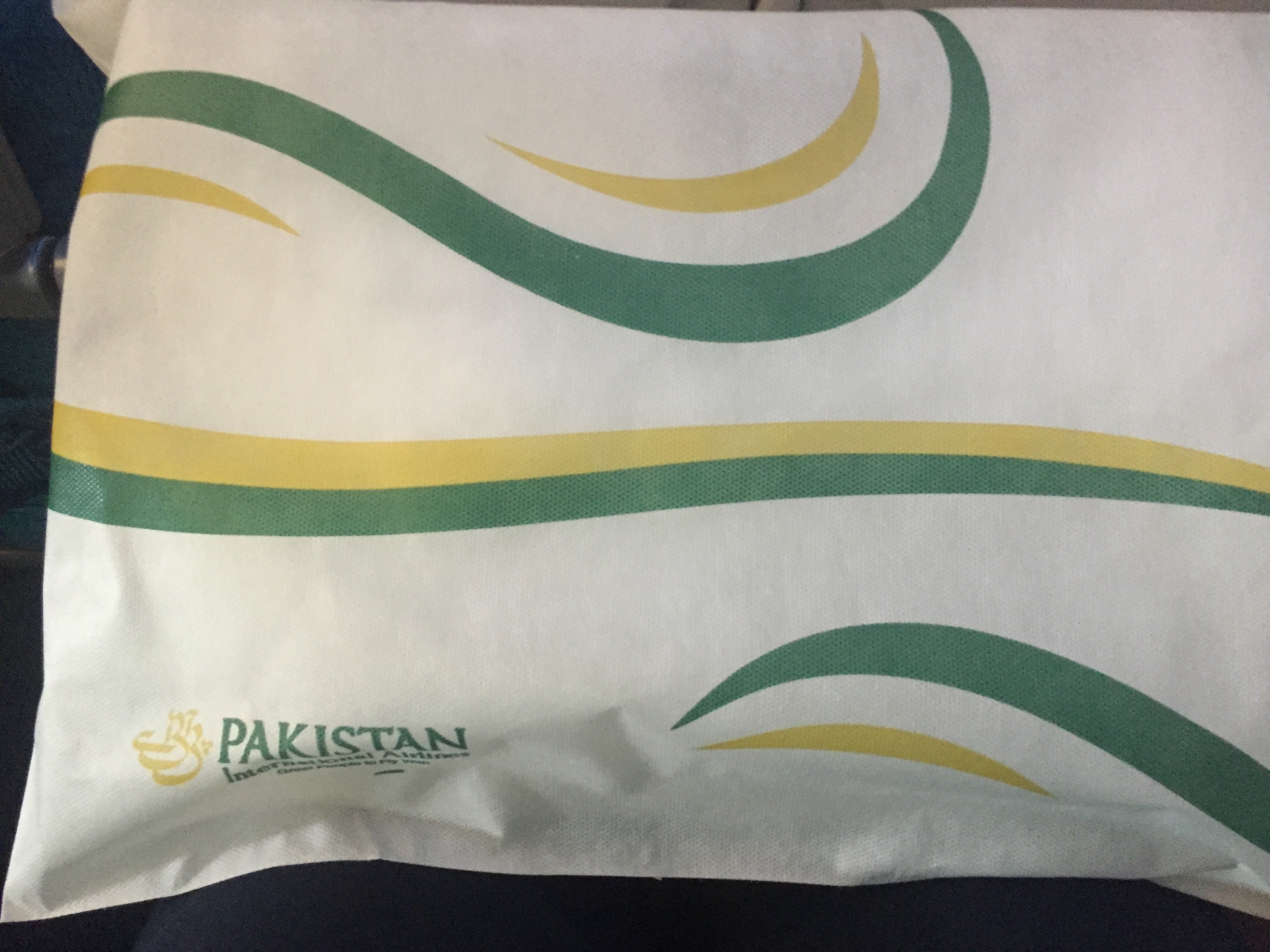 However, images were shared on social media of trash strewn on board the aircraft after it reached London. The crew should collect as much rubbish as they can during the flight, which did not happen. All the blanket covers, earphone covers and food wrappers were just left lying around. Rubbish collection can improve this immensely and also make people aware that instead of throwing it around they should give it to the crew.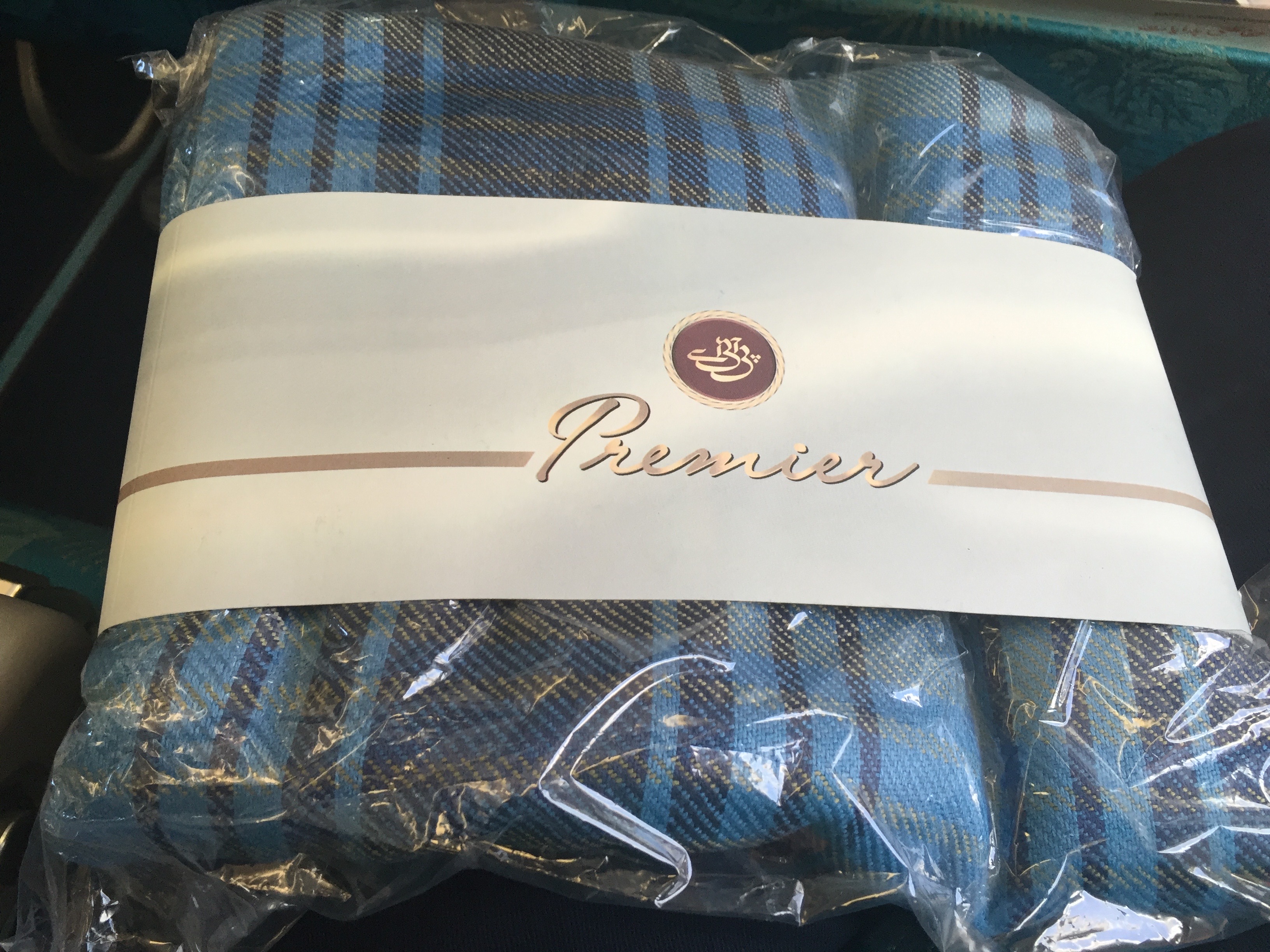 The pillow in business class also needs improvement, as it's the same pillow as economy with a cloth cover. The amenities kit is good with almost everything you would normally find in such kits. But the pouch is very boring and dull, and Pakistani being a rich, colourful culture, I'm sure a more unique kit could be created. With North American flights on the cards for premier service, a sleeping kit would be a great addition.
Food and beverage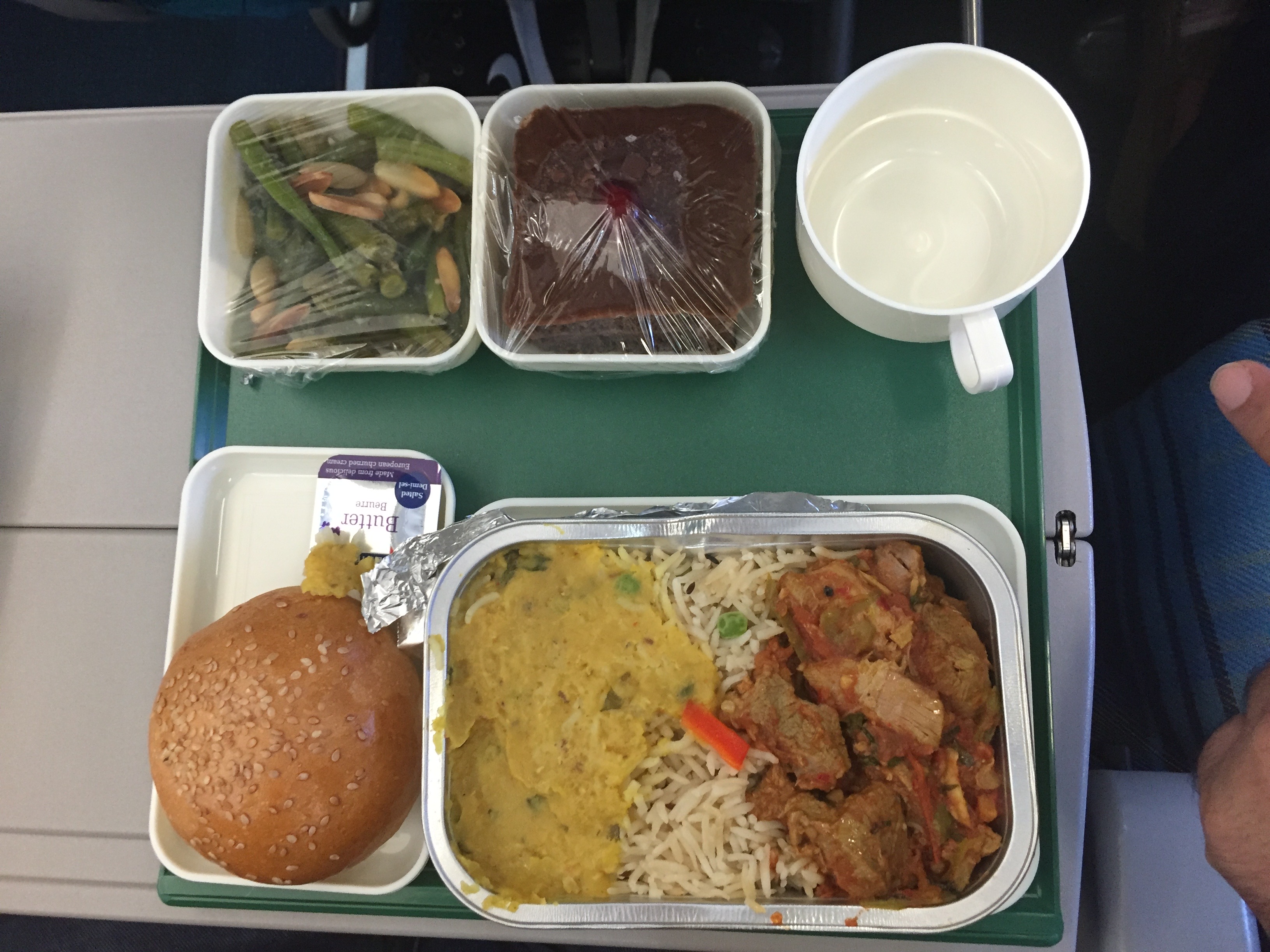 As we all settled down after take off everybody was served with water and lunch was served soon after. PIA food has always been great but lately, the airline has revamped its inflight food service completely with more options in economy, and catered to individual's taste in business class. We had mutton biryani, fish and sautéed vegetables, chicken with rice, daal (lentils) with boiled rice and spinach. There was also potato curry with rice as a second vegetarian option. Salad, desert and an assortment of non-alcoholic beverages were available. 
The food from Islamabad to London was great but on return flight I could see that the same level of quality was not maintained. The choices were very limited, and by providing options PIA could really make their customers happy. The dessert was a huge disappointment – just a tart with jam on it. I am sure PIA can look into that.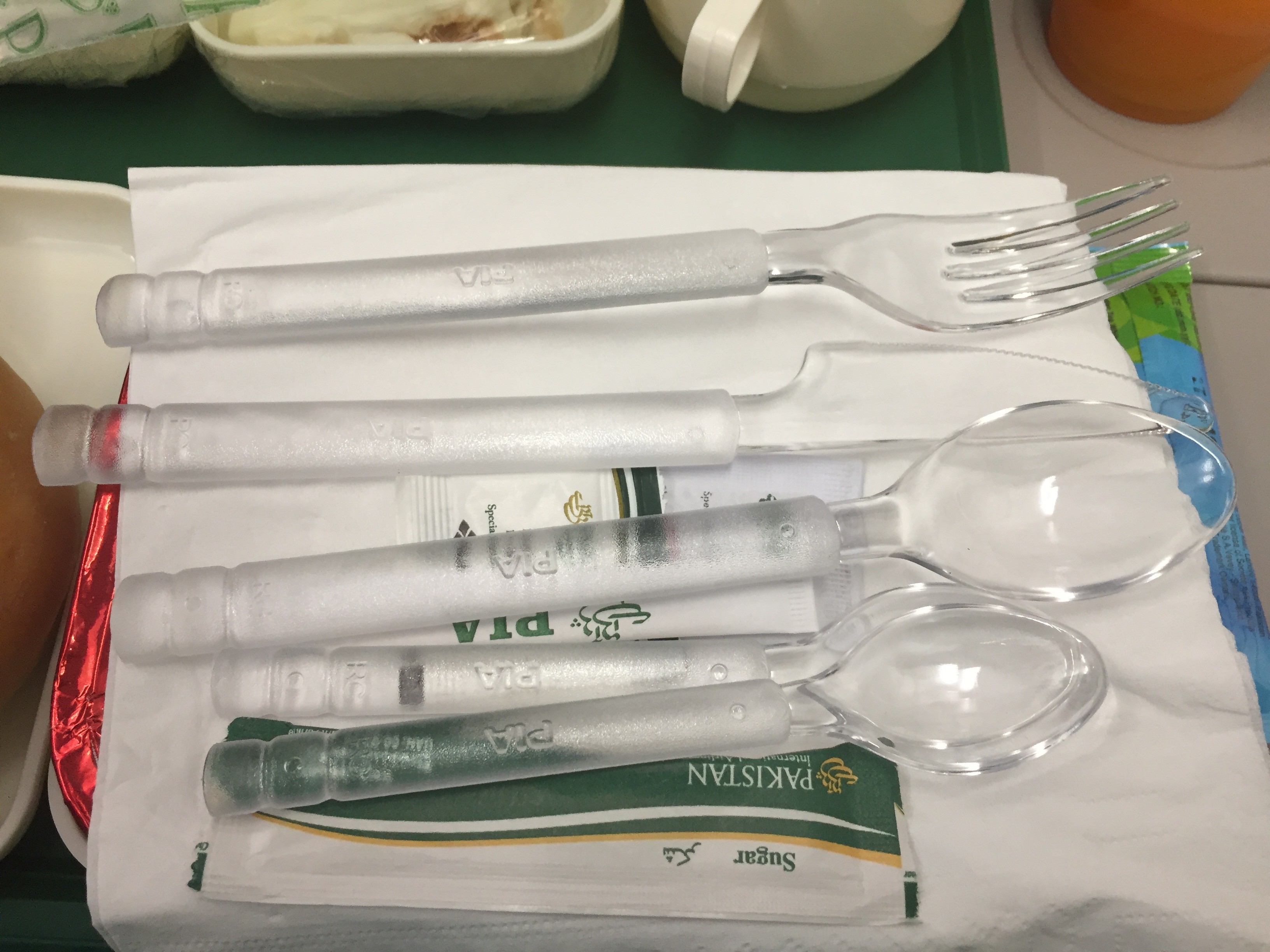 After the food, hot drinks were served and this is an area where I think PIA service is horrible to say the least. They use some unknown and unidentifiable Egyptian instant coffee brand that tastes awful and a coffee lover like me would prefer hot water over it. On these aircrafts they have a system available to offer filtered coffee, so PIA should seriously consider providing good quality coffee for those who would like to have it. 
In business class the food was served on plates prepared by cabin crew not served on a trolley as it is done on most PIA flights. I don't know if this will be the case on all flights but the presentation was excellent and I got great feedback from the passengers. The business class has reverse herringbone flatbeds seats. PIA is aiming to please its business class customers through this service as they do not get the service they pay a heavy amount for.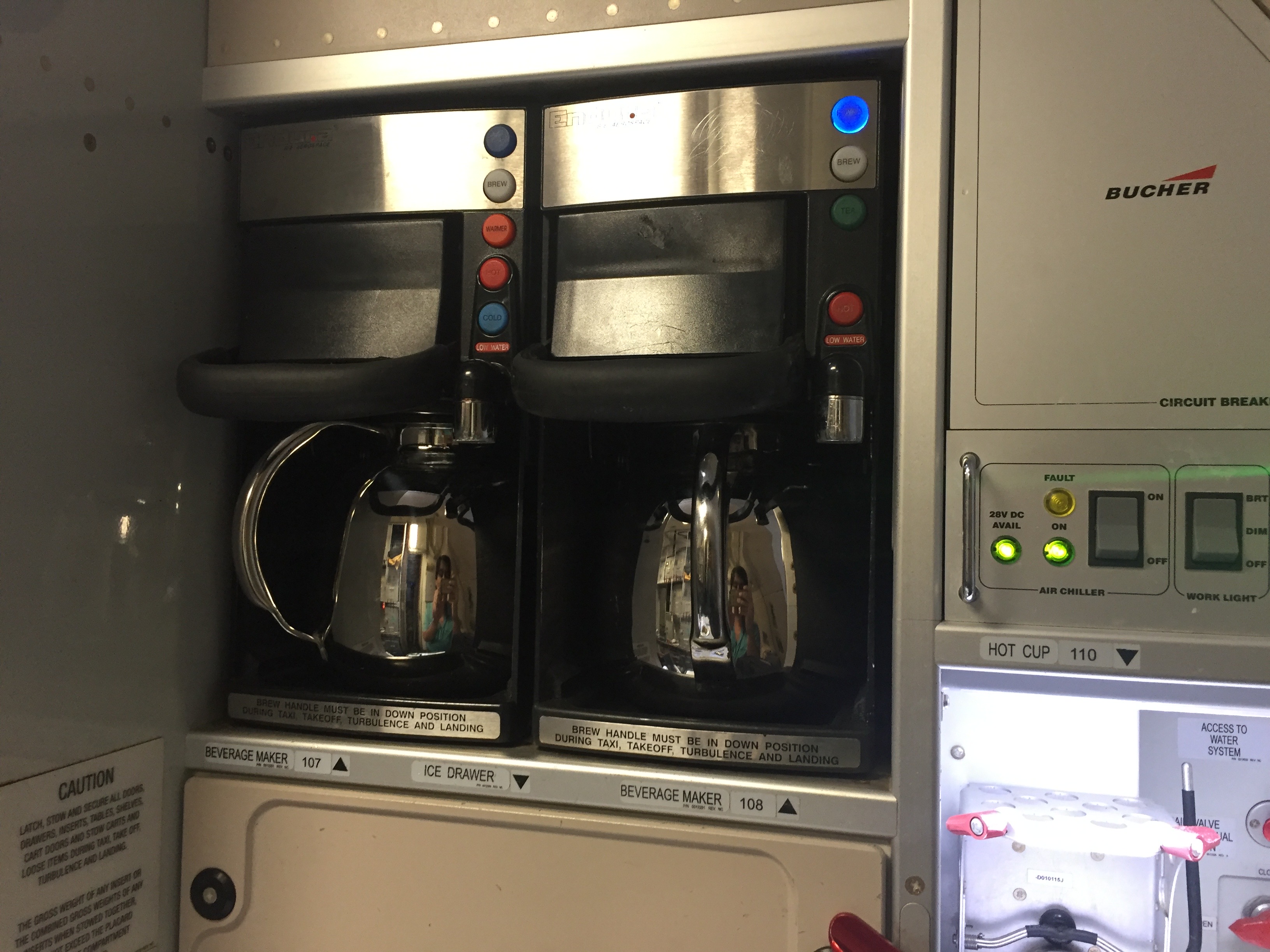 PIA finally brought in new cutlery replacing the sub standard knife and forks you find on cheap roadside stalls. But still plastic cups and trays look a far cry. This was mentioned to the management who have now placed a tender for melamine cups and trays and hopefully passengers will see new stuff onboard very soon.
PIA provided better food and in the words of Sri Lankan cabin manager "excessive food" that was wasted but did little else to provide things that were actually needed.
Cabin crew
PIA cabin crew is one of the finest and bravest I have travelled with. Because of non-availability of IFE, blankets, pillow and toilets often out of order, they often face the wrath of passengers when it's not their fault. They have to provide service on the plane they have been given by the airline. But in my experience, years of abuse and negligence has resulted in the crew deciding to stay away from the cabin altogether. 
For premier flights the crew has brand new uniforms and re-training by Sri Lankan trainers. The uniform looks great but the crew told me their cabin shoes are really uncomfortable. I later found out that a former PIA chairman who now owns a shoe factory has donated all the shoes for the cabin crew.
On all PIA flights I rarely got a flight attendant on pressing the call button. They would just turn a blind eye if they passed by. On Premier flight it was much better but I still had to get up and go ask for whatever I wanted a number of times. This is something that has to be addressed and it will pay dividends. 
In Flight Entertainment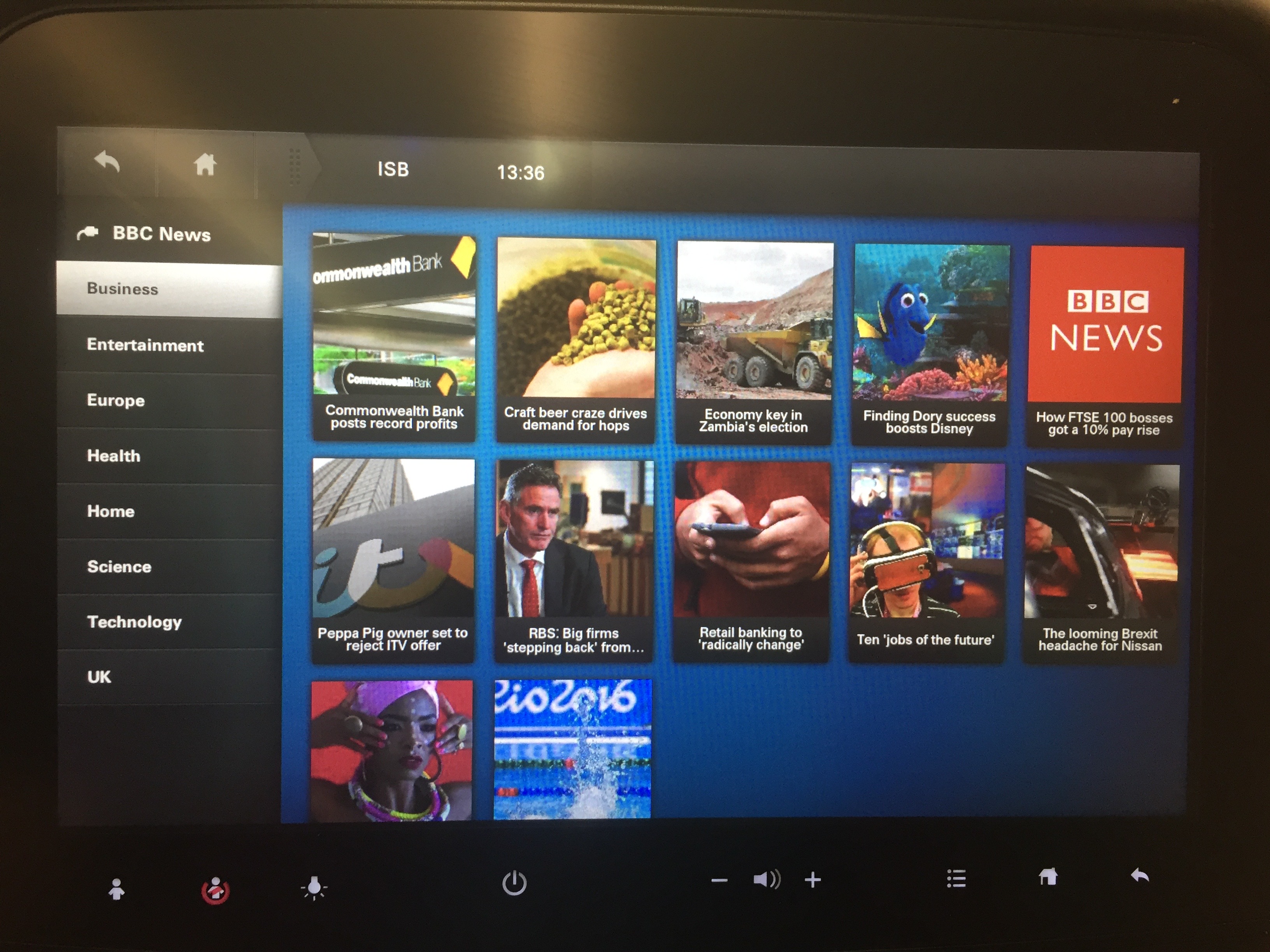 Inflight entertainment is something that improves the flight experience dramatically. This was something alien to PIA until recently. The Airbus A330 has latest IFE with one of the best touch screens I have seen on any airline recently. The choice of movies was good but there were very few to choose from. Most of the movies were old and I had already seen them. Increasing the number of movies, dramas and especially Pakistani dramas could boost this experience.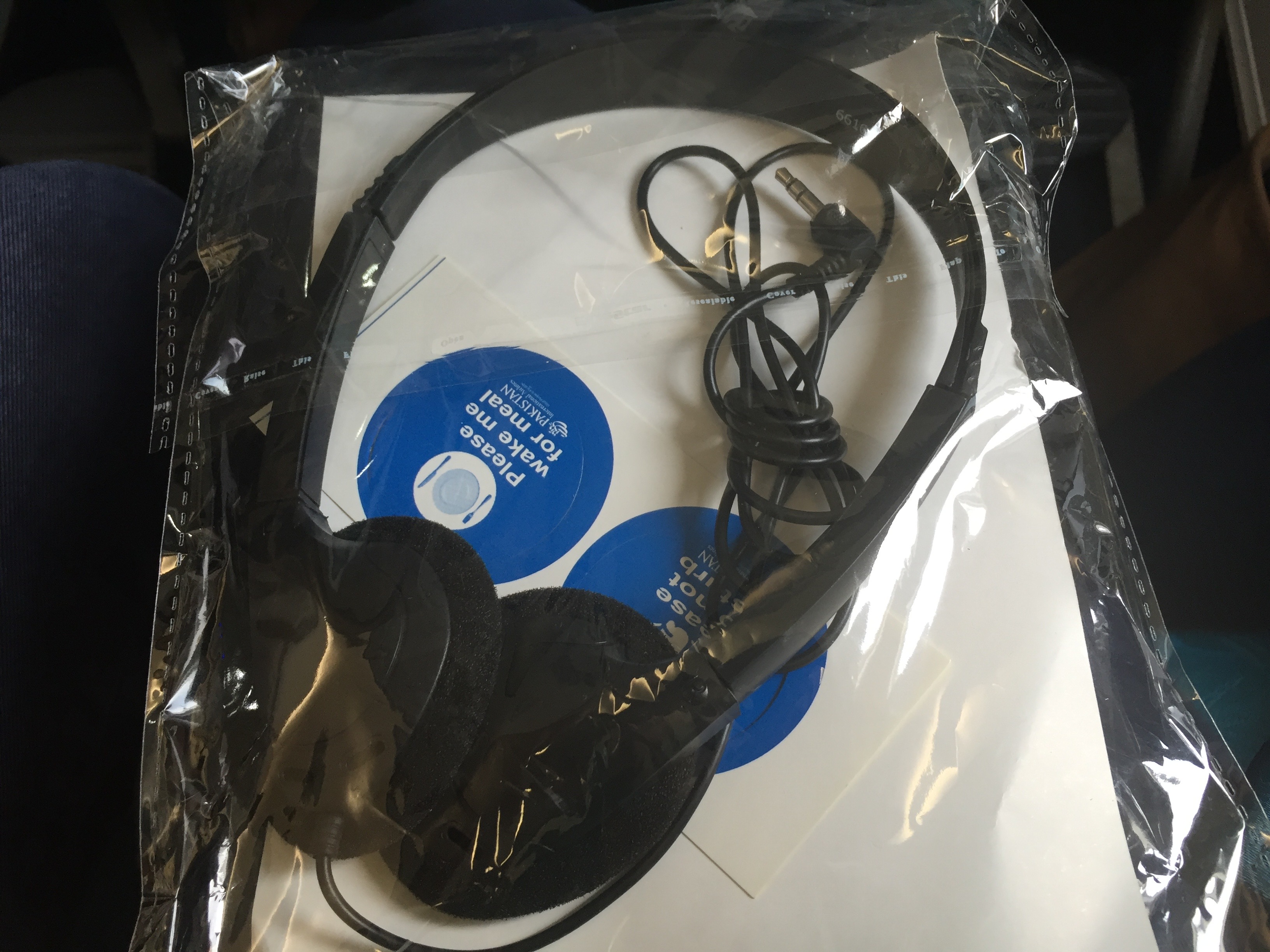 For kids there were games but again very little choice for movies or videos. I think that area should be looked at seriously as a large number of my fellow travellers on both flights were children. The same goes for music with very few options.
Outside aircraft 
One of the major challenges facing PIA Premier, is the Islamabad airport. The airport that locals call Islamabad International bus stop, lacks basic facilities to cater for a normal service let alone premier service. There are few immigration counters and fewer baggage carousals. If two big flights land simultaneously there is complete chaos in the cramped immigration and baggage handling area. Upon my return I have to wait over 30 minutes for immigration and over an hour for my luggage.
With the plan to open a new airport further delayed till next next year, PIA will have to do something drastic to facilitate its premier customers. On the other side, it provides a complimentary car service to drop off business class passengers within 20 miles radius of Heathrow. Why not such a facility for Islamabad or Lahore?
Review this report
Overall flight experience

Food and beverage, with one point lost for hot beverage

Crew and the service they provided

IFE with 2 points just for the best screen

Outside aircraft
Summary
This flight score is