Pakistan's private airline Shaheen Air International is "temporarily suspending" its Islamabad to Manchester flights after less then a year flying to British city. The airline started operation on Manchester route in March 2016 and gave tough competition to PIA who has a monopoly on this route.
Shaheen's decision to "suspend" the route was expected from quite some time as the growing competition and lack of yield made it very difficult to operate these flights. In a reply to a question on twitter Shaheen said "we are temporarily suspending our operations to Manchester. Stay tuned for updates." Later the airline tweeted that passengers who have "purchased tickets via agents will be refunded via agents" while tickets purchased directly from airline will be refunded from airline's CTO".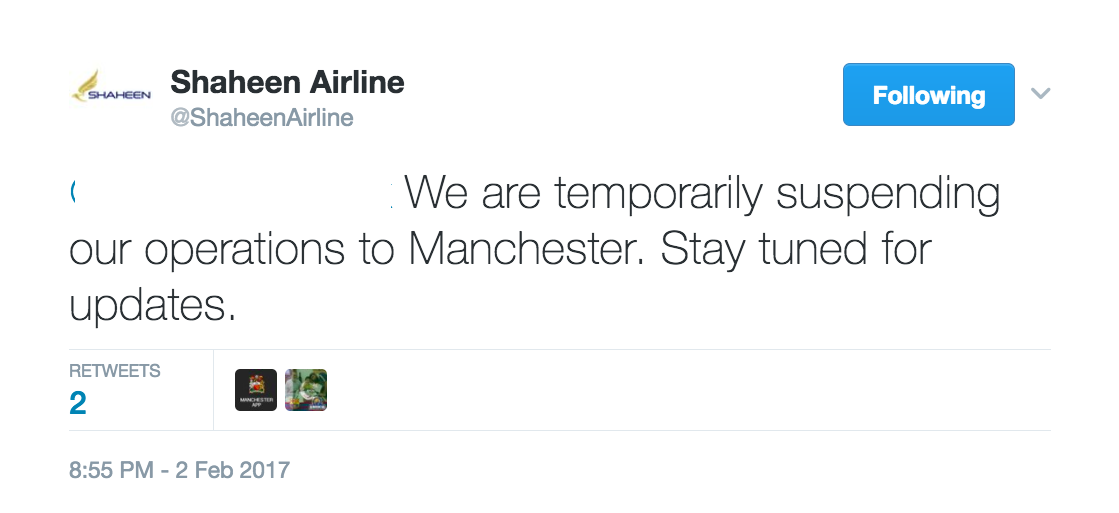 Recently one of Shaheen Air's Airbus A330-203 with registration AP-BML developed technical issues in one of its engines and the flight was ferried back to Pakistan. This plane is still grounded Leaving Shaheen with 4 Airbus A330s to fly long haul flights.
PIA on the other hand has been facing tough competition from Shaheen as it is the only airline to operate directs flights to Manchester from Pakistan. PIA operates 10 flights a week from Islamabad and Lahore to Manchester while 2 flights to Toronto also stop over in Manchester, making it 12 flights a week. To give Shaheen tough time PIA dropped the fares for many months and we can expect now that after Shaheen abandoning the route fares will rise again.