Pakistan International Airlines have published an evaluation report about the narrow bodies requests for proposals it received last year. PIA received 11 bids from various companies and it has shortlisted 7 out of the 11. Out of the 7 2 aircrafts are offered by ICBC international leasing, 2 by CIT Aerospace and SMBC Aviation capital and one by GECAS.  Interestingly PIA has rejected the bids for 2 A321s.
Over the past many months high ranking officials in PIA have been saying that they would like to have a mix of A32s, A319 and A320s for their narrow body fleet. A319s were specifically mentioned to be used for routes where the airlines requires more capacity. Top of the list are 2 Airbus A320-200s that are operated by Aeroflot Russian Airlines. Both received 83.8 marks with top marks of 50 for financial and 33.8 for technical.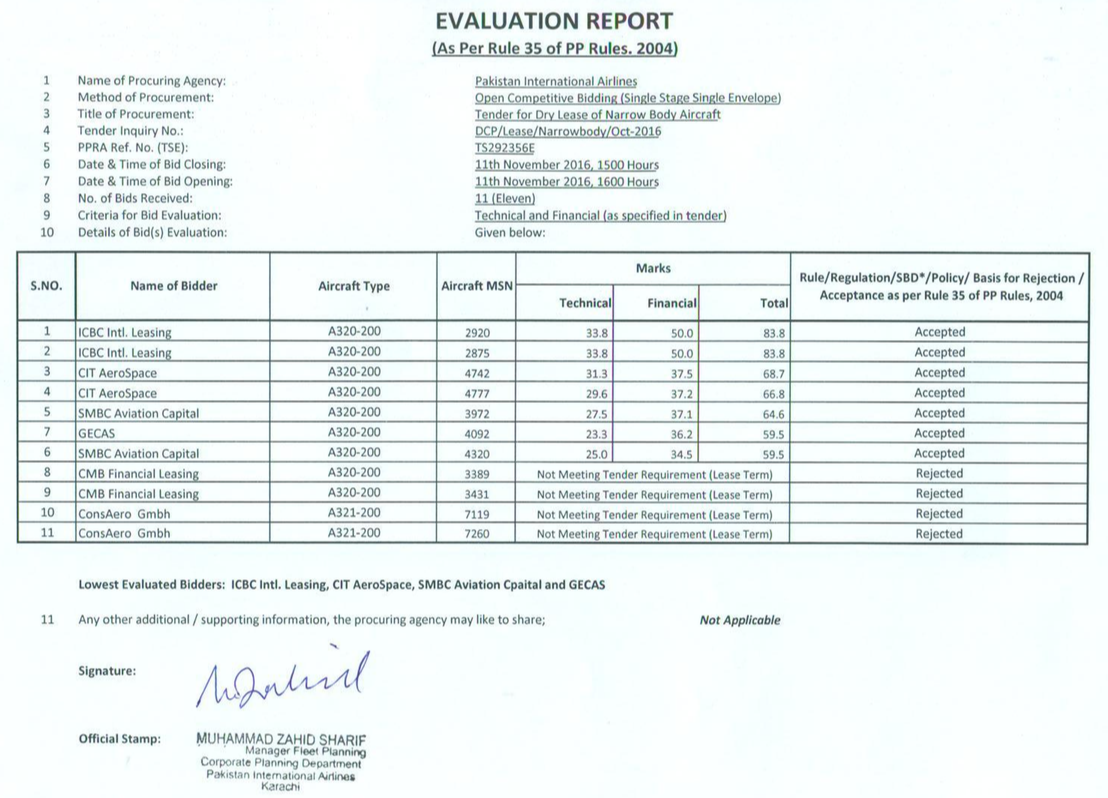 The evaluation report rated 2 CIT Aerospace aircrafts are with Spanish low cost Vueling airlines and Phillipine's PAL Express. The Vueling Airbus A320 got one point better than PAL Express. Then the SMBC Aviation Capital's Airbus A320 that is currently used by LATAM Airlines, Brasil with 64.6 marks. GECAS Airbus A320 is currently used by Saudi Arabian Airlines that received 59.5 marks. The least marks were given to SMBC Aviation Capital Airbus A320 is also used by LATAM Airlines.
Importantly all these aircrafts use CFMI CFM56-5B4 engines that PIA's current fleet uses. PIA is currently using 4 Pegasus Airlines Boeing 737-800s on wet lease for up to 3 months and these narrow bodies will replace these aircrafts when they go back to their owners. We have to see if PIA will take all six of the accepted bids and issue a new tender for two more narrow bodies as advertised earlier.