Advisor to Prime Minister on Aviation Sardar Mehtab Ahmad Khan chaired a meeting of all stakeholders related to the New Islamabad International Airport at the Benazir Bhutto International Airport today. The meeting was held to review the operational readiness of all stakeholders and operators at New Islamabad International Airport. Sardar Mehtab Ahmad Khan has instructed the Civil Aviation Authority, Airport Security Force, Customs Office, Ground Handlers, Airlines, Transport Authority, FIA, and all concerned departments to speed up the working to ensure the timely operationalisation of Islamabad International Airport.On this occasion, Secretary Aviation Irfan Elahi, DG CAA, Chief Executive Officer PIA Musharraf Rasool Cyan, officials of FIA, Transport Authority, PIA, Air Blue and Serene Airline, Secretary regional transport authority, airport security officers were also present.
In order to make the New Islamabad International Airport accessible for passengers, Sardar Mehtab asked local district administration to facilitate the passengers by providing them with the timely information about transport routes. He asked that all stakeholders should also take it as a priority to facilitate its employees to make new international airport accessible and approachable for them.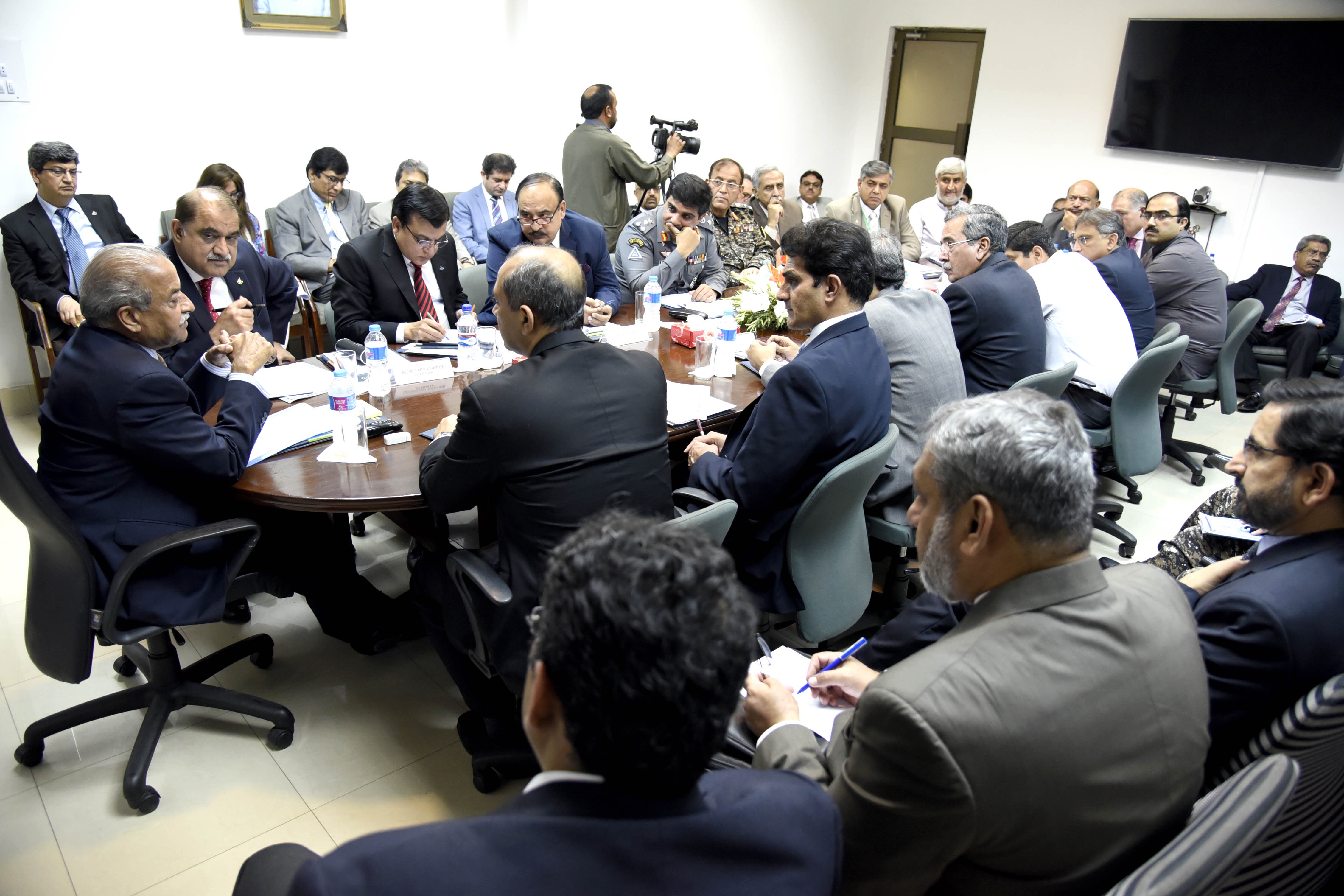 In addition, he asked Civil Aviation Authority to facilitate operators in the operationalisation of NIIA. On this occasion secretary, Aviation Division Irfan Elahi gave a briefing that PIA, Civil Aviation authority, customs, ANF, ASF and all other concerned departments are in liaisons to make the launch a success story.
PIA CEO Musharraf Rasool also gave a detailed briefing about flight operations, cargo, kitchen, and handling and about other operational functions. Civil Aviation Authority and all other agencies were instructed by the advisor to ensure arrangements of food, water and transport for employees before operationalization.
Airport Security Force was asked to ensure foolproof security arrangements in terminal building and airport perimeter. All operators were asked to ensure maximum familiarization with new systems and facilities at the earliest. CAA was asked to facilitate operators for cargo handling and in the provision of facilities for the convenience of passengers.
Sardar Mehtab Ahmad Khan said that it is our foremost priority to facilitate our passengers and to share timely and constant information with them about the routes and instructed to share this information by publishing on daily basis. He asked that the required information should be displayed on the official website to guide the passengers.
The National Highway Authority was also instructed to complete the road markings and signage so all roads leading to the new airport so passengers can find it easily and make their way to the airport.
وزیر اعظم کے مشیر برائے ہوا بازی سردار مہتاب احمد خان نے ہدایت دی ہے کہ نیو اسلام آباد انٹرنیشنل ائیر پورٹ پر تمام انتظامات کو فوری طور پرحتمی شکل دی جائے اور اس ضمن میں سروسز منتقلی اور تنصیب کے عمل میں بھی تیزی لائی جائے تا کہ نئے ایئر پورٹ پر مسافروں کو کسی بھی قسم کی مشکلات کا سامنا نہ کرنا پڑے ۔ انہوں نے سول ایوی ایشن حکام کو مزید ہدایت کی کہ ائیر لائینز اور سٹیک ہولڈررز کو تمام تر سہولیات مہیا کی جائیں۔ وہ منگل کو بے نظیر بھٹو انٹر نیشنل ایئر پورٹ پر نیو انٹر نیشنل ایئر پورٹ اسلام آباد کی آپریشنل تیاریوں سے متعلق جائزہ اجلاس سے خطاب کر رہے تھے ۔سیکرٹری ایوی ایشن ڈویژن عرفان الہی ،ڈی جی سول ایوی ایشن اٹھارٹی،چیف ایگزیکٹو آفیسر پی آئی اے مشرف رسول سیان،پی آئی اے ،ایئر بلیو ،سرین ایئر لائن کے حکام ،راولپنڈی اسلام آباد کے سیکرٹری ریجنل ٹرانسپورٹ اتھارٹیز ، ایئر پورٹ سکیورٹی فورس(اے ایس ایف ) اور ایئر لائنز تکنیکی شعبہ جات کے حکام اجلاس میں شریک تھے ۔ اس موقع پر مشیر ہوابازی کو نئے ایرپورٹ کی آپریشنل تیاریوں کے حوالے سے تمام متعلقہ اداروں کی جانب سے تفصیلی بریفنگ دی گئی۔ سردار مہتاب احمد خان نے ہدایت کی کہ سول ایوی ایشن اتھارٹی،ایئر پورٹ سکیورٹی فورس،کسٹمز تمام ایئر لائنز اور متعلقہ ادارے نیو انٹر نیشنل ایئر پورٹ اسلام آباد پر کارگو،ہینڈلنگ اور دیگر سروسز کی منتقلی اور تنصیب کے عمل کو مزید تیز کریں۔ انہوں نے مزید ہدایت دی کہ ضلعی انتظامیہ نیوانٹر نیشنل ایئر پورٹ تک رسائی کے لئے ٹرانسپورٹ روٹس اور ایئر لائنز اپنے ملازمین کونیو ایئر پورٹ تک رسائی کے لئے ہرممکن سہولیات فراہم کرے،انہوں نے کہا کہ انشاللہ 20 اپریل کو نئے انٹر نیشنل ایئر پورٹ پرپروازوں کی آمدورفت کا باقاعدہ آغاز ہو جائے گا اور ضمن میں سروس ڈیلیوری کی بہتری اور مسافروں کو بہترین سہولیات کی فراہمی کیلیے حکومت تمام تر دسائل بروئے کار لا رہی ہے۔ تمام ائیر لائنز سمیت پی آئی اے کے سی ای او مشرف رسول سیام نے بھی پی آئی اے کے فلائیٹ آپریشن ،کارگو ،کچن ، ہینڈلنگ سمیت دیگر امور کے حوالے سے اجلاس کو تفصیلی بریفنگ دی ۔سول ایو ایشن اتھارٹی (سی اے اے ) کے حکام نے اجلاس کو بتایا کہ 20 اپریل کو نیو انٹرنیشنل ایئر پورٹ پر پروازوں کی آمدورفت کے آپریشن کا باقاعدہ آغاز ہوجائے گا۔سیکرٹری ایوی ایشن عرفان الہی نے اجلاس کو بتایا کہ پی آئی اے ،سول ایوی ایشن ،کسٹم ،اے این ایف ،اے ایس ایف سمیت تمام متعلقہ ادارے مربوط رابطے میں ہیں اور تمام امور بہتر انداز سے آگے بڑھ رہے ہیں ۔وزیر اعظم کے مشیر برائے ہوا بازی سردار مہتاب احمد خان نے تمام متعلقہ اداروں کو ہدایات دیں کہ نئے انٹر نیشنل ایئر پورٹ پر عوام الناس کے لئے معیاری کیفے ٹیریا ،ٹوائلٹس ،کشادہ انتظار گاہ ،آمد اور روانگی کے لاؤنج ،ہینڈلنگ ، کارگو کے حوالے سے تمام انتظامات کو فوری طور پرحتمی شکل دی جائے اور اس ضمن میں سروسز منتقلی اور تنصیب کے عمل بھی تیزی کیا جائے تا کہ نئے ایئر پورٹ پر مسافروں کو کسی بھی قسم کی مشکلات کا سامنا نہ کرنا پڑے ۔وزیراعظم کے مشیر سردار مہتاب احمد خان نے تمام ایئر لائن کے حکام کو یہ بھی ہدایات دیں کہ اپنے اپنے ملازمین کی نئے ایئر پورٹ تک رسائی کے لئے بہترین سہولیات فراہم کی جائیں۔ انہوں نے سول ایوی ایشن تھارٹی کو ہدایت دی کہ نئے انٹرنیشنل ایئر پورٹ پر فلائیٹ آپریشن کے آغاز سے قبل نئے ایئر پورٹ کے روٹ اور رسائی سے متعلق معلومات کو مشتہر کریں اور آفیشل ویب سائیٹ پر بھی روٹ اور رسائی سے متعلق معلومات اپ لوڈ کی جائیں تا کہ شہریوں کو نئے ایئر پورٹ تک رسائی سے متعلق بروقت اور مصدقہ معلومات مل سکیں ۔ سردار مہتاب احمد خان نے نئے ائیر پورٹ اسلام آباد کی آپریشنل تیاریوں پر اطمینان کا اظہار کیا۔ #