Shaheen Air international's special flight NL1 is airborne on its way to pick around 250 stranded passengers from Guangzhou, China. Shaheen Air with the help of customs and its efficient engineers managed to get the technical issues sorted. Finally an hour ago CAA inspectors cleared the aircraft and soon after it departed. Currently, it is airborne on its way to Lahore and then it will continue its flight to Guangzhou. Yesterday Shaheen announced that it is going to get one its own Airbus A330s fixed and send it to Guangzhou to bring back its stranded passengers. On Saturday Shaheen approached PIA to bring back these passengers and PIA decided to send a special plane. But later Shaheen Air decided to get one of its own plane fixed. So far 25 passengers have been offered alternative flights but most of the passengers are still in the hotel.
* Shaheen Air's is going to bring back stranded passengers on its own plane
* PIA to bring stranded Shaheen Air passengers from Guangzhou
* Shaheen Air not allowed to bring back stranded passengers from Guangzhou
* Shaheen Air bids farewell to 3 Airbus A320s
* All Airbus A319 of Shaheen Air international's are gone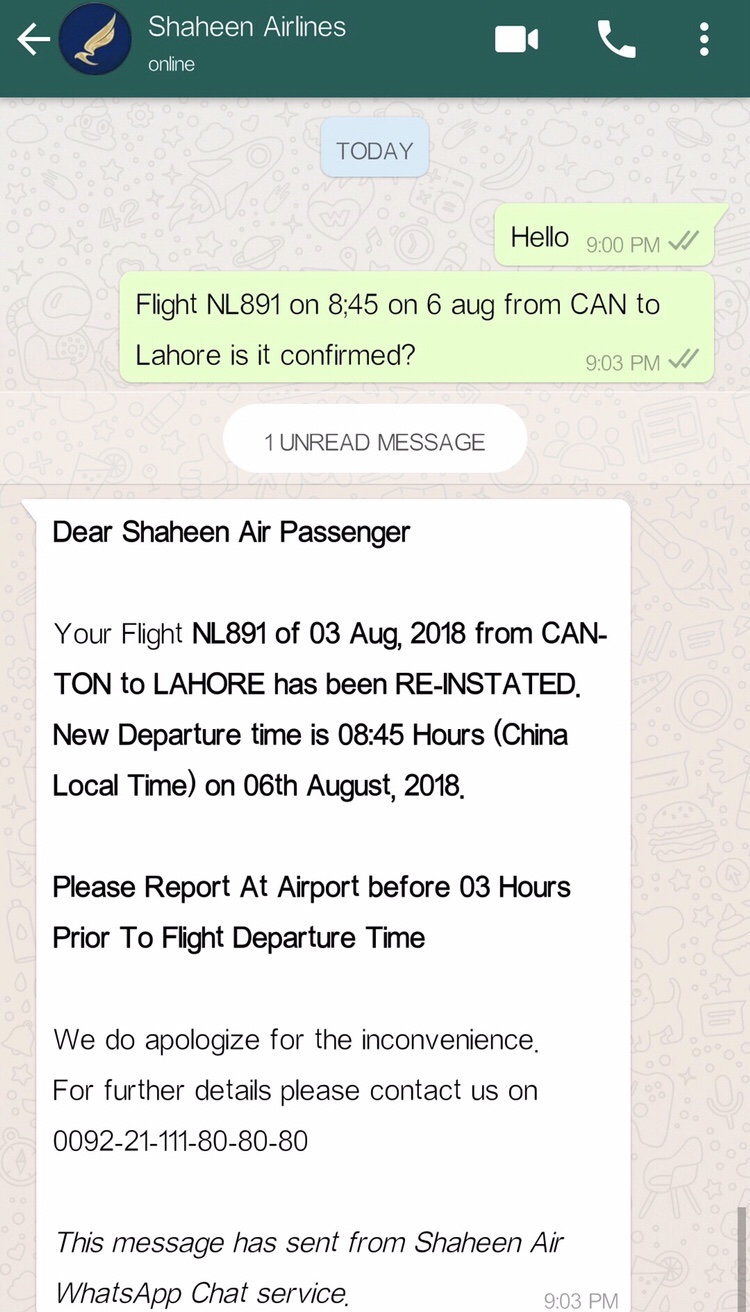 On Saturday in a meeting between Pakistan's Civil Aviation Authority and Shaheen, it was decided that PIA will be requested to do this job on commercial terms.
A passenger Abdul Basit who studies at Hainan medical university said to Pakistan Aviation that "all is drama, and we are suffering here from 8 days. These are all lies. We have not been given any confirmed news but lollipops. When are they going to bring us back? I'm coming back after 4 years just for one month vacation, and I have wasted 8 days here and on 1st September I have to return back, last night they give just 14 tickets of different airlines and they left, if PIA is coming then why they gave tickets? This shows they not sure when it will come tomorrow or after tomorrow."
Earlier CAA stopped Shaheen air from operating a special flight on Saturday at last minute. It is reported that CAA told Shaheen to change certain spare parts in one of its planes before it can clear the aircraft.
A video sent to Pakistan Aviation by passengers stranded in a Guangzhou showed passengers pleading to the government to reign in the corrupt elements in CAA. The flight by Shaheen was supposed to fly to Guangzhou on Friday but Shaheen air claims that "CAA raised a technical issue with the aircraft at the last minute which will cause severe inconvenience for the passengers."
In the battle of Shaheen vs CAA, it's the passengers who suffered. Some of them stuck and missing their precious holidays and have limited or no other means. We hope CAA and Shaheen will try to compensate these passengers in some way for their suffering.