Pakistan International Airlines has terminated the contract of its chief operating officer. Zia Qadir Qureshi was appointed as COO on 14 July 2017 and he assumed his charge same day. PIA chief Human Resource officer Asma Bajwa in the termination letter wrote that "as you are aware, the continuation of your appointment beyond the age of superannuation in October 2017 was subject to a bi-annual review of your performance." It is important to note that Zia Qadir is missing from his job from past many days without informing the management. The letter continues to state that "a letter was written to you by PIA on 10 August 2018, inviting you to a performance review meeting, however, you informed that you could not attend due to ill health. Another letter was written to you on 13 August 2018, asking you to attend your performance review meeting on 17 August 2018, however, you have not responded to this."
Zia Qadir has failed to inform that airline management why he is not present at work. The CHR has asked Zia Qadir through this letter "you have also not applied for casual, or medical leave, and have not been present at your station for a past week."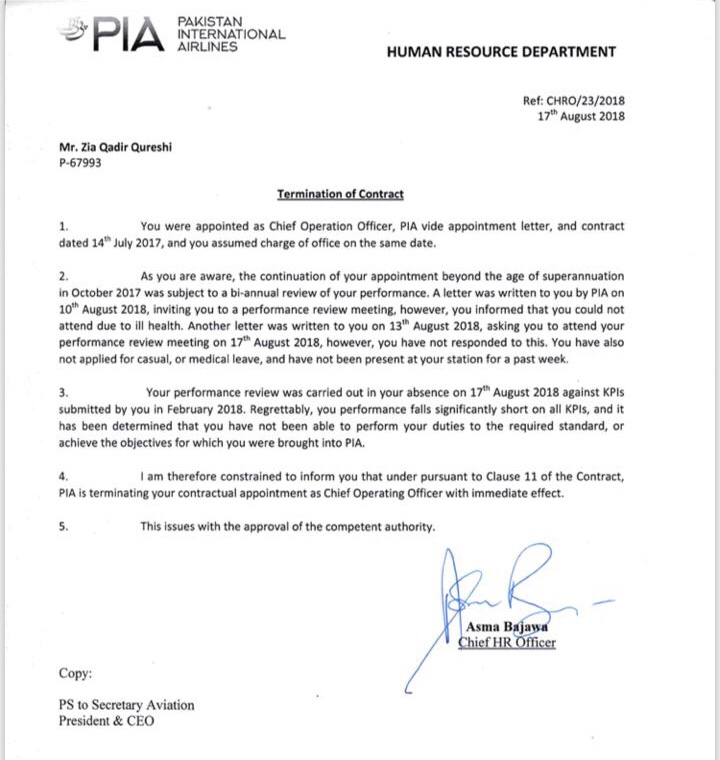 Due to continued absence PIA conducted the performance review in the absence of Zia Qadir on 17 August 2018 against KPlS that were submitted by you him in February 2018. The CHR concluded that his "performance falls significantly short on all KPIs, and it has been determined that you have not been able to perform your duties to the required standard or achieve the objectives for which you were brought into PIA.
Zia Qadir Qureshi has been lately seen at Bani Gala frequently trying to get an audience with the PTI top leadership. He was also heard boasting about the so-called plans he has brought to the table. Ironically the plans he was claiming as his own are presented by the PIA management as part of its business plan and most of them had nothing to do with his position.
In May this year the Commercial Audit Department (Government Audit) report declared the appointment of Zia Qadir as irregular and stated that "PIA management (Nayyar Hayat as acting CEO & Irfan Illahi as chairman) extended undue favour to the officer in his initial appointment at the age of fifty-nine years & nine months and redeployment after superannuation without submitting bi-annual performance reports against approved Key Performance Indicator (KPI)."
PIA sources claimed that "Zia Qadir's main challenge was performance. Where he failed to deliver significantly as he spent more time lobbying and plotting against the management." Additionally, he was tasked to start the transformation process which he couldn't even initiate after one year. He was also notorious for bypassing company processes due to lack of knowledge or understanding and often used to get in trouble.