Pakistan's once second largest airline Shaheen Air International has received a conditional nod from Pakistan Civil Aviation Authority to restart operations. The airline is told by CAA to "adhere to the requirements at first and sail through the cases pending with Honorable Supreme Court, High Courts, FIA, FBR and NAB etc, after which CAA would be in a position to consider extending relief within the ambit of its rules and regulations."
The airline's firefighter in chief also known as acting CEO Javed Sehbai has been working hard from past many weeks negotiating with agencies and stakeholders to get things moving. The letter addressed to Javed Karim Sehbai states there was a meeting on 20 December 2018. The letter refers to this meeting and asks Javed Sehbai to submit documentary evidence about his appointment and designation as Acting CEO of Shaheen Air International. So far CAA has not received this letter or SECP certification in this regard. This will be the main hurdle as all the solutions available on the table are Minus the Sehbai brothers.
* Shaheen Air finalises a deal with a Saudi investor
* Shaheen Air international plans to restart operations in January 2019
CAA director air transport and economic regulations wrote in the letter that Javed Sehbai's request has been considered at a "competent level and it has been decided that Shaheen Air International may be facilitated for resumption of their operations subject to payment of CAA dues and return of the management i.e. CEO/Director to Pakistan for resolution of their liabilities."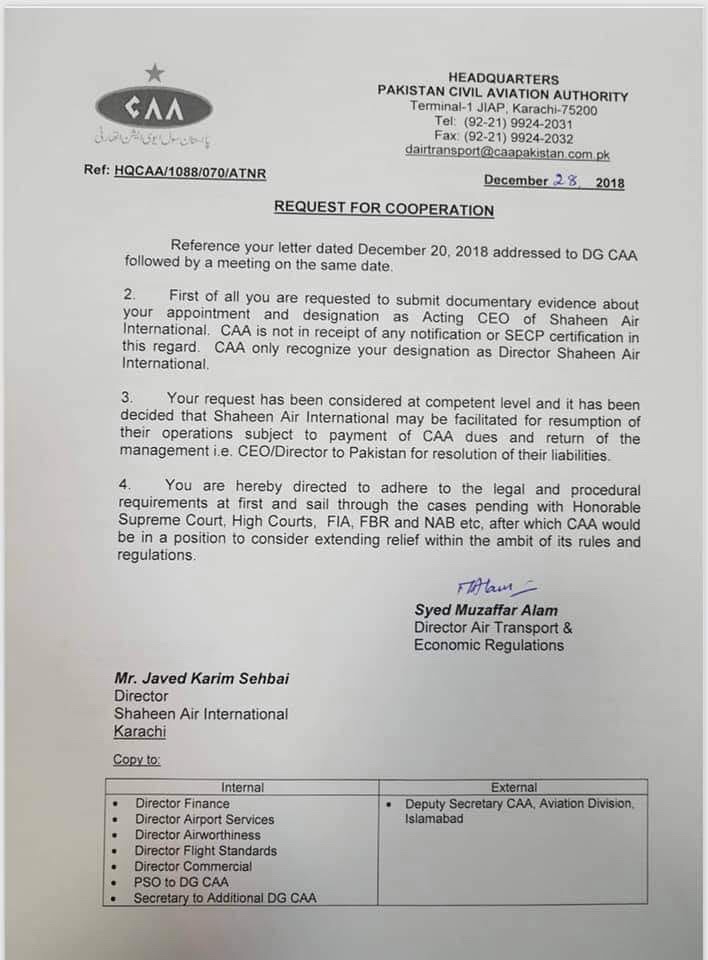 Earlier the airline's plans to return to operations failed when the negotiations broke out at the last minute with a Saudi investor. With little information about the plan to return to operations the airline got the nod from CAA. It seems the announcement about the Saudi deal was just to calm the nerves of anxious employees who have been worried about their future prospects.