Pakistan International Airlines has successfully inaugurated another route, from Peshawar to Sharjah. Earlier today PIA launched flights from Multan to Sharjah. The inaugural flight PK257 left Peshawar on 21st February 2019 at 1.15 AM and according to PIA, it was fully booked. Tomorrow on 22 February PIA will launch flights from Peshawar to Al Ain. While PIA acting CEO went all the way to see of the Multan flight the Peshawar flight didn't get that seen and Duty Manager cut the cake and said goodbye to departing passengers.
The inaugural flight PK 293 from Multan to Sharjah departed in the early hours of Wednesday morning carrying 166 passengers.
A ceremony was held at Multan Airport where Foreign Minister, Shah Mehmood Qureshi was the Chief Guest. Federal Minister for Privatization and Aviation Muhammad Mian Soomro, President & CEO PIA, Air Marshal Arshad Malik, along with other officials of CAA were present at the ceremony.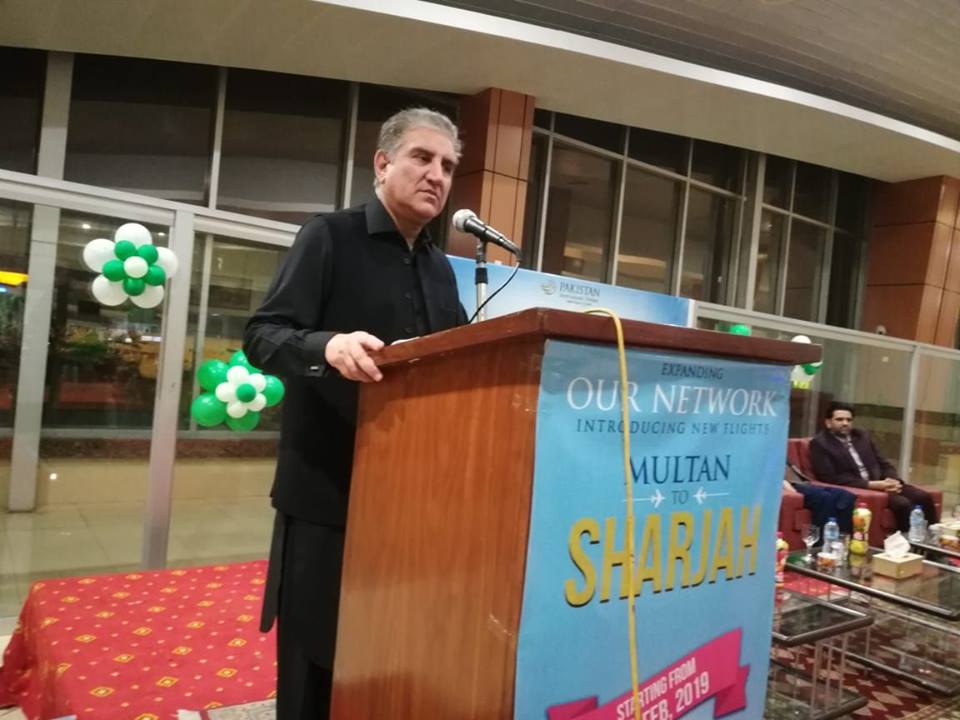 Foreign Minister, Shah Mehmood Qureshi said that the present government is very keen to see PIA rising again and extending full support for its revival. He expressed his satisfaction on the leadership of Air Marshal Arshad Malik in bringing back the past glory of the national flag carrier.

Addressing the ceremony Muhammad Mian Soomro said that PIA is moving in the right direction and progressing well under the leadership of Air Marshal Arshad Malik. He said more aircraft and destinations will be added in near future.
Details about the flights
PK293 Multan to Sharjah departed at 1.30 AM and arrived at 3.30 AM with Airbus A320
PK257 Peshawar to Sharjah departed at 1.15 AM and arrived at 3.21 AM with Airbus A320
PK763 Faisalabad to Jeddah departed at 4.45 AM and arrived at 8 AM with Airbus A320
President & CEO PIA, Air Marshal Arshad Malik sharing his views on the commencement of flight said that this flight fulfils the long-standing demand of the people of South Punjab as now they will have direct access to UAE. He said this is also part of PIA's strategy of revival and network expansion and more flights are being added. He said that after the commencement of Multan Sharjah, PIA's flights to Sharjah from Pakistan will increase to seven per week while the airline will commence flights from Peshawar to Sharjah from 21st February and Peshawar to Al-Ain from 22nd February. PIA also launched directs flights from Faisalabad to Jeddah. But the last three flights were diverted to Karachi and it seems PIA is operating it Faislabad-Karachi-Jeddah flight.
PIA staff at Faisalabad airport seeing off the inaugural flight to Jeddah.