Pakistan International Airlines has turned around one of its Boeing 777 that was rusting for over year at the tarmac of Karachi's Jinnah International airport. The aircraft registration AP-BHV took to the skies at around 17.30 today and flew over Sindh. After taking off from Karachi, it went Nawabshah and returned back to Karachi. PIA also performed test flight of its Airbus A320 AP-BLT today.
PIA Boeing 777 was grounded for over 15 months and during the period it was cannibalised to the bone by PIA engineering that was hungry to keep the fleet operational. Repeated payments for the rehabilitation of this aircraft were diverted and as a result, this plane remained stuck outside. The issue was highlighted by a story published in BBC Urdu by Tahir Imran who revealed the plight of this plane.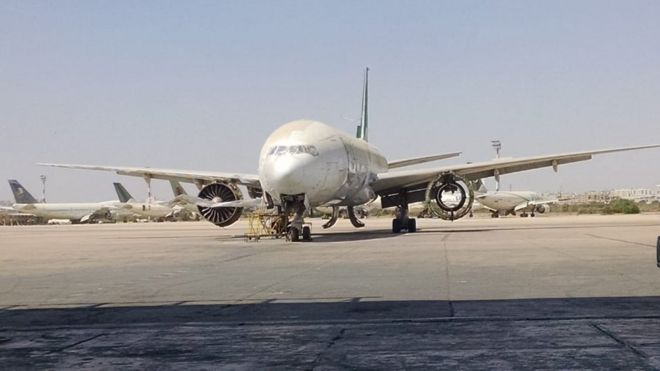 AP-BHV is PIA's own aircraft and initially, the aircraft was grounded because of engine issues. During past years the management facilitated for the repairs but nothing materialized. Where PIA could have to spend a reasonable amount to manage the repairs and engines for the aircraft it ended up spending almost triple the actual amount that it could have spent on sorting this plane out because the plane had a lot of parts removed from its body to keep the other aircraft flying. In BBC Urdu story PIA told the reporter the plane will be ready in a month. And then that one month got stretched into 4 months and finally, the day arrived.
The unfortunate PIA, Boeing 777 left to rot and mercilessly cannibalised for parts. PIA bought this aircraft directly from Boeing. To provide cover for this missing plane PIA has dry leased multiple aircraft by paying more money. It is heard that now AP-BHW is grounded and we can truly hope that it does not meet the same fate as this 777.