Pakistan is all set to join the "Makkah Road" initiative this year as the first flight will depart on 4th July 2019 from Islamabad International Airport. A 51 member Saudi Immigration officer team has arrived in Islamabad and they will set up their systems at the Islamabad International Airport. As a result, the immigration for Pakistani Hujjaj will be done at Islamabad International airport and they will arrive in Saudi Arabia as domestic passengers. This is a pilot project and special counters have been set up at IIA. Saudi Arabia launched the Makkah Road Initiative last year in July in Indonesia and Malaysia in order to facilitate the journey of pilgrims.
The first pre-Hajj flight carrying more than 300 intending pilgrims will depart from Islamabad on 4th July. Under "Makkah Road" initiative, pilgrims travelling from Karachi and Lahore airports will also go through Saudi immigration and customs process at the airport.
Pakistan International Airlines is going to operate 350 flights for its Hajj flights operation and will transport 78,000 pilgrims this year. Among these 350 flights by PIA, there are 215 regular flights and 135 special flights that will transport intending pilgrims to Saudi Arabia. The PIA pre-Hajj flights operation will be operated from July 4 to August 5. And PIA will start its post-Hajj flights' operation will commence from August 17 and continue till September 14. The Pakistan International Airlines (PIA) will commence this year's Hajj operations by taking the first batch of pilgrims to Saudi Arabia from July 4. Apart from PIA, only Airblue is going to operate Hajj flights. Rest of the Hujjaj will be taken by Saudi Arabian Airlines and other Gulf airlines.
PIA is planning to operate Hajj flights from Quetta this year with Airbus A320 aircraft. The pilgrims will be requested to keep their baggage weight within allowance. Apart from Quetta, PIA will operate flights from Lahore, Karachi, Islamabad, Peshawar, Multan, Sialkot, Faisalabad, Rahimyar Khan and Sukker.
Over 50,000 pilgrims under the government's Hajj scheme while 27,000 private pilgrims will be taken to Jeddah and Medina. Pilgrims, travelling under the government's scheme, are being charged Rs110,000 from Punjab and Khyber-Pakhtunkhwa while Rs100,000 from Karachi and Quetta. Two Boeing 777 and as many Airbus A320 aircraft will be used for the whole operation. Last year after Saudi Arabia increased the Hajj quota for Pakistan from 184,210 to 200,000 in February this year.
Pre-Hajj flights operation at Peshawar Airport will start on July 4 and end on August 5.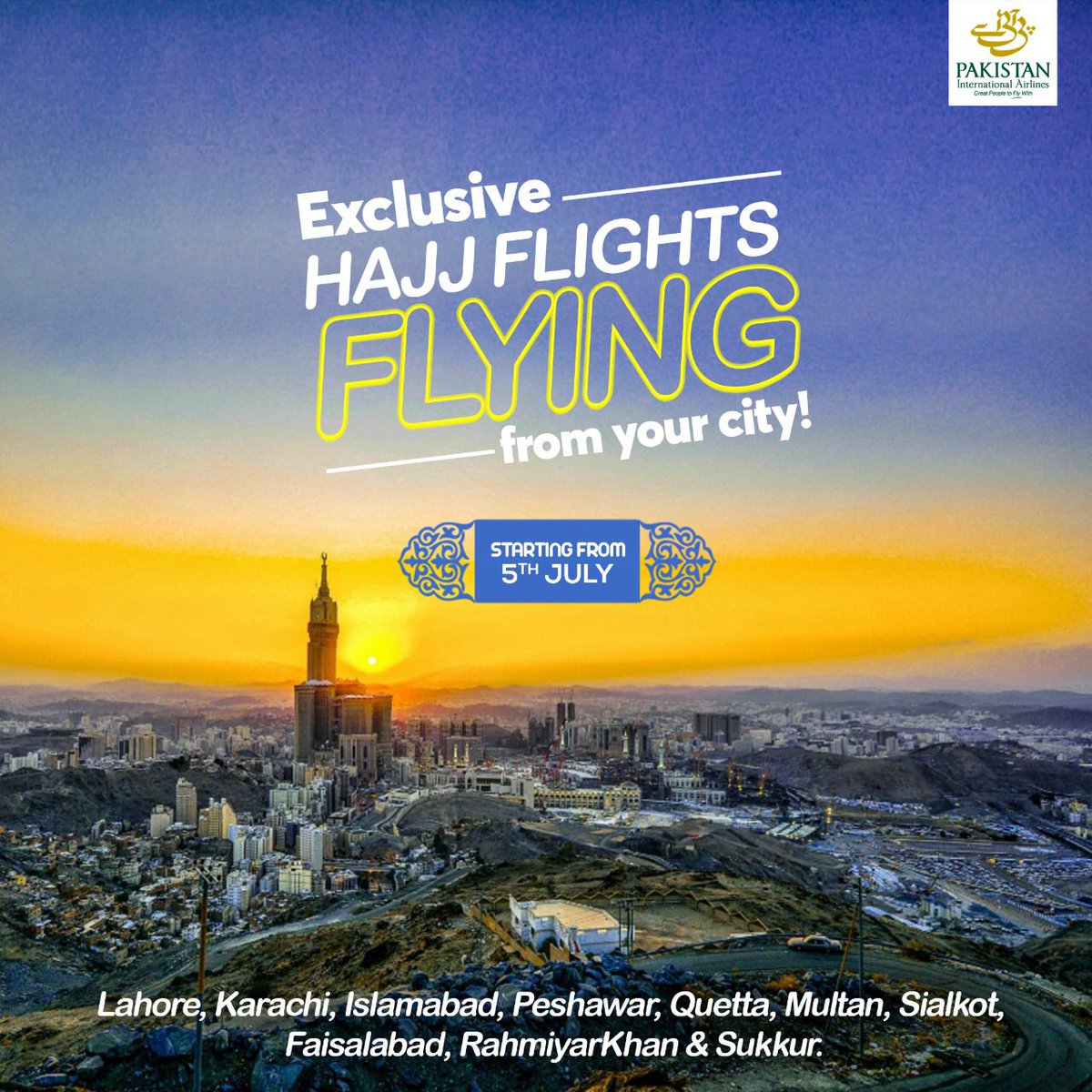 The distribution of Hajjis at other airports is as follows:
15,125 intending pilgrims from Karachi
14,922 intending pilgrims from Lahore
14,040 intending pilgrims from Islamabad
8,794 intending pilgrims from Quetta
8,750 intending pilgrims from Peshawar
5,030 intending pilgrims from Multan
4,300 intending pilgrims from Sialkot
1,700 intending pilgrims from Faisalabad
1,700 intending pilgrims from Rahim Yar Khan (via Karachi)
639 intending pilgrims from Sukkur (via Karachi)

Recently, under "Makkah Road" scheme, pilgrims from Indonesia and Malaysian underwent Saudi immigration and customs process at airports of Jakarta and Kuala Lumpur respectively. The scheme significantly reduces the waiting time for pilgrims at Saudi airports upon arrival. Makkah Route allows pilgrims to benefit from immigration pre-clearance – is one of the initiatives of the National Transformation Program (NTP) 2020 that is being implemented as part of the Saudi Vision 2030 to improve services for pilgrims and to facilitate their performance of Hajj.