Pakistan International Airlines flight PK852 from Beijing to Tokyo was delayed because of a technical issue. PIA operates flights between Islamabad and Tokyo via Beijing where it takes passengers using fifth freedom rights. Just last month on 28th June a crew member accidentally opened the armed door and ended up deploying the emergency slide at Beijing airport. The aircraft is PIA's Boeing 777-2Q8(ER) AP-BMH. It earlier arrived from Islamabad as flight PK852 from Islamabad.
A passenger Fayeza Yahya Shahid sent a message to us yesterday night saying "so apparently PIA's flight from Beijing to Islamabad that was supposed to take off today has been cancelled at the very last moment. All the passengers of the said flight are not given any sort of assistance in the form of hotel stay or compensation. Not just that, no representative of the airline is there at the airport. I really don't get it when will the airline start taking responsibility for its incompetence?"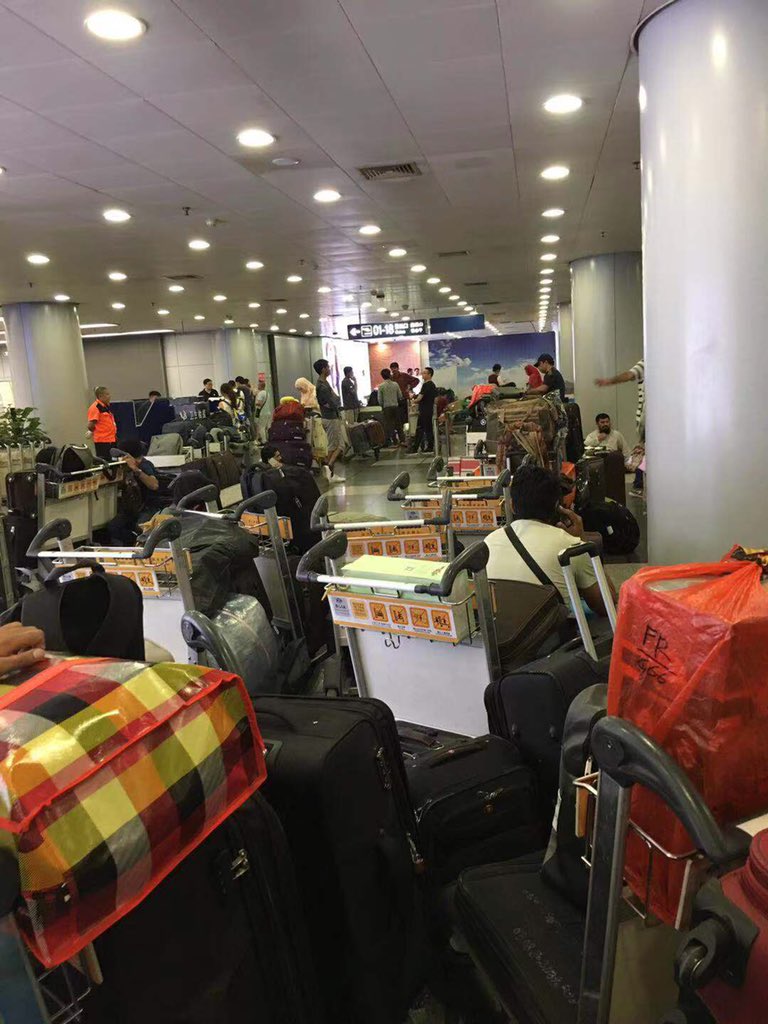 There are many passengers whose visa will expire in a day or two. PIA should at least take responsibility of calming down the aggrieved passengers and send their representatives to the Beijing Capital International Airport." She also pointed out the bigger issue that "many of the passengers are students who got their ticket from their respective funding agencies."
Fayeza later wrote that "after a lot of protests the airline finally shifted the passengers to the hotel around 12 AM China time." Ironically PIA is running campaign giving 10% discount to students.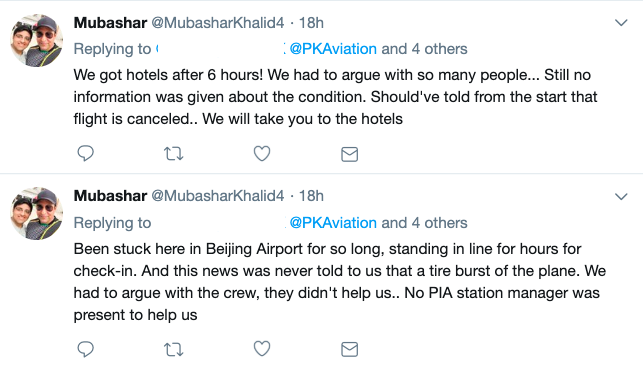 Another passenger Mubashir Khalid tagged us in a tweet and wrote "Been stuck here in Beijing Airport for so long, standing in line for hours for check-in. And this news was never told to us that a tire burst of the plane. We had to argue with the crew, they didn't help us. No PIA station manager was present to help us."
He also repeated what Fayeza wrote "we got hotels after 6 hours! We had to argue with so many people… Still, no information was given about the condition. Should've told from the start that flight is cancelled. We will take you to the hotels."
According to a statement issued by PIA "the flight is facing delays because of technical error. PIA staff at Beijing and Tokyo airport are taking care of the passengers. And the passengers are provided with hotel accommodation."
PIA statement said the flight will now depart at 2 PM Pakistan time but it has not happened yet. The passengers claim also contradict the PIA statement.