It is now confirmed that 97 out of 99 passengers and crew on board the ill-fated flight PK8303 from Lahore to Karachi have died. A spokesperson for Sindh Government Senator Murtaza Wahab has said "so far I can confirm that 2 passengers on board the PIA plane have miraculously survived the crash. Their names are Zafar Masood & Mohammad Zubair. Both are in stable condition". Bank of Punjab President Zafar Masud was rescued alive by local heroes from the crash site.
The Federal Government has constituted an Investigation Team with the following composition, to investigate the tragic accident of M/s PIACL flight No. PK-8303 operating from Lahore to Karachi that met with an ill-fated accident on 22nd May, 2020.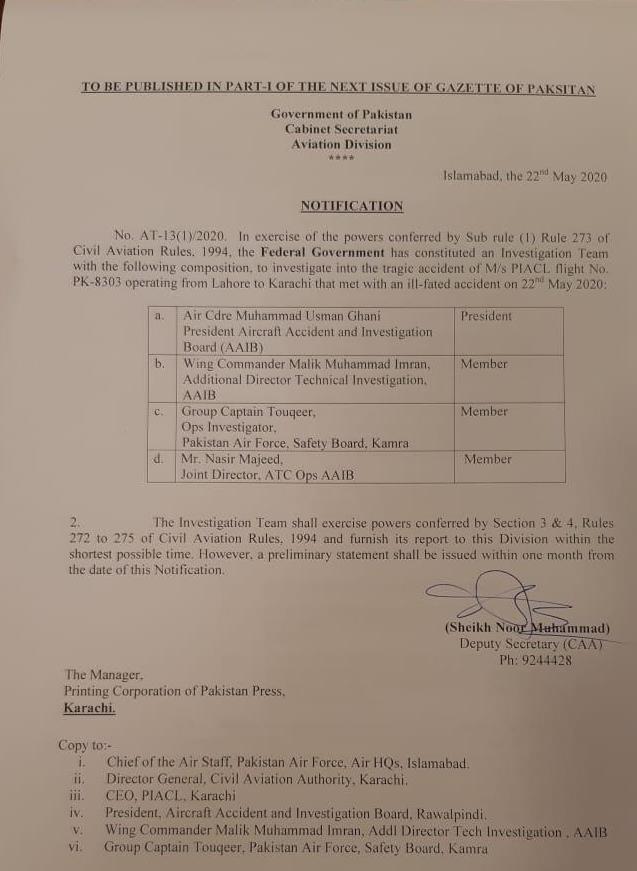 A Pakistan International Airlines Airbus A320 on a flight from Lahore to Karachi has crashed. The aircraft is registered AP-BLD and the flight number was #PK8303. It took off from Lahore at 1 PM & the scheduled landing was at 2.45 PM.
PIA in its statement said "despite having extensive procedures and training to counter such unfortunate events, nothing can prepare anyone for the loss of life. As per international aviation guidelines, a detailed investigation would be conducted by the Safety Investigation Board (SIB), an independent and transparent body undertaking the task".
However, preliminary reports reveal that it was an uneventful flight until the final approach when the pilot contacted Air Traffic Controller and gave the arrival report with everything normal. On short of landing, aircraft reported technical fault and informed that it is proceeding back. Shortly after that, contact was lost and later it was reported crashed.
Details of what the actual technical fault was, can only be established once an inquiry is started and critical aircraft parts and evidence from the site are recovered and analyzed. Hence any statement on the actual cause of the crash can only be termed best as supposition without any factual cause.
A PIA statement said "we deeply regret to announce that a PIA flight PK 8303 from Lahore to Karachi (Aircraft Airbus A-320) registration (AP-BLD) crashed near Karachi Airport at 14.39 hrs PST today, 22nd May 2020. No further details of the accident are available at the moment. 91 passengers, Eight crew members were on board."
Details are still coming about the unfortunate and sad incident. PIA is doing everything possible to assist authorities at this time
As per international aviation requirements, an Emergency Response Center has been established at PIA Headquarters Karachi from where senior PIA management is monitoring the situation since the incident took place.
Rescue efforts are underway and we are also ascertaining the extent of damage to the life of those on board the aircraft. PIA is doing everything possible to help the families of passengers and crew members for first-hand information regarding the incident and damage.
The crash site is near Karachi Airport. PIA's emergency response center can be accessed at the following phone numbers for updates.
PIA Emergency Response Unit has been activated and our family assistance teams are now in touch with all the aggrieved families. They can be further contacted at:
021-99242284
021-99043766
021-99043833
The unfortunate PIA aircraft AP-BLD Serial number 2274 was just 15 years old. IT was an Airbus A320-214. Its first flight was on 17/08/2004. It was delivered to China Eastern Airlines on 17/09/2004 & dry leased to PIA on 30/10/2014.