After looking at data & photos I have come to the conclusion that the PK8303 crash has a lot to do with its landing gear & pilot. Did the pilot touch down on 1st attempt? To get the answer we need to look at this data of flight altitude which has some clues.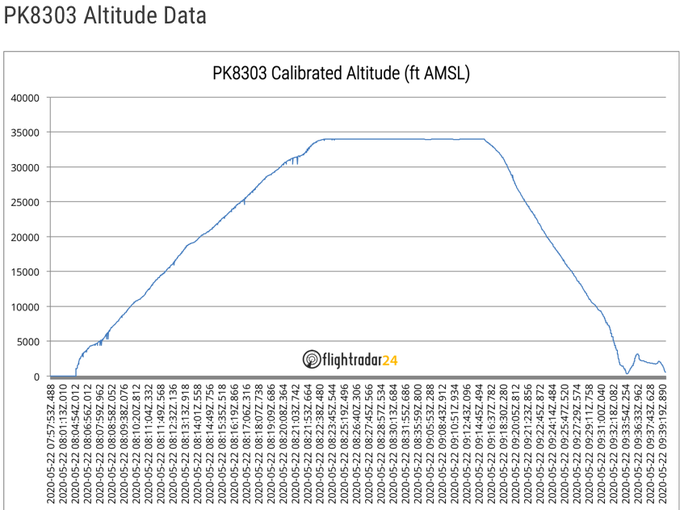 In the above chart, we can see the plane going to the bottom & then going up & then going down later. The plane in my view landed on the runway but without landing gears. And then went up & the evidence for this is on the engine bottoms. Both charred & have marks of the runway.
In this photo you can see the rough surface of the engine's bottom due to limited contact with the runway. Engines were damaged & instead of just killing the power & just belly land, the pilot gave it more power. This photo shows the pilot also used fire retardant to put the fire out in engines.
After gaining height the plane's engine started failing & finally gave up before approach. On the final approach video you can see the gears are down. Which means his gears system was fine. But when his engines gave up the plane stalled, which can also be seen in the video.
On 4 February 1986 a PIA flight PK-300 on Boeing 747 AP-AYW from Karachi to Islamabad with 247 passengers and 17 crew onboard made a belly landing at Islamabad Airport. It is considered as one of the stupid acts of the Pilots. The Captain forgot to lower the landing gear.
By sharing the above example I'm just saying that such errors happen. Having said that I'm not ruling on what happened with AP-BLD. The landing gears failed to deploy? Or they were never deployed? CCTV of runway definitely can solve this. But those engines are writing on the wall.
This is one of the two survivors who is saying "When the plane landed on the runway it shook 3 times, then it went on the runway, and then I don't know what happened but the pilot lifted off the plane very cleverly. He flew for 10, 15 minutes."