Airblue CEO Tariq Chaudhary is dubbed to be behind a new US airline Airbahn that plans to launch operations as a new carrier in June 2019, with one A320, serial 3974. According to a website Aviators "the new carrier, based out of Irvine, CA, plans to operate within and between the Western US and Canada."
The founder and CEO is Tariq Chaudhary, who is also the CEO and chairman of Pakistani airline, Airblue. Airbahn was established in February 2018, and the current team includes Nicholas Brohm and Herbert Blake, among several others.
Airbahn will dry lease one aircraft from Airblue. Its cabin shall be equipped with 174 passenger seats. Airbahn states that it will fund its operations with capital contributions from its shareholders and debt as required.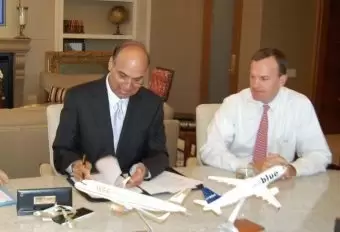 The English translation of "BAHN" means train to the literal meaning of airline is Air-train. The branding of the airline is strikingly similar to Airblue. In recent months, the Pakistani aviation industry has been going through a lot of problems. It will be interesting to see how this new airline by an American Pakistani in United stated will take off and add value to its sister company at home.