Saudi Arabia has announced a "two-phase normalization plan" early Thursday for Mecca with the aim of easing coronavirus measures and gradually returning to normal life. The Saudi Arabia airlines have announced that it will operate 60 domestic flights as part of its first phase operation, which is set to resume on May 31. The first phase will begin on May 31, when entering and exiting Mecca will be allowed between 6 a.m. to 3 p.m., the Interior Ministry said in a statement.
In the first phase, Saudia will resume operations at Riyadh, Jeddah, Dammam, Madinah, Qassim, Abha, Tabuk, Jazan, Hail, Al-Baha, and Najran airports. Meanwhile, the General Authority of Civil Aviation (GACA) has said that international flights to repatriate nationals stranded abroad will continue.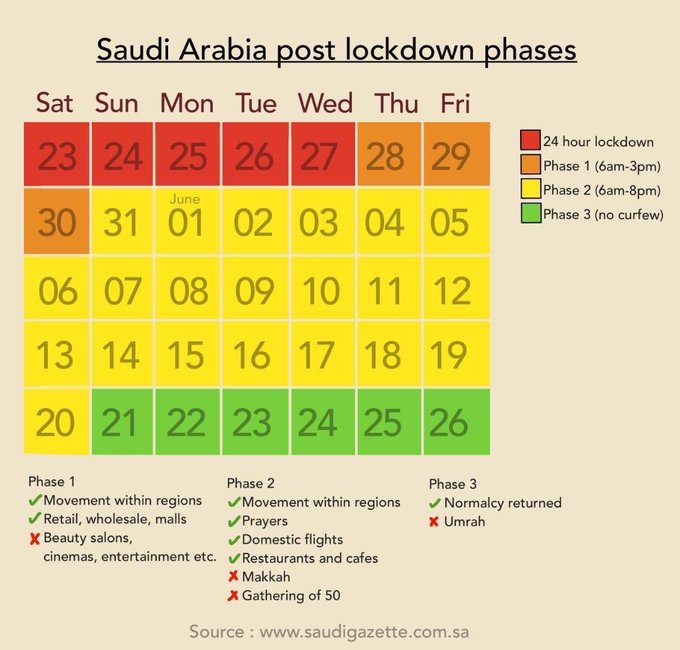 The government has announced that Friday prayers and other congregational prayers at the Grand Mosque (Masjid al-Haram) will continue in line with existing health measures. After getting through the first phase the second phase will begin on June 21 when citizens will be allowed outside between 6 a.m. to 8 p.m.
Second Phase:
The second phase which begins on 8 Shawal 1441 AH (31 May 2020) and ends on 29 Shawal 1441 AH (20 June 2020) the movement, is allowed between the hours of 6 a.m. and 8 p.m. in all areas of the Kingdom, except in Makkah.
In this phase, the airline will be allowed to operate domestic flights if they adhere to precautionary measures set by the civil aviation authority and the Ministry of Health. The suspension on travel between regions in the Kingdom using various transport methods will end.
Third Phase:
In the third phase commencing on 29 Shawal 1441 AH (21 June 2020), the Kingdom will return to "normal" conditions as it was before the coronavirus lockdown measures were implemented.
Saudi Arabia had barred entry or exit from Riyadh, Mecca, and Medina on March 25 to stem the spread of the coronavirus. The government had also restricted movement between provinces, halted international flights, suspended the umrah year-round pilgrimage, closed mosques, schools, malls, and restaurants, and imposed a nighttime curfew.