Airports are like any other buildings especially when they are newly built. It's not just Pakistan where passengers faced minor issues after the new airport started work.  But the worst thing is that a foreign politician takes to Twitter to rant about delays at the airport that has just opened its door a day before. And people seeing the tweets tried to connect it to her meeting with opposition leader later in the day.
British MP Naz Shah who tweeted about the delays she faced. But we checked out the incident and found out that MP is unfair when she singles out her experience and then "falsely" tries to substantiate it by saying "others facing 4 hours delays". On top of that, there are three tweets and all three of them have different timings different stats. Off course, her meeting in the outskirts of Islamabad with an opposition politician has nothing to do with this whole thing.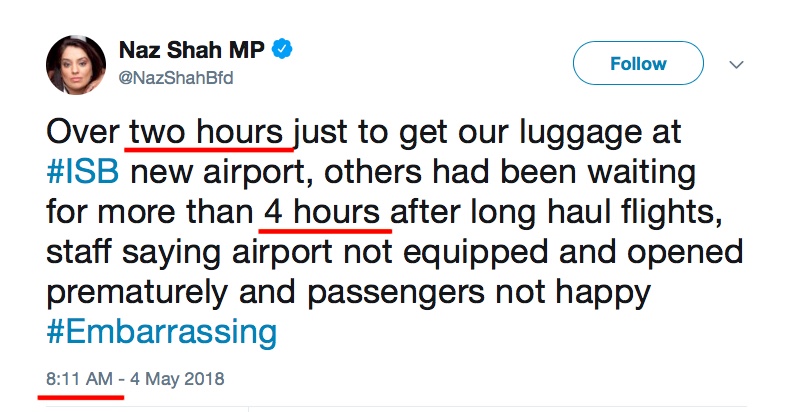 Naz Shah arrived at the airport and after routine checks, she had to wait for sometime to receive her luggage. The luggage arrived in around in around 2 hours. She took to Twitter to rant about it "Over two hours to get our luggage at new #ISB Airport, others waiting more than 4 hours after long-haul flights, staff saying airport opened prematurely and don't have the equipment, very unhappy passengers #Embarrassig"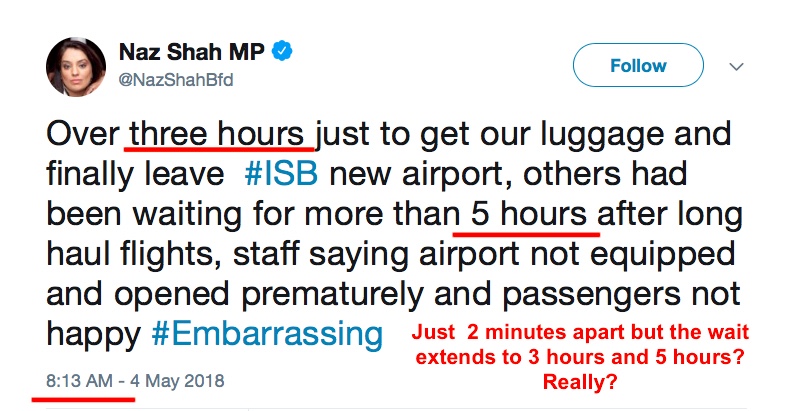 This tweet was sent out at 8.11 in the morning Pakistan Time. Just 2 minutes later without warning or clarification, there is another tweet that exaggerates the delay to "Over three hours to get our luggage at new #ISB Airport, others waiting more than 5 hours after long-haul flights, staff saying airport opened prematurely and don't have the equipment, very unhappy passengers #Embarrassig".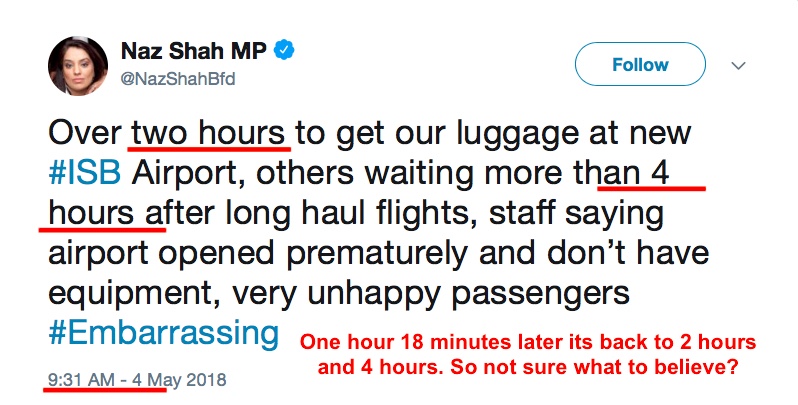 Now if it stopped here we might have realised there was a genuine problem but another tweet arrived an hour and 18 minutes late and the delay goes back to "2 hours" for her and "4 hours" for those who nobody knows about. We don't know about you but we smell a rat here.
What the honourable MP doesn't know is that luggage handling is not the job of airport or government but airline. So let us explain it to her in case she doesn't understand although we believe she knew very well what she is saying.
Around the world, airlines bring passengers and their luggage to airports from where the airline's respective ground handling company takes the luggage and passengers out and delivers it in the baggage reclaim hall. So it is the job of airline and it's handling company to deliver the luggage on time, not airport's job. Since its opening on 3rd May, the airport has received hundreds of flights and only a few had issues with the baggage. The reason for this is new systems and processes that are introduced at the new airport. We have to remember at the old Benazir Bhutto International Airport ground handlers used to unload luggage onto trolleys and haul them to the place where the belt was and then load it to the belt. At the new airport, there is a whole system that ensures the baggage is delivered on the right belt.
Airlines and ground handlers are still getting used to the new airport and its systems. On Friday we received images of Royal Airport Services vehicles that were being moved to the new airport from BBIA. So it is still coming to full swing. On its part, Pakistani CAA receives full marks for shutting down an airport and opening the new one without a single flight cancellation or issue that could disrupt operations. It was not an easy task and nowhere in the world, such operations go smoothly.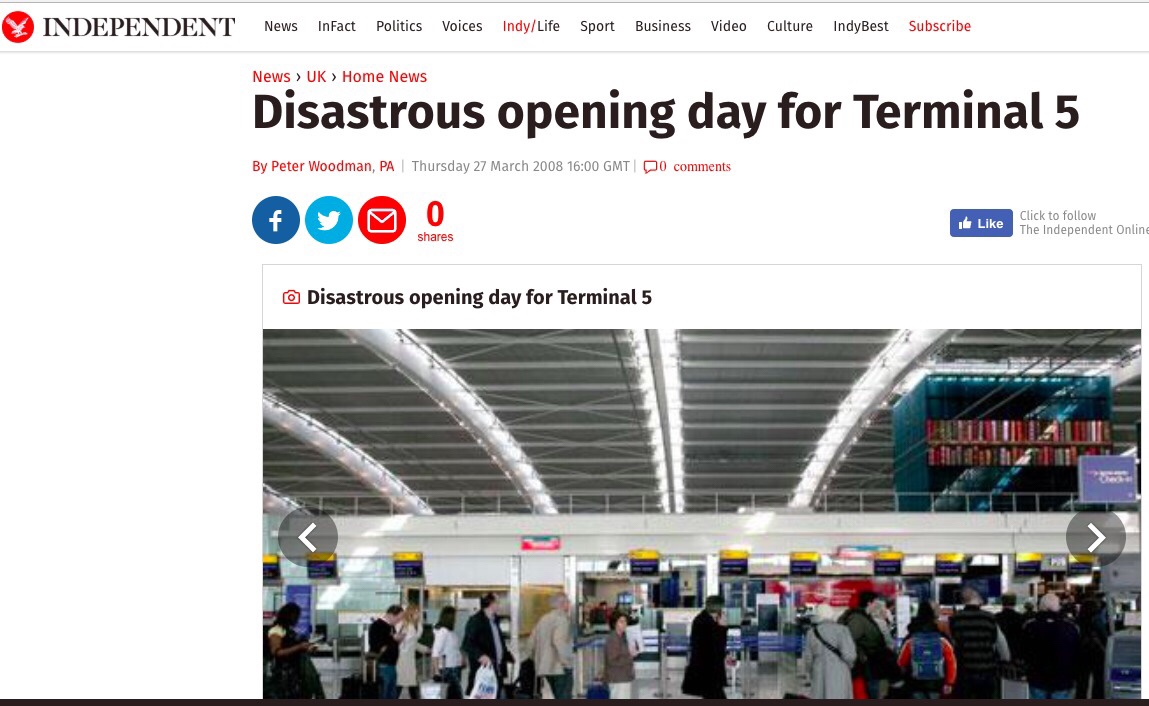 We can share a near to home example with Naz Shah whose party was in government under the leadership of Gordon Brown when Her Majesty inaugurated the newly built terminal 5. Terminal 5 was built for one airline British Airways, unlike New Islamabad International Airport that will be used by over a dozen domestic and international airlines. The headline from British newspaper The Independent reads "disastrous opening day for Terminal 5". So she can spare us from that patronising rant because NIIA delivered the luggage without any disruption. At least in two hours, she had enough time to chat with fellow passengers about what is wrong with the airport.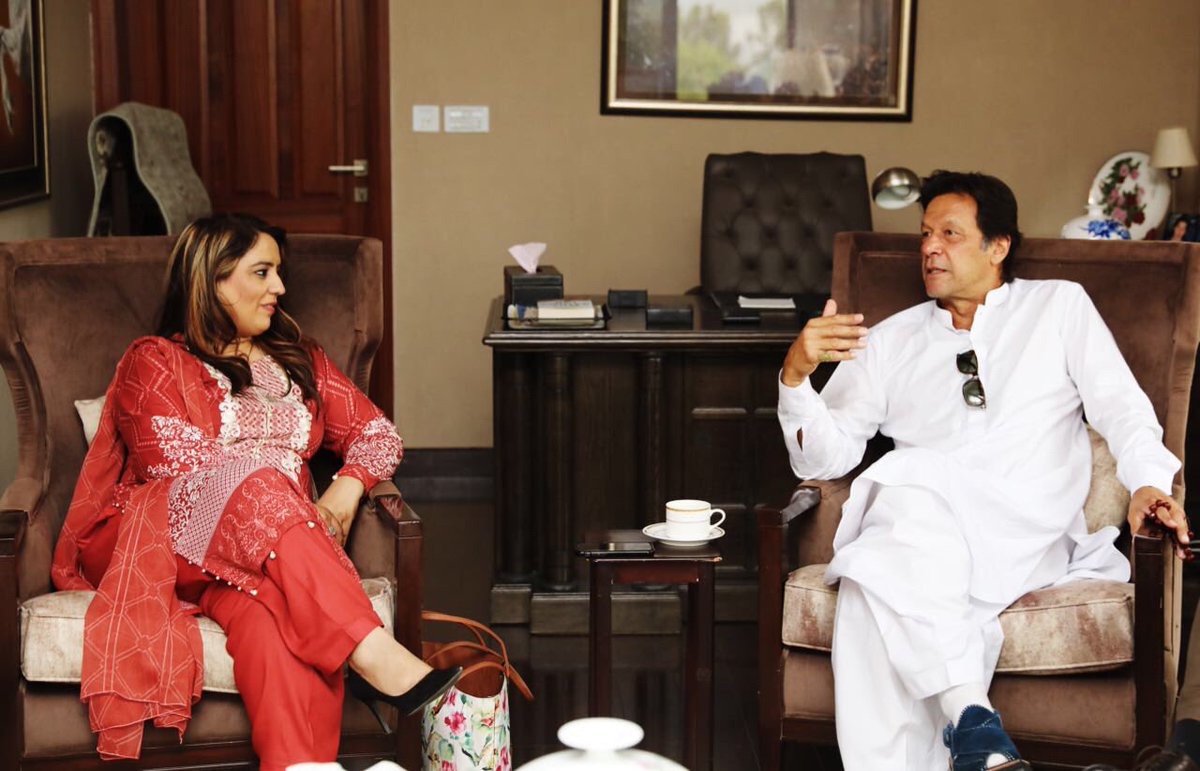 What was not ok was the tone and the way tweet was written because such delays happen everywhere and instead of encouragement or some constructive criticism the learned MP stooped too low. And that too for what? He hosts in Pakistan who tweeted the photos of the meeting? What a shame.