Pakistan International Airlines has removed company's chief financial officer Nayyar Hayat from his position with immediate effects. A letter issued by the company says that "with immediate effect, Mr Nayyar Hayat P-64717 has been appointed as Chief Special Projects."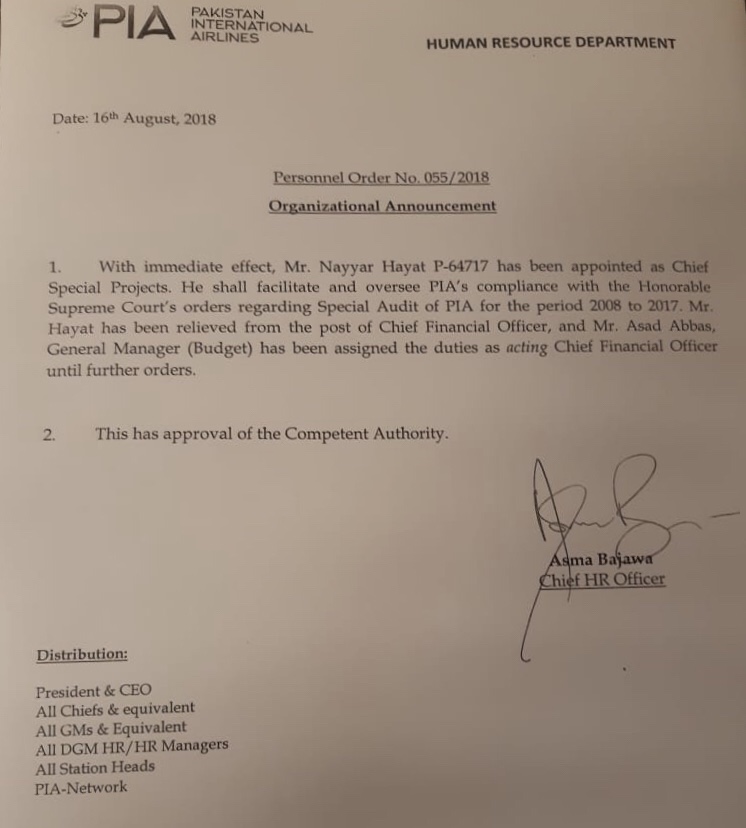 Earlier PIA issued show cause notice to the CFO for failing to "conduct duties with due diligence". The show cause notice given to Nayyar Hayat was a direct result of a letter sent to PIA by the Auditor General of Pakistan office. In the letter sent to PIA, the Auditor General of Pakistan has asked PIA to explain the discrepancies of over 7 billion in the financial information provided.
More information on this link
PIA issues show cause notice to CFO Nayyar Hayat
In this new position, Nayyar Hayat will facilitate and oversee PIA's compliance with the Honorable Supreme Court's orders regarding the Special Audit of PIA for the period 2008 to 2017.
In the meantime, Asad Abbas General Manager (Budget) has been assigned the duties as acting Chief Financial Officer until further orders.
This is the second time Nayyar Hayat has been removed from his position. On 29 January 2016, he was removed from the position of Chief Financial Officer after Securities and Exchange Commission of Pakistan issued show cause notice to PIA over violating its rules. This was related to Rs 20 billion missing from employees provident fund. Nayyar Hayat was accused of "consuming Rs 20 billion of employees provident fund under various heads instead of depositing it in provident fund accounts."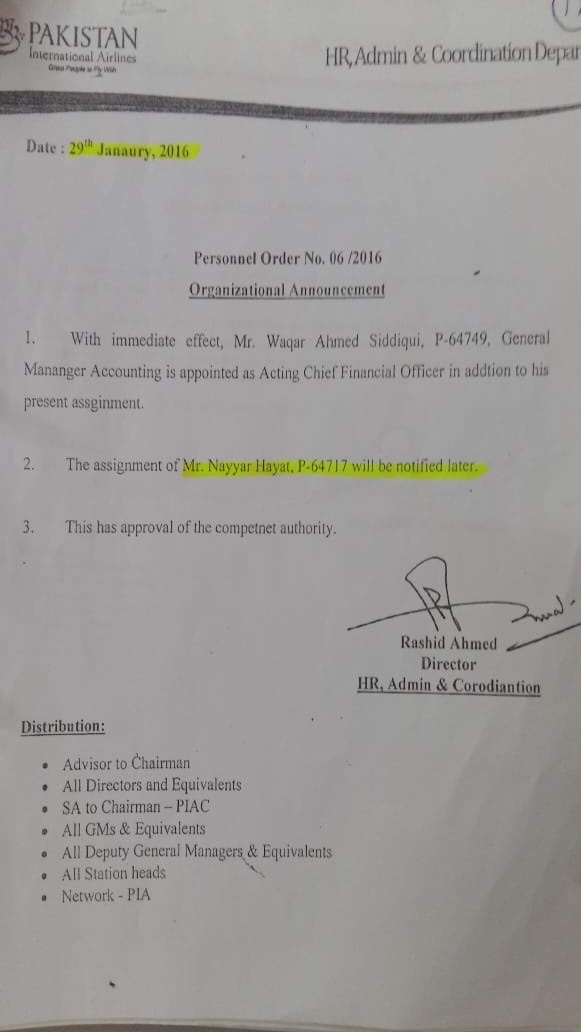 This time Nayyar Hayat seemed to annoy the members of the PIA board due to his usual antics of conspiring against the management. Nayyar Hayat wrote a letter against the management to PIA by the board but leaked it through his cronies in Media. This is a very typical way with which Nayyar has held many previous members of management hostage. On top of that due to the direct intervention of the CEO Musharraf Rasool Cyan PIA employees got their salaries on time after a very long time. It turned out that he used to delay salaries in order to stir Media frenzy against the management.