Etihad Airways is one of the most frequent airlines flying to Islamabad from Gulf states. It provides connectivity to destinations around the world through its hub at Abu Dhabi International airport. Etihad operates direct flights to Abu Dhabi from Peshawar, Karachi, Lahore and Islamabad.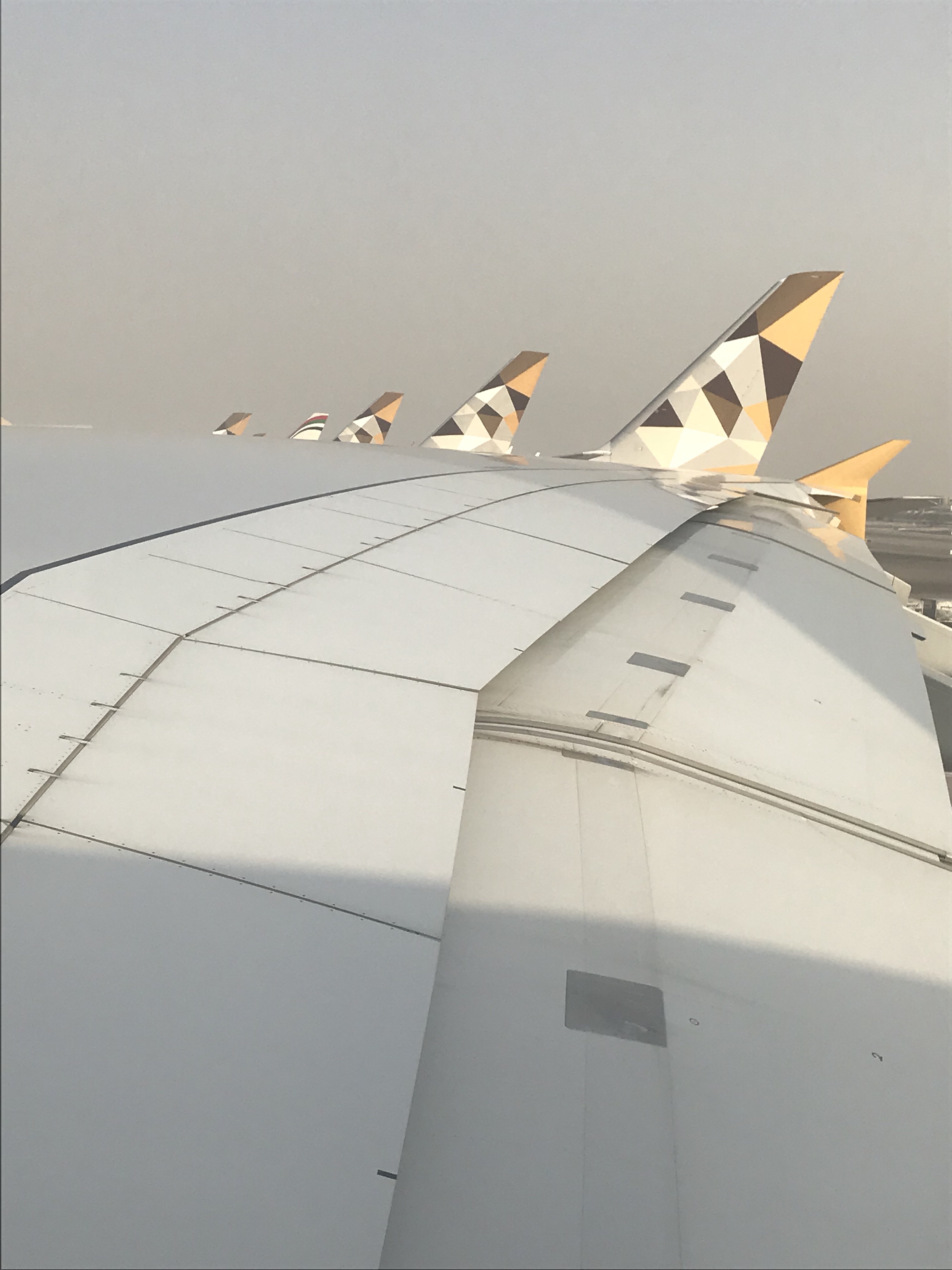 From Karachi and Islamabad, it operates two daily flights. Normally these routes are operated by Airbus A320 family aircraft but when we were travelling it was operated by Airbus A330. Flight EY232 departed on time at 4.05 early in the morning.
Check-in
ISB-AUH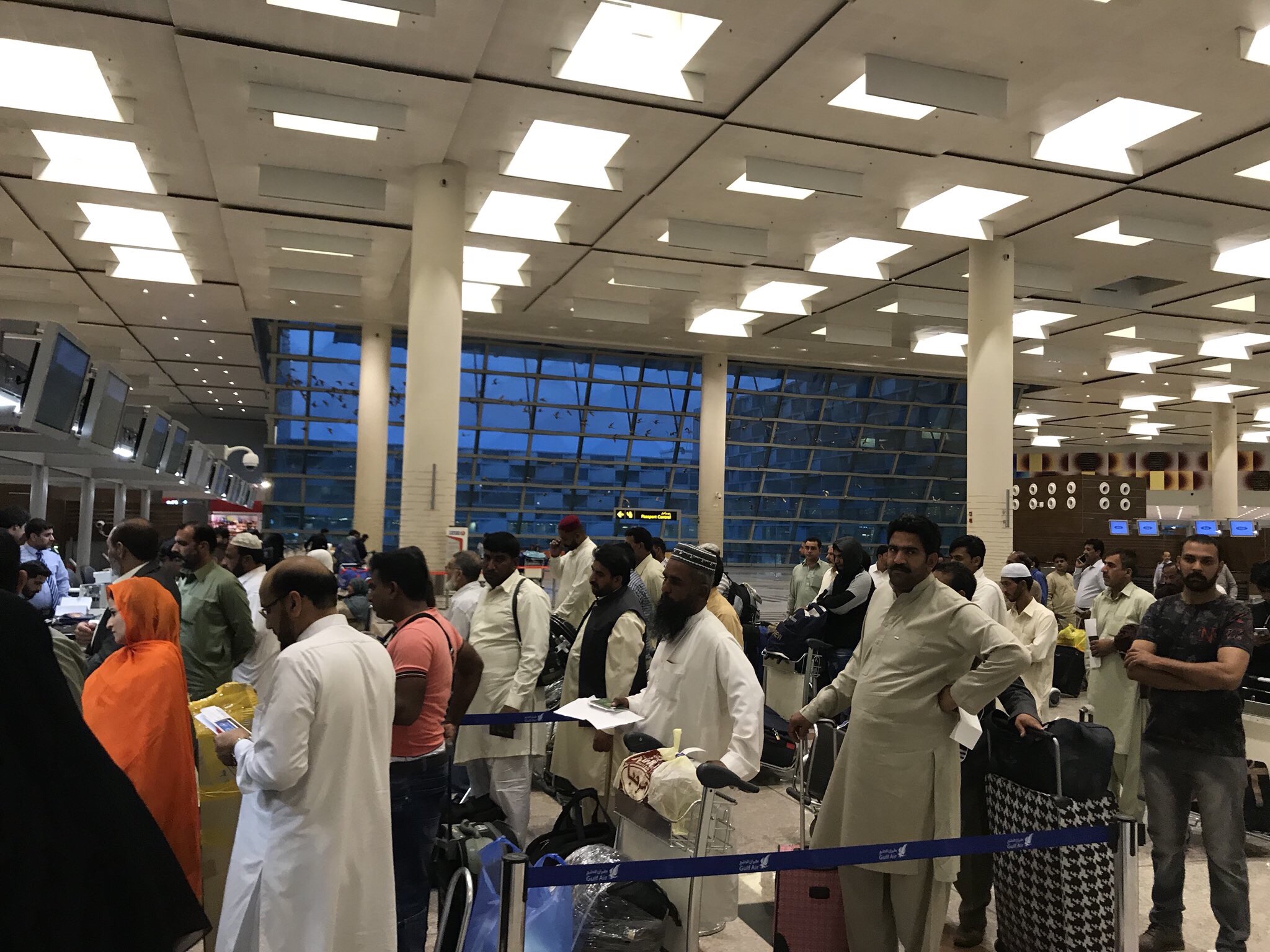 After reaching at Islamabad International Airport (ISB) early in the morning it took less than 5 minutes for check-in because I already checked in online and had just one cabin bag. Then it was immigration and that is where there was a bottleneck. As usual, there were long queues while a group of immigration agents were standing on a side chatting. Only 3 desks were manned.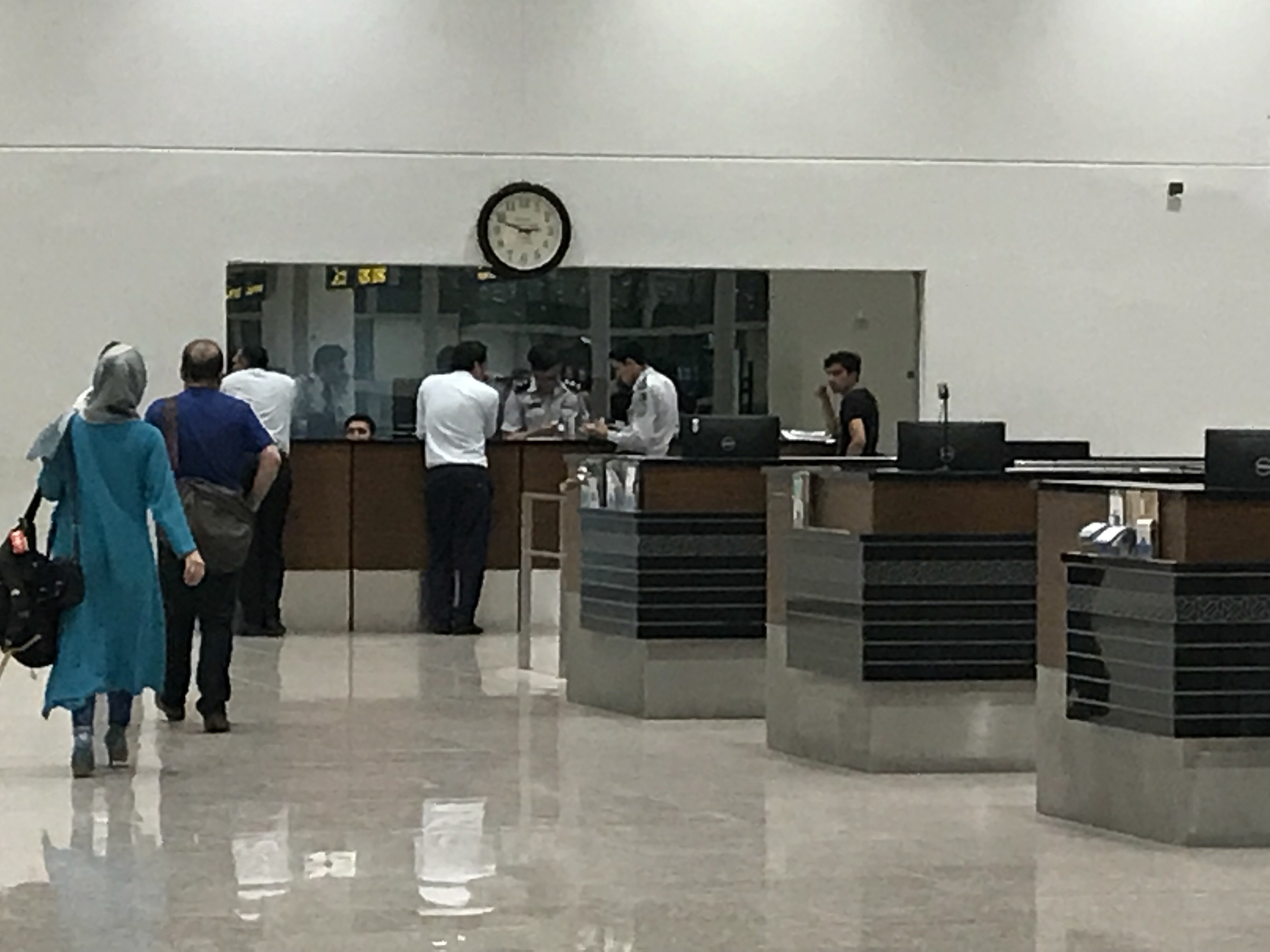 There was no queue management as usual. The staff were not at all concerned about people waiting. Most of the time was spent at the immigration desk. To make the matter worse once you are through the first immigration check there was another one. So more time spent on going through the same. 
AUH-LHR
At Abu Dhabi, our aircraft spent around 10 minutes taxing and eventually found a stand next to the cargo terminal. Then we were taken on a bus to a fancy terminal 3 building with exclusively built gates for Airbus A380s. It was quite a contrast travelling from brand new and modern Islamabad International to this weird airport. After the bus dropped us at the modern terminal 3 built for "real customers" travelling on Etihad's premium routes, it was further 10 minutes walk to the gate. This is one of the biggest gates at the terminal with a massive waiting area. After the boarding call, this big waiting area was very crowded.  After entering the waiting area my bag was checked for substances. Boarding on the aircraft was done using automatic scanners that made this process fairly quick.
The Flight: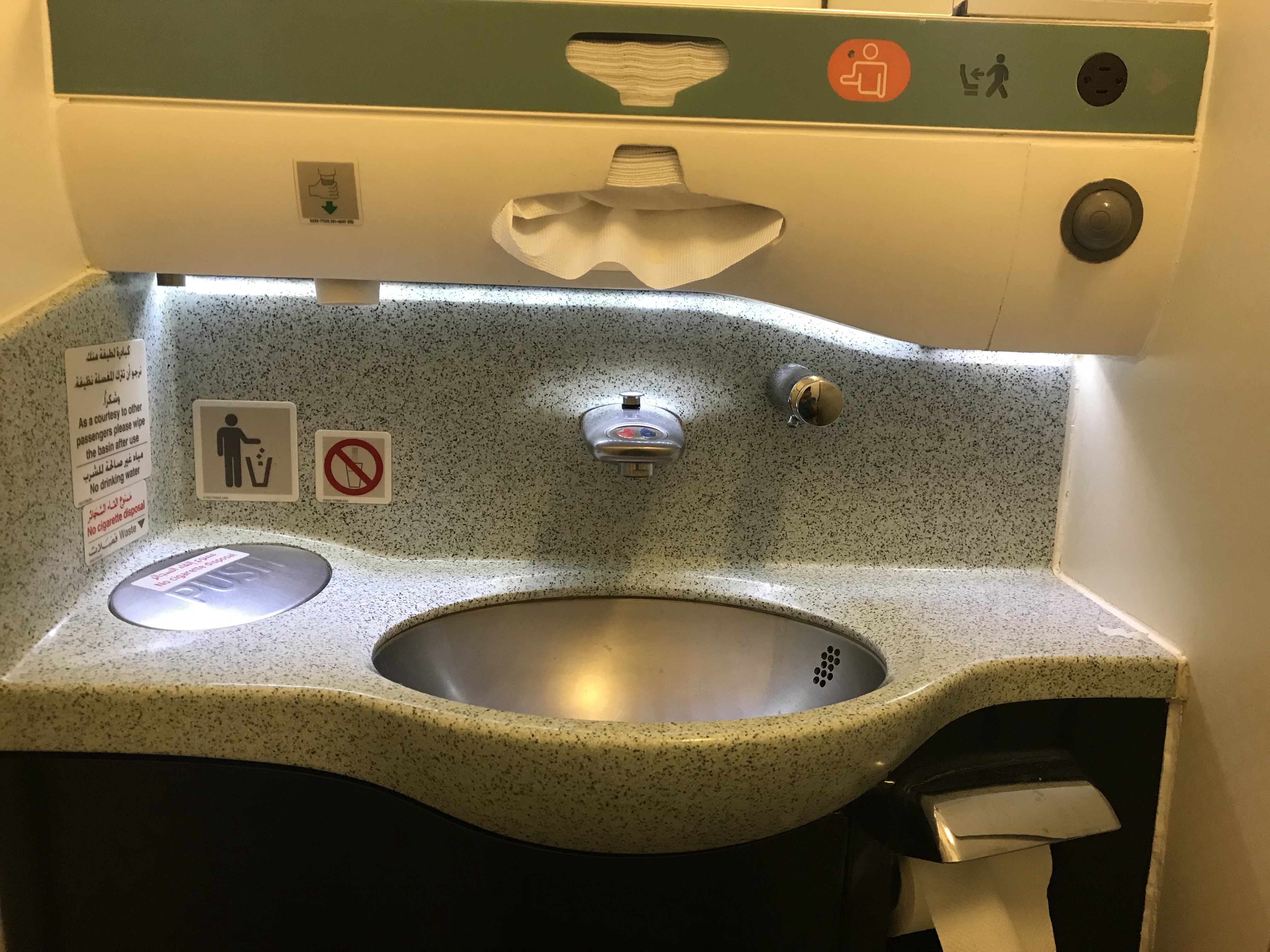 The flight from Islamabad to Abu Dhabi was full so there was quite a lot of activity. Cabin crew were mostly trainees, who were getting their career started with one or two senior staff members. They tried to help anyone who needed it. Pillows and blankets were handed out to anyone who asked for them. A cabin crew got into a row with a passenger for using a bulkhead seat. The cabin crew was demanding extra money while the passenger was adamant that the seat is empty so he might as well use it. It was clearly evident that Etihad is tightening its belt and it is desperate to cash in from passengers as much as it could.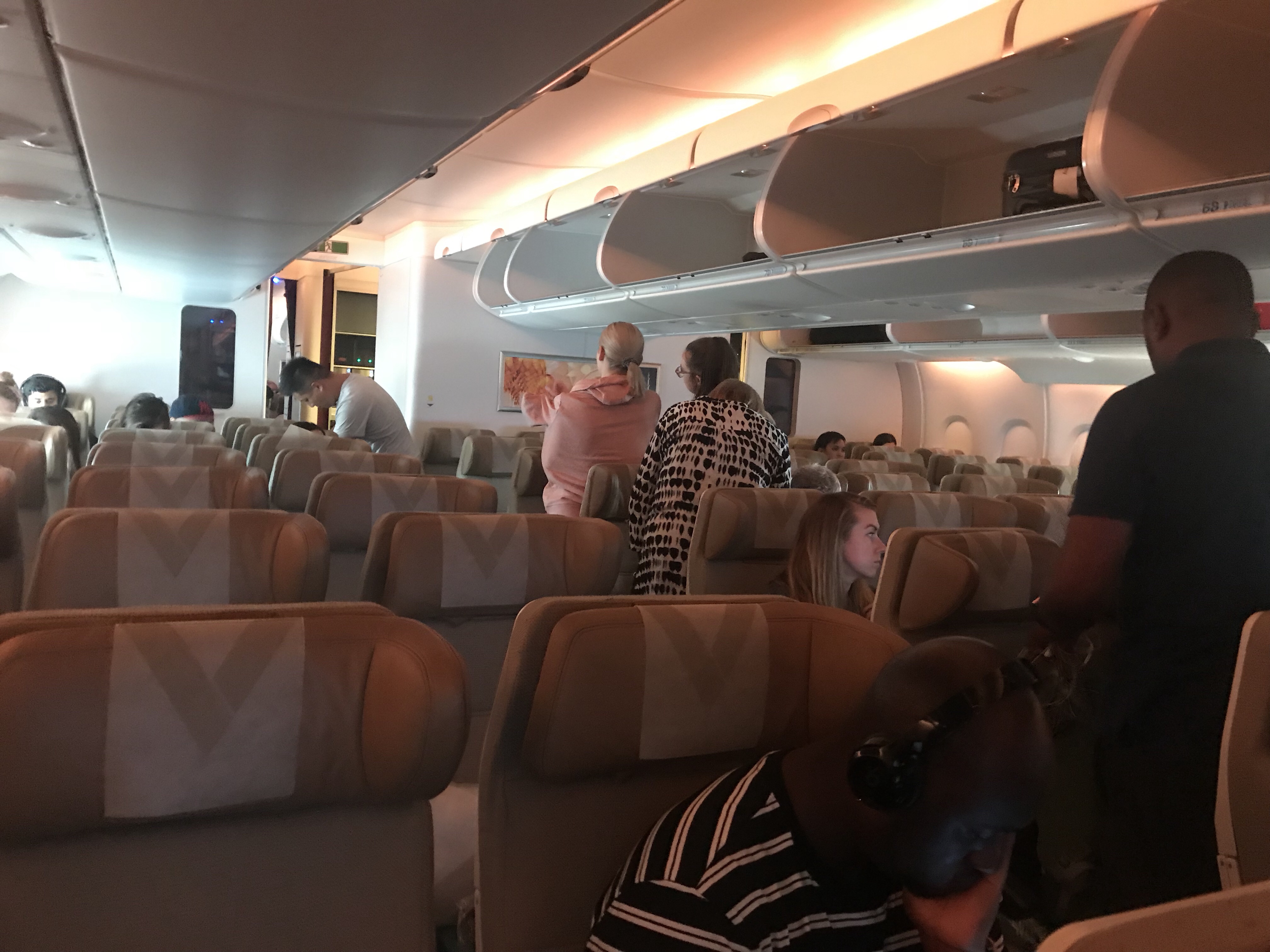 The flight to London from Abu Dhabi was on Etihad Airways famous Airbus A380, wearing the "year of Zaid" livery. It was a full flight with a sea of people boarding the plane. It almost took one hour to complete the boarding. The cabin crew and their service on this flight were slightly better but it was evident that golden days of Etihad are history now and the airline is desperate to mint money from anything and everything.
Food and Beverage:
AUH-ISB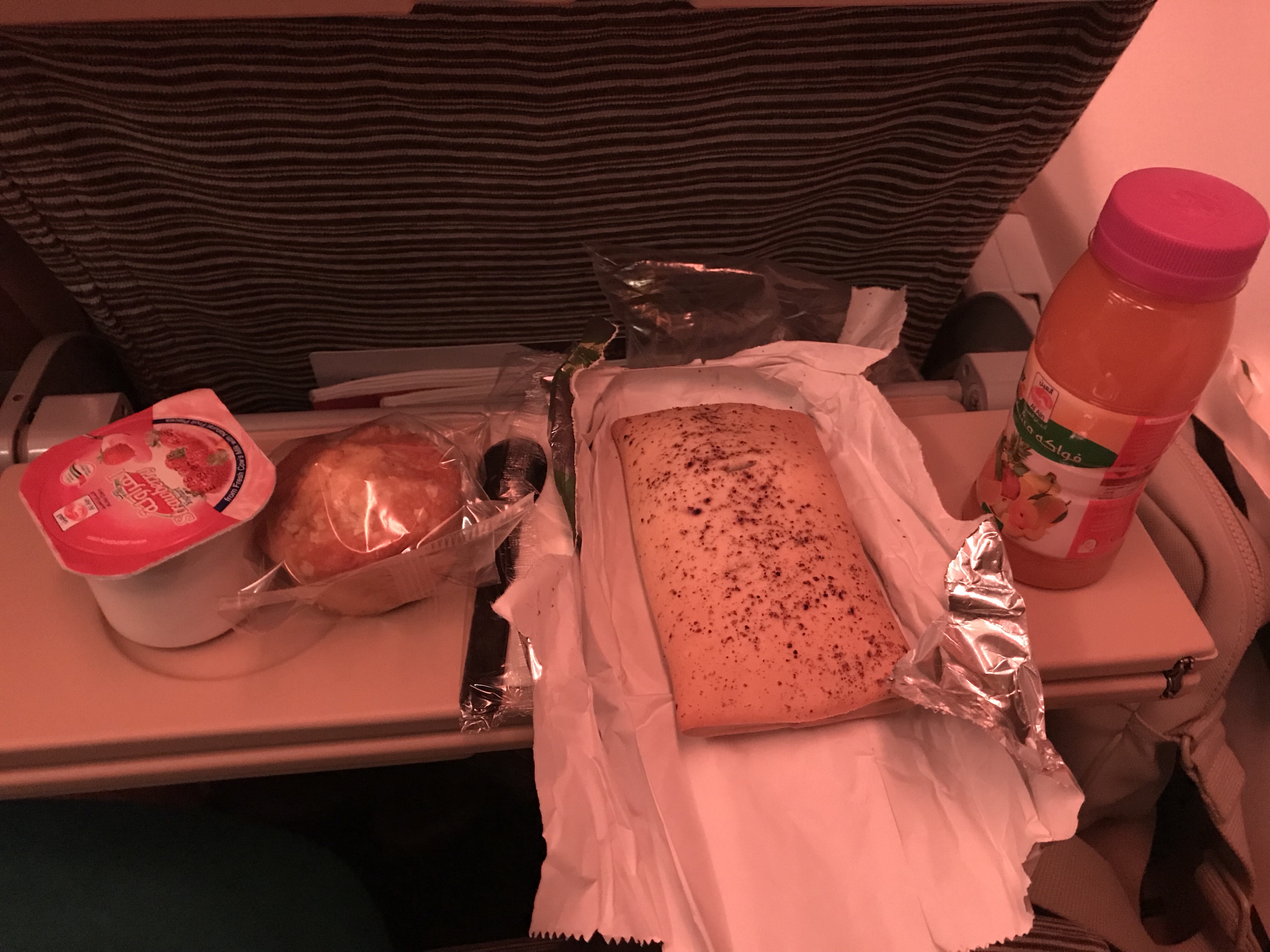 After take off the passengers settled and soon we received the biggest surprise of our life. Nowhere in the world, we have encountered something like the stuff we were handed on EY232. Especially from an airline that labels itself as a five-star airline. The food was handed out in a small paper bag with a label "express snack".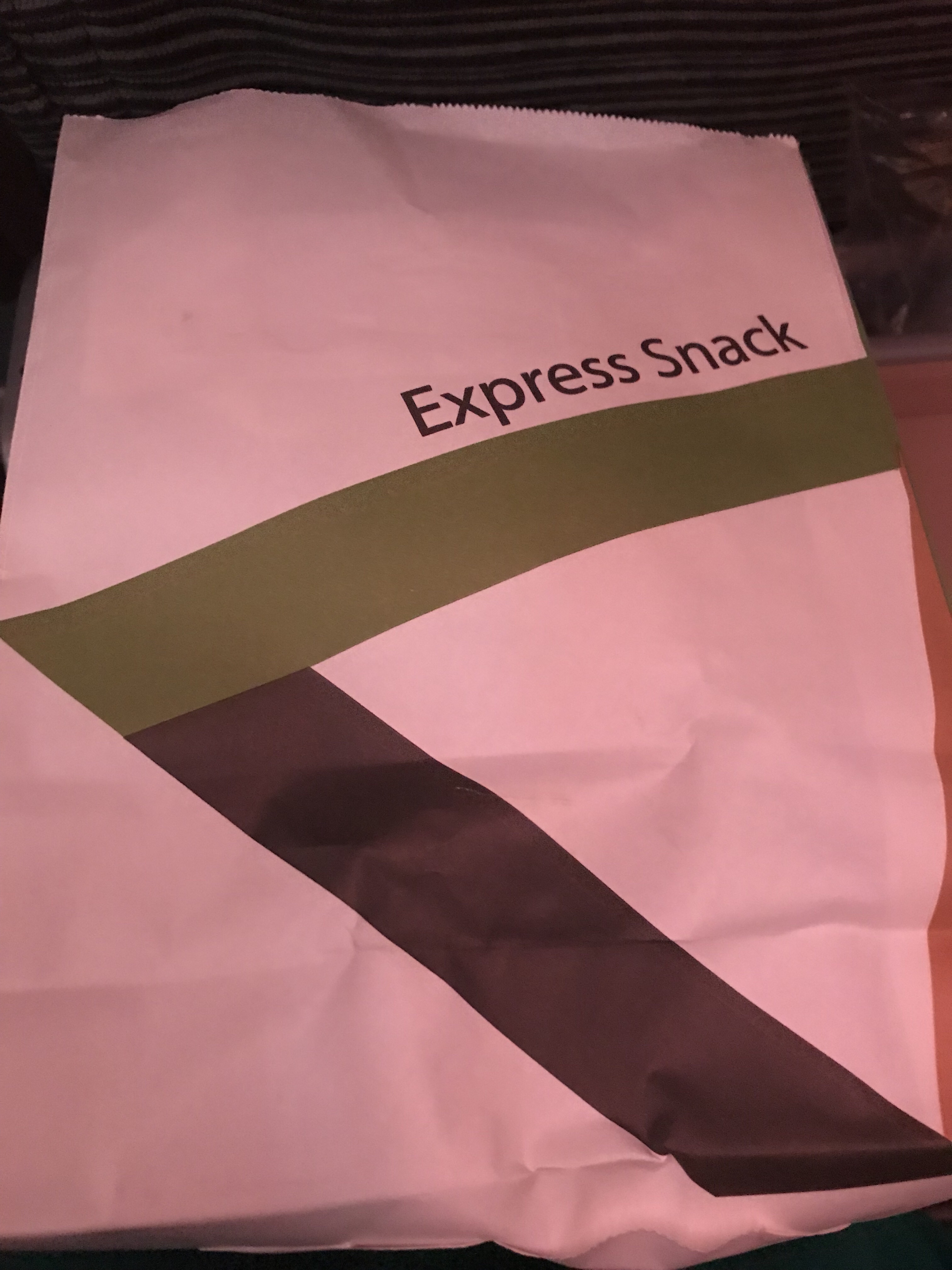 The express snack contained a muffin, tiny bottle of mix fruit juice that was almost sugar syrup with flavours, fruit yoghurt and a sandwich/wrap or something like that. It was the most tasteless chicken or beef filling I ever ate. Not that we don't appreciate food but a five-star airline can provide better than this. I saw very few passengers who actually ate the stuff out of the "express snack". This bag was just dumped onto the passengers and then just like low-cost airlines the crew collected the trash later. Pakistani bus companies like Shuja Express and Daewoo provide better food service than this.
IST-LHR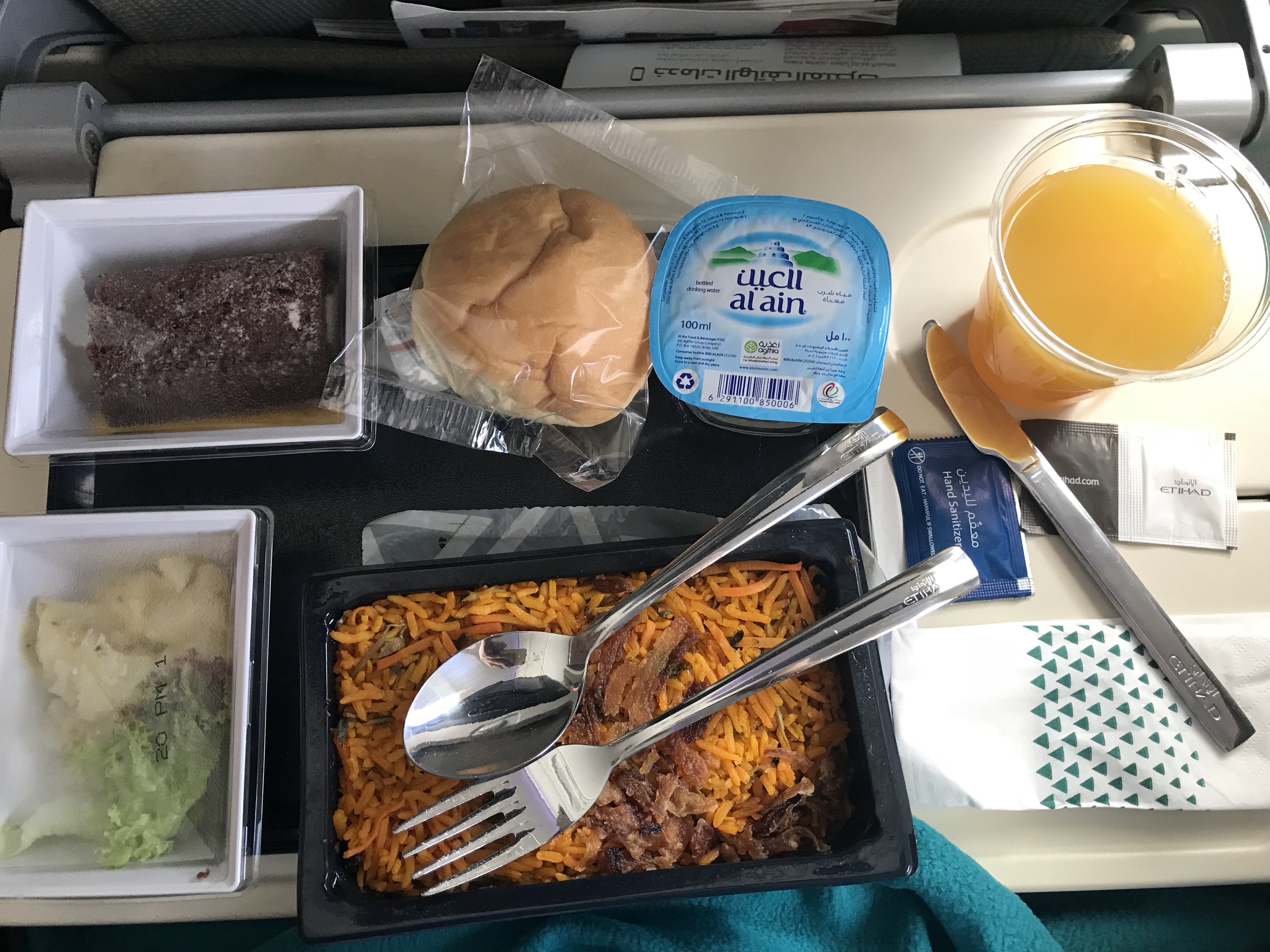 The flight EY19 from Abu Dhabi to London departed at 8 AM but what we received was lunch. It had beef rice, salad, water and a chocolate cake with a bun. Salt and pepper were provided with stainless steel cutlery. After reaching cruising altitude the cabin crew started service. Rice was good, the salad was also fine. The chocolate cake was just ok. Staff provided ample beverages throughout the flight. Hot beverages were offered after the food service. With good quality tea and coffee.
Etihad used to provide menus in the past but it seems austerity has taken over all of the best services. Overall the food was good.
The crew and service they provided: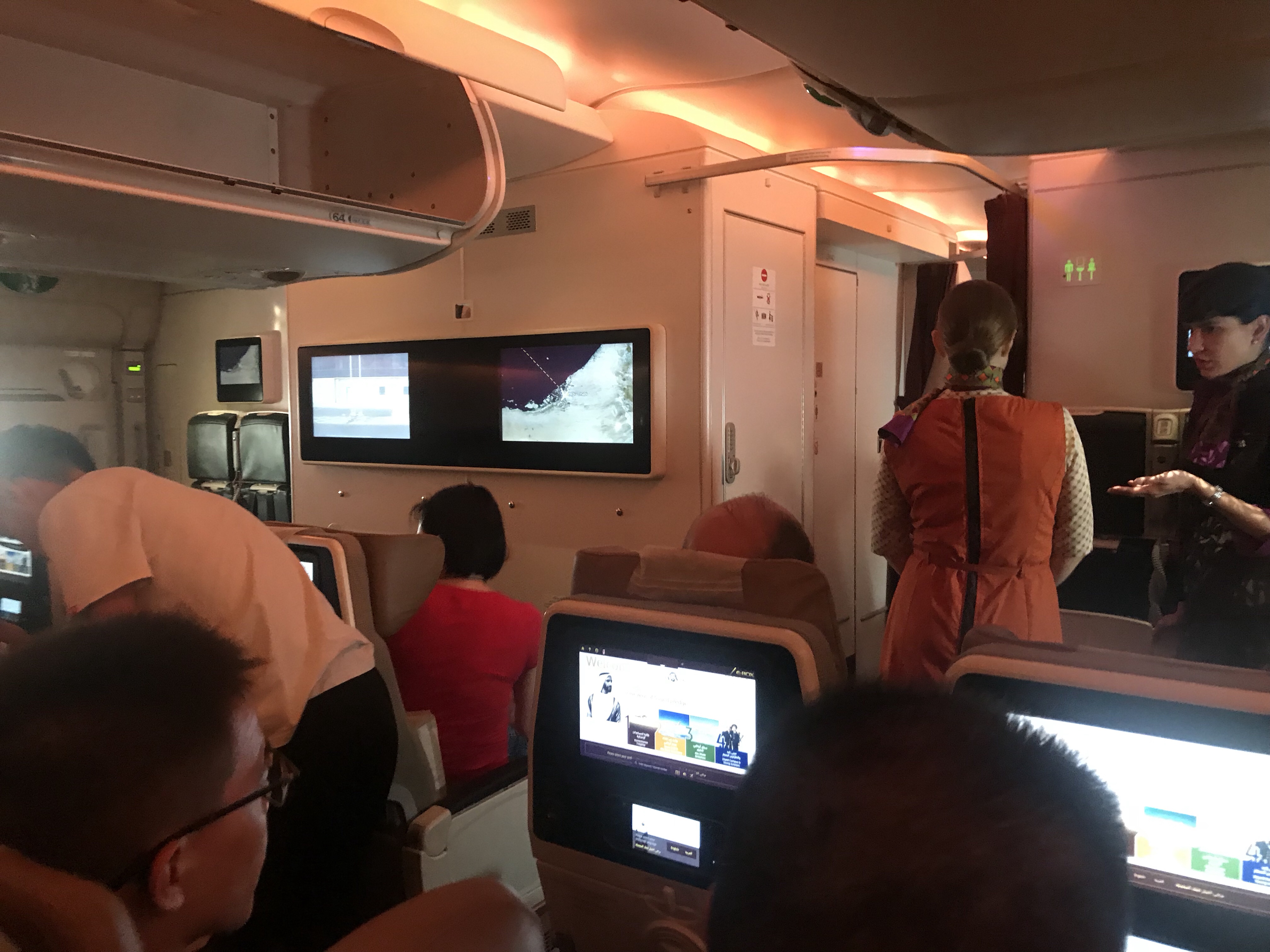 The crew was just fine on both flights. I always found Etihad crew to be robotic who tick boxes when providing service. Their smile seems to appears and disappears on cue. The crew on a busy flight are mostly stretched but whenever they were called they responded quickly. Toilets were clean but had just soap and water on both flights. Nothing like the extravagant stuff you receive on PIA and Turkish Airlines.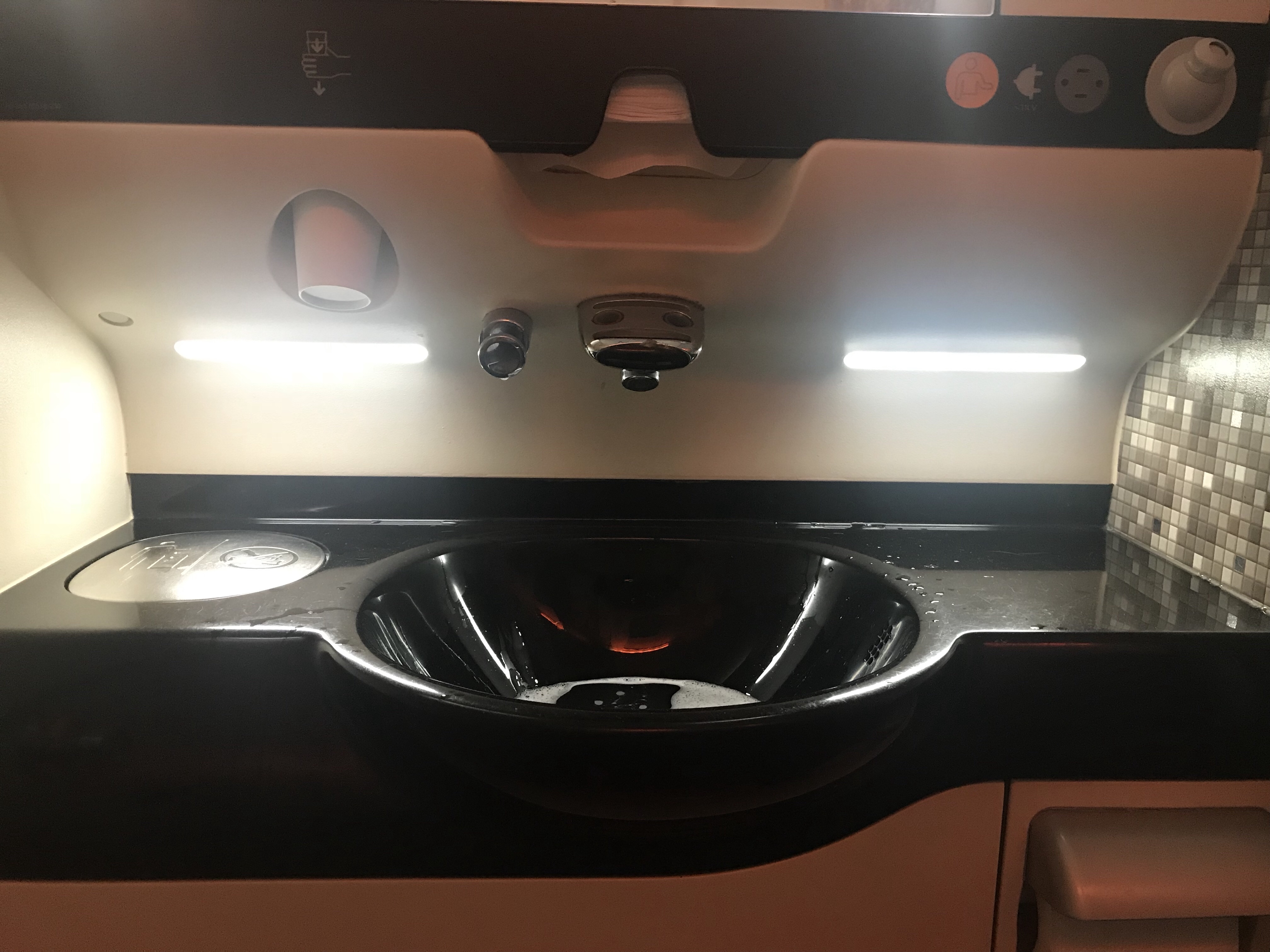 When we requested for cockpit visit we were first told that we should speak to head purser but later they flatly refused. We found the crew to be very rigid, to the extent of rudeness when it comes to photography. We strictly told off when we were trying to take photos that is something normal on many airlines.
Inflight Entertainment: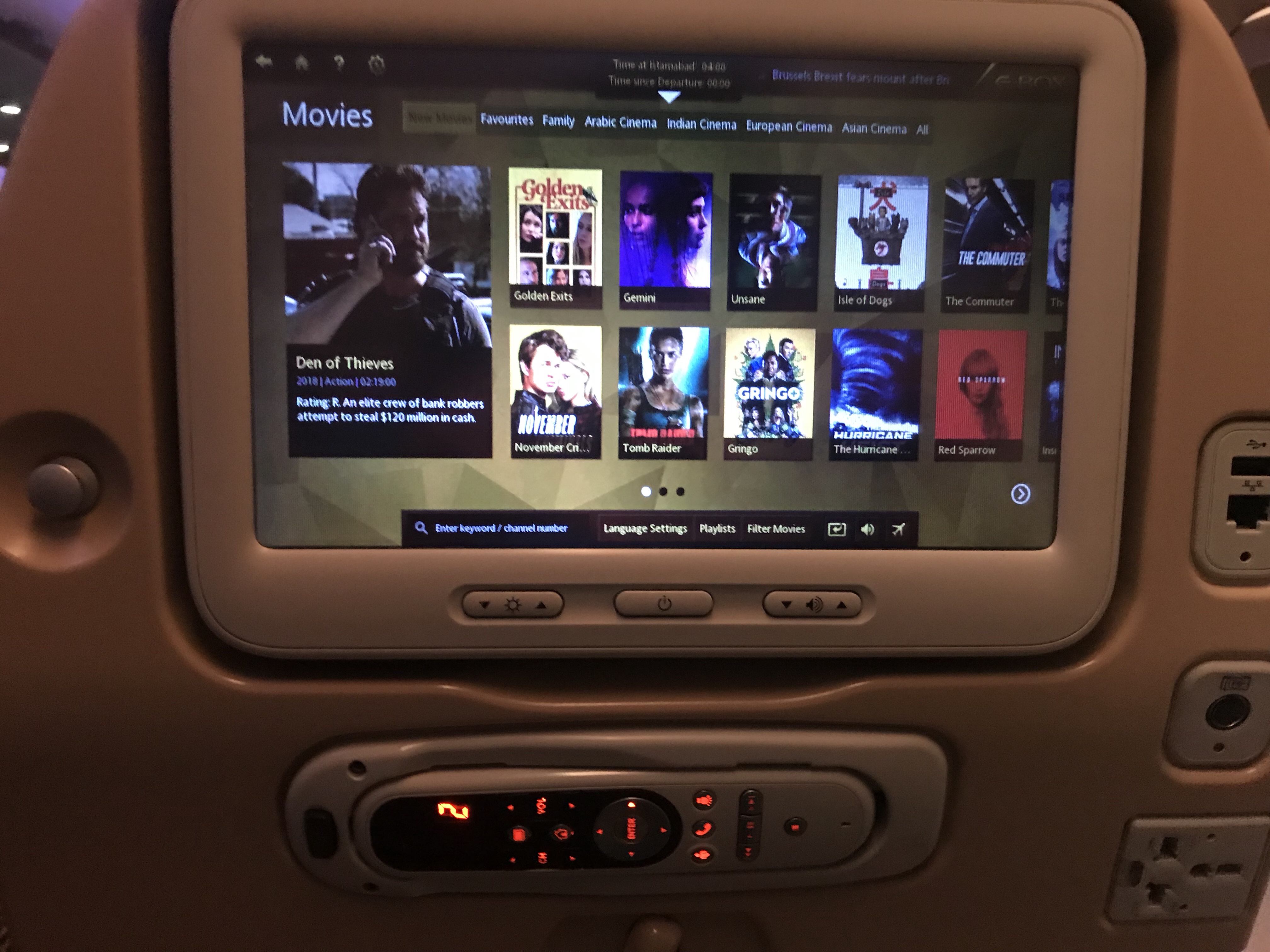 The IFE was good but there were very few latest movies. The worst part was that during lading and take off the IFE was switched off.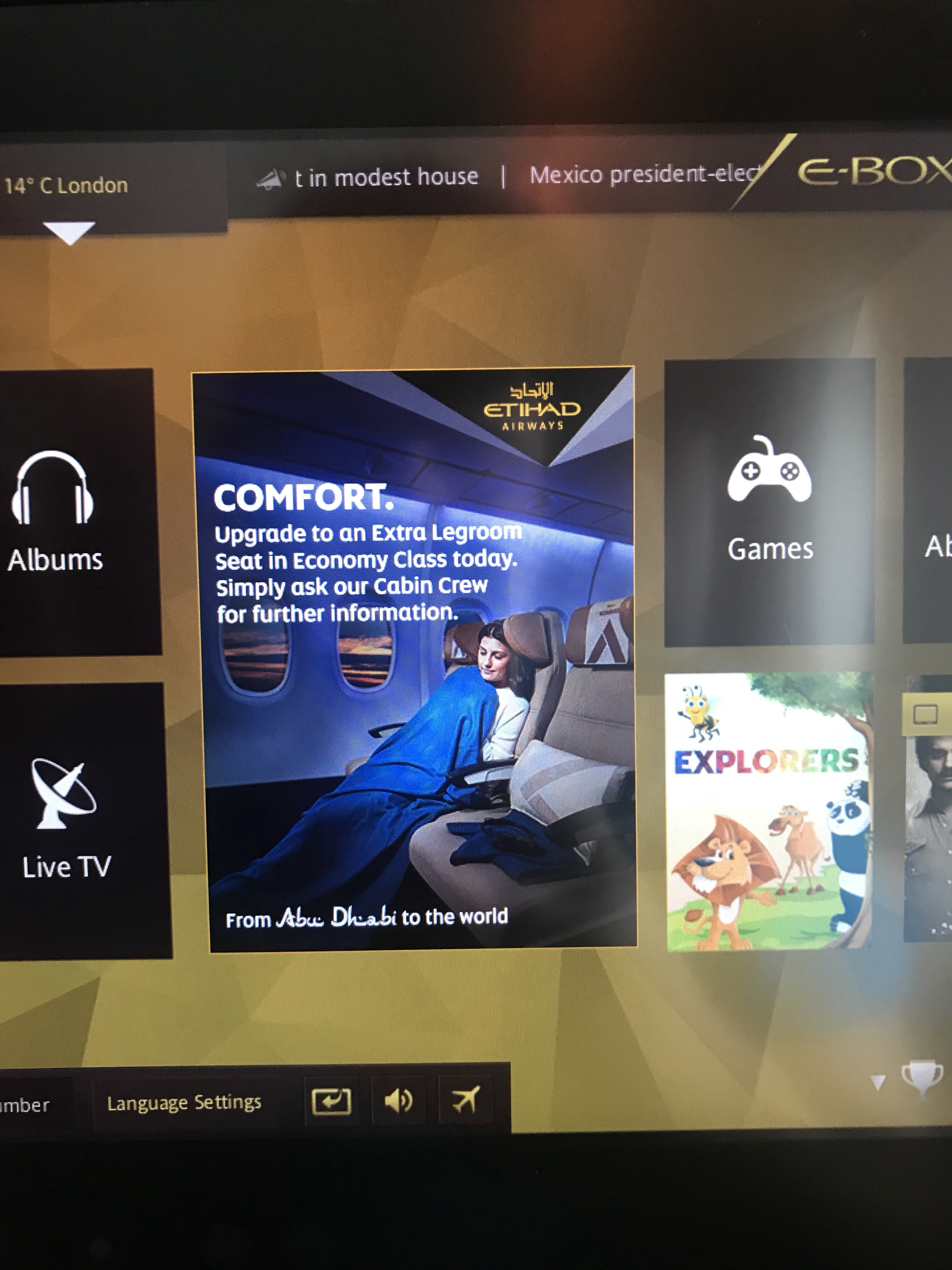 There was a UK charging port on Airbus A330 and A380 as well as a USB port. The internet on the UK flight just didn't work and it was a total waste of money.
Outside aircraft: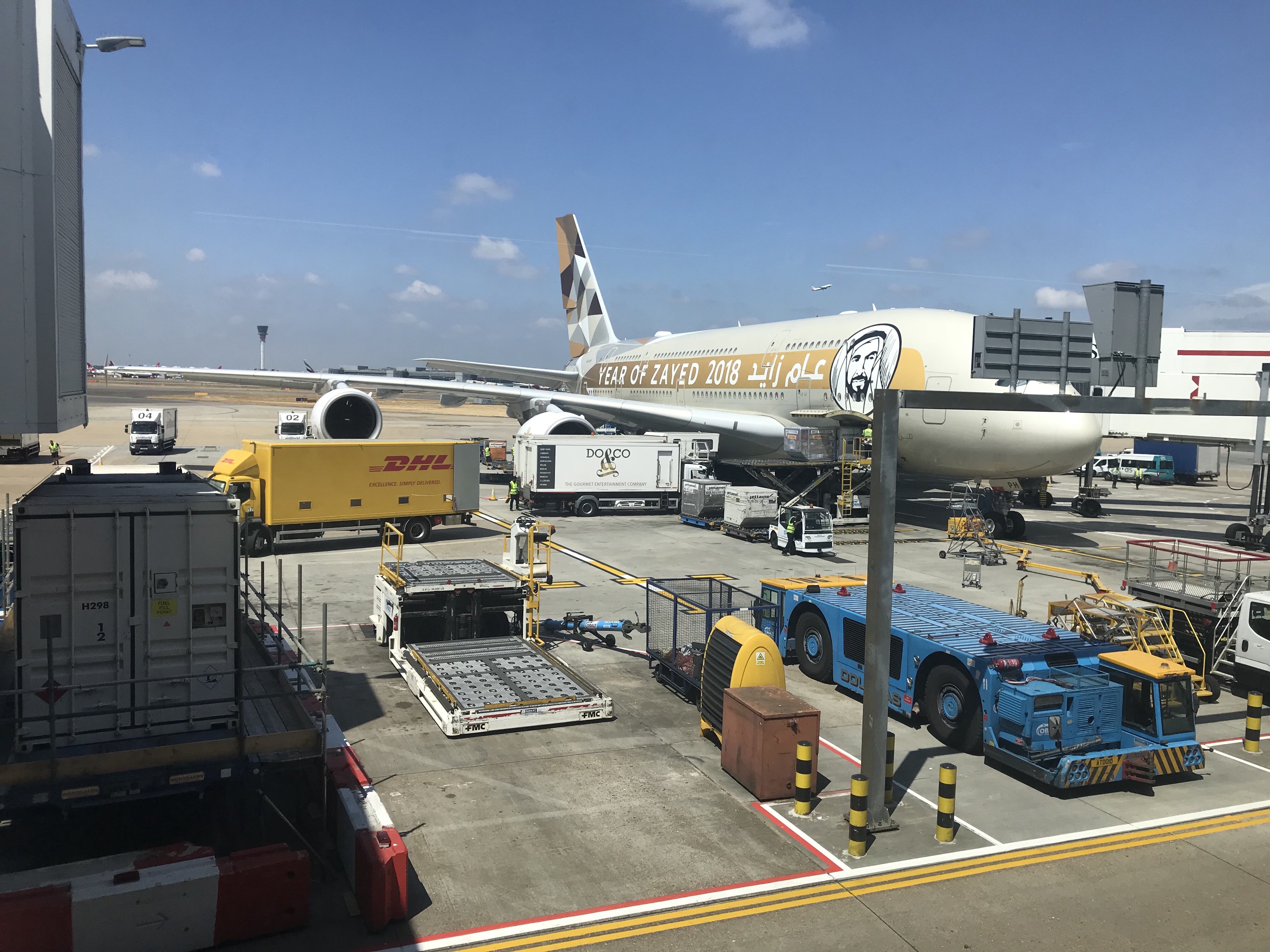 Etihad and its service from Pakistan were never the best. Just like most Gulf carriers, its service to Pakistan is almost opposite to what they offer on their European routes. The same was the case with Etihad.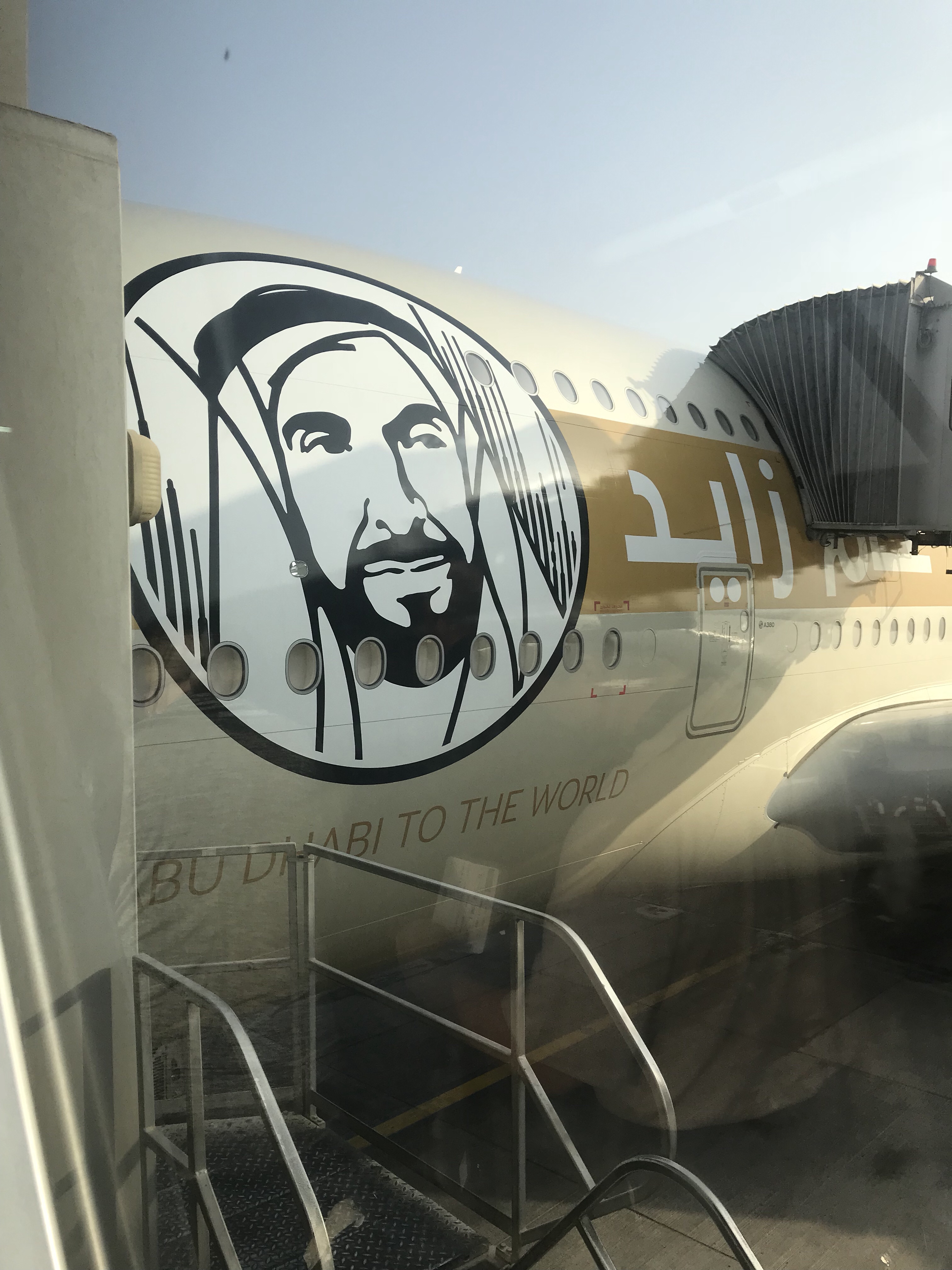 For a traveller who enjoys service, this was a huge disappointment. I will try to avoid flying Etihad again if and when I can.
Flight experiance

Food and Beverage

Crew and the service they provided

Inflight entertainment

Check in & Outside aircraft
Summary
The food from Islamabad to Abu Dhabi and the different ways passengers are handled on Pakistan to Abu Dhabi and from Abu Dhabi to London made it a disappointing experience.