We have done flight reviews for all domestic airlines but Airblue so here is our first Airblue flight review. Samee Chaudhary who is a great writer and sports analyst travelled on Airblue flight 412 onboard Airbus A321 and wrote this review for us. Airblue is currently the only airline that flies thrice weekly from Lahore to Sharjah. So here is what Samee thought of the flight.
After almost a duel against Lahore's peak time traffic, when I reached Allama Iqbal International Airport, it was 20:30 PST. The flight was bound to take off at 2300 hrs. With my baggage, I rushed through the custom and immigration counters to make it well in time. But all that haste and hurry had to evaporate when I finally came to know that the flight was delayed by half an hour.
I regretted entering the Non-Smoking premises too early. You can smoke at least one more in 30 minutes. Can't you?
So then bound to leave at 23:30, the plane didn't even arrive until 2300 hrs. I went to the information counter just to make sure if there was really an Airline named Air Blue or if there was actually a plane bound for Sharjah tonight and all that flight info wasn't a prank. Obviously, you all can't be sitting in the waiting lounge 20 minutes before the announced departure time. The lady at the counter, extremely tired and probably sleepless since months, served quite a cold response to my query, "jahaaz abhi aaya nahin, boarding kahaan sey karwaeyn?"
The plane hasn't yet arrived, where should we board you guys?
The flight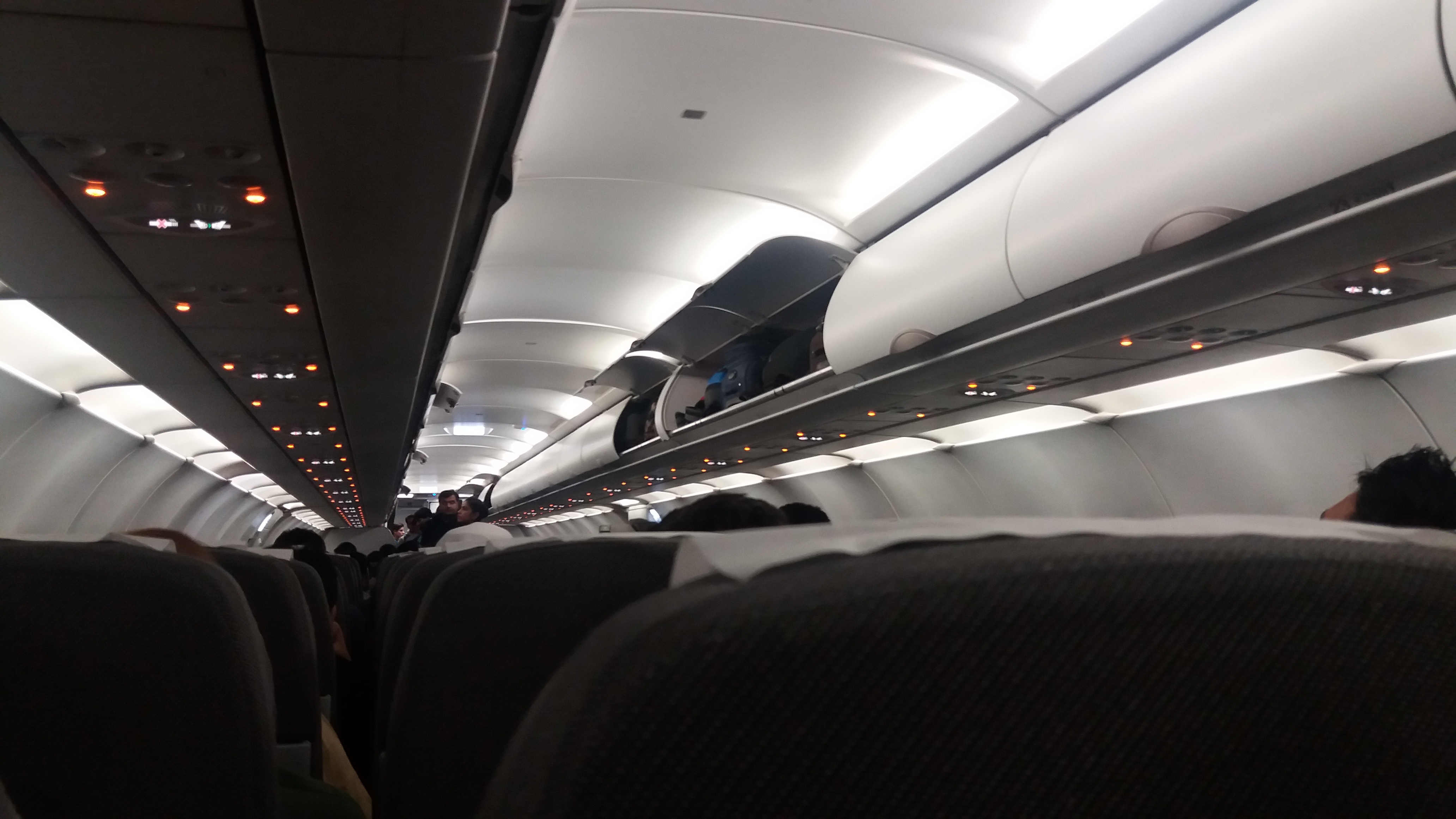 Eventually, boarding began at around 23:30 and we took off at 00:03. As usual, there was a formal apology for the delay and, as always, the reasons cited for this inconvenience were purely "technical". The word "technical" comes across as a saviour in all walks of life because it leaves no room for questioning at the receiving end. You can't really challenge those technical reasons and you can't even ask why 200 people had to waste one hour each of their lives, collectively wasting 200 hours of human race.
Seats, as in most economy class flights, were good enough to keep passengers on their toes. Seated there, we felt like we were some ancient species of marine life, biologically bound to spend a sedentary life. There was no room for movement. In a way, the congestion was helpful that even if you forgot to fasten your seat belts, you'd be out of any dangers resulting from occasional turbulence.
Though in PA 412, the turbulence was a norm rather than oddity. Probably, the turbulence resulted from overdoing to make up for the time wasted. Or maybe there were some technical reasons here too. (Return flight had 90% less turbulence in identical weather conditions.)
Food and beverage: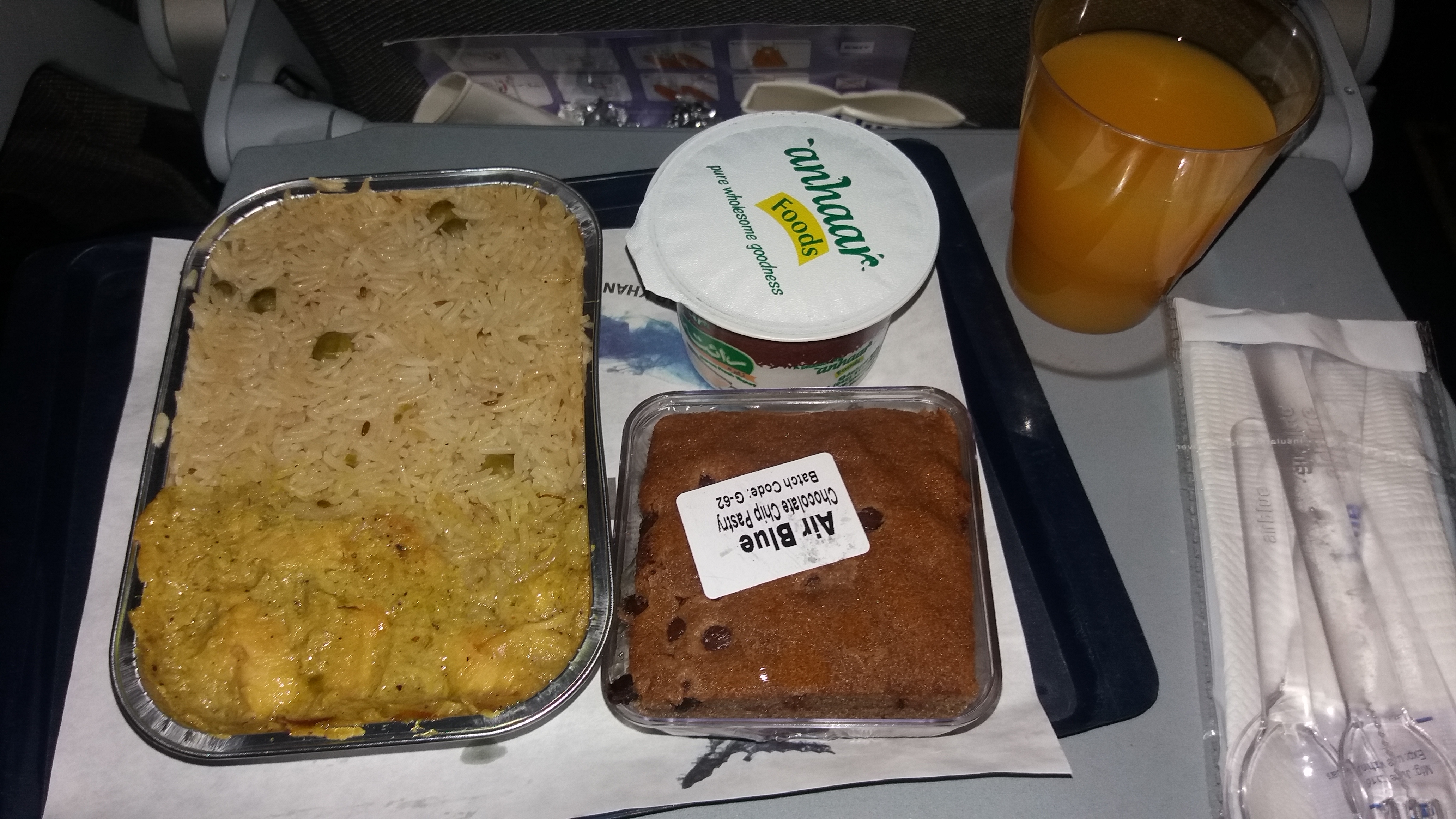 Supper was served more than an hour after the departure. A box of vegetable rice layered over chicken curry was accompanied by a donut and a variety of beverages. The food was average both quality wise and taste wise. I took tea which was also average.
Cabin crew and service: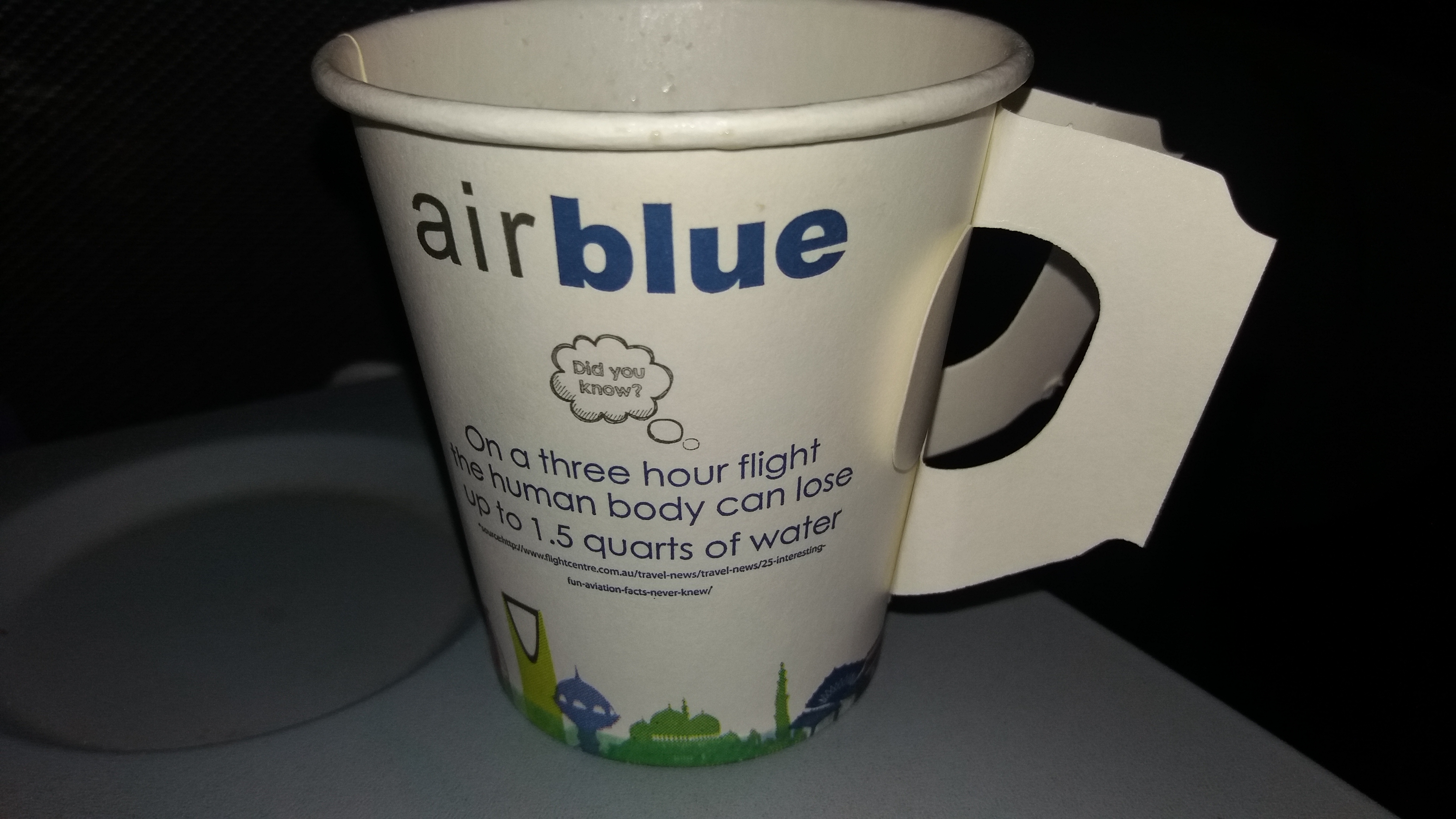 A guy sitting next to me was asked by the hostess, "Do you need tea or coffee?" Half asleep, he responded only with a nod. To this, with a frown she said, "Kyaaaaaaa?" Apart from that one odd moment, I found the cabin crew dealing things politely.
Inflight entertainment: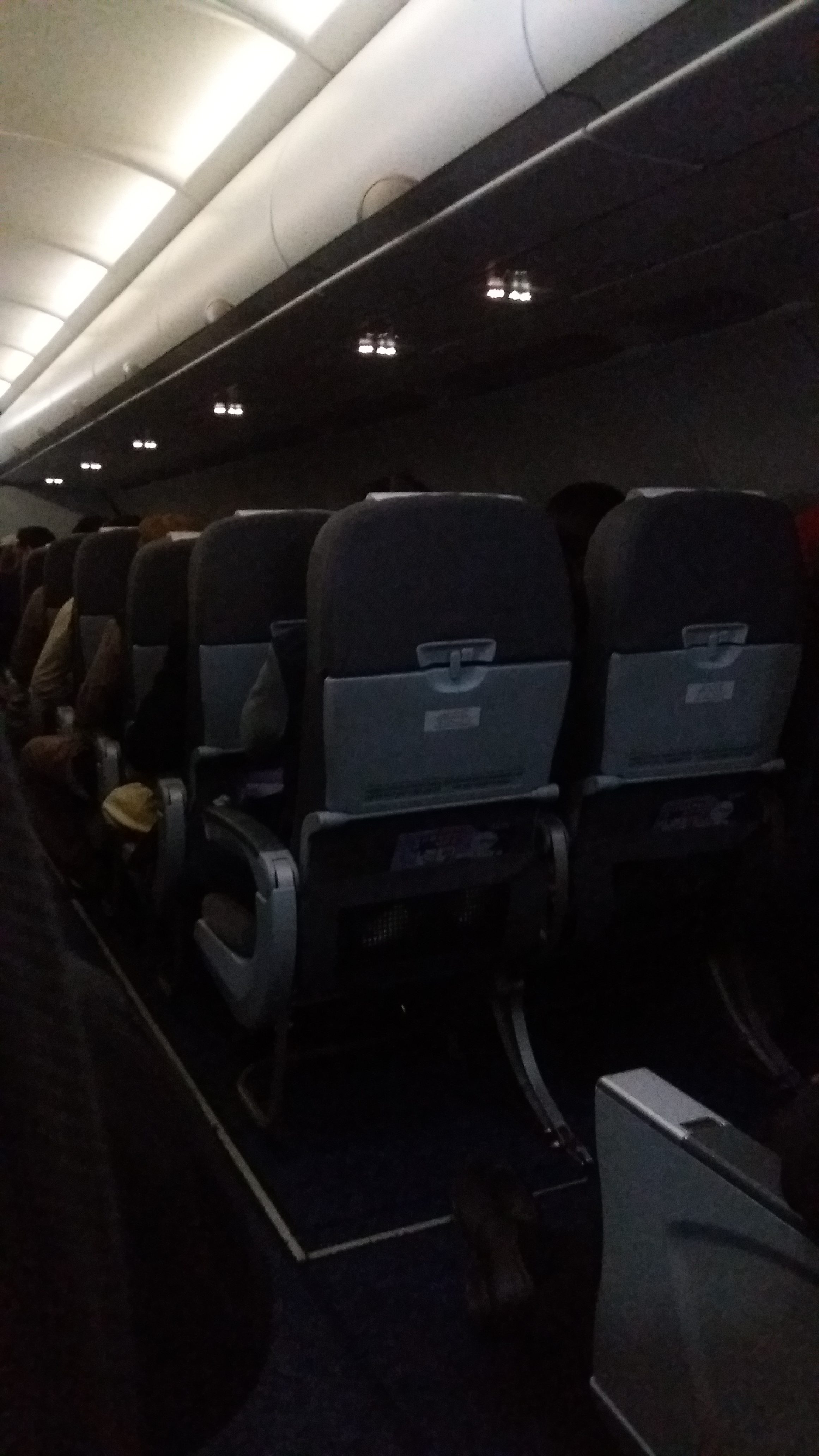 You'd be doomed if you forgot to pick your hands-free or charge your cell-phone before boarding an Air Blue flight. No IFEs were available. Neither was there any audio entertainment on offer. You'd be lucky if you had an iPad or some visual entertainment stored on your own devices. Don't forget to fully charge your cell-phones next time you board an Air Blue flight. For it would be your only source of entertainment there.
Outside aircraft: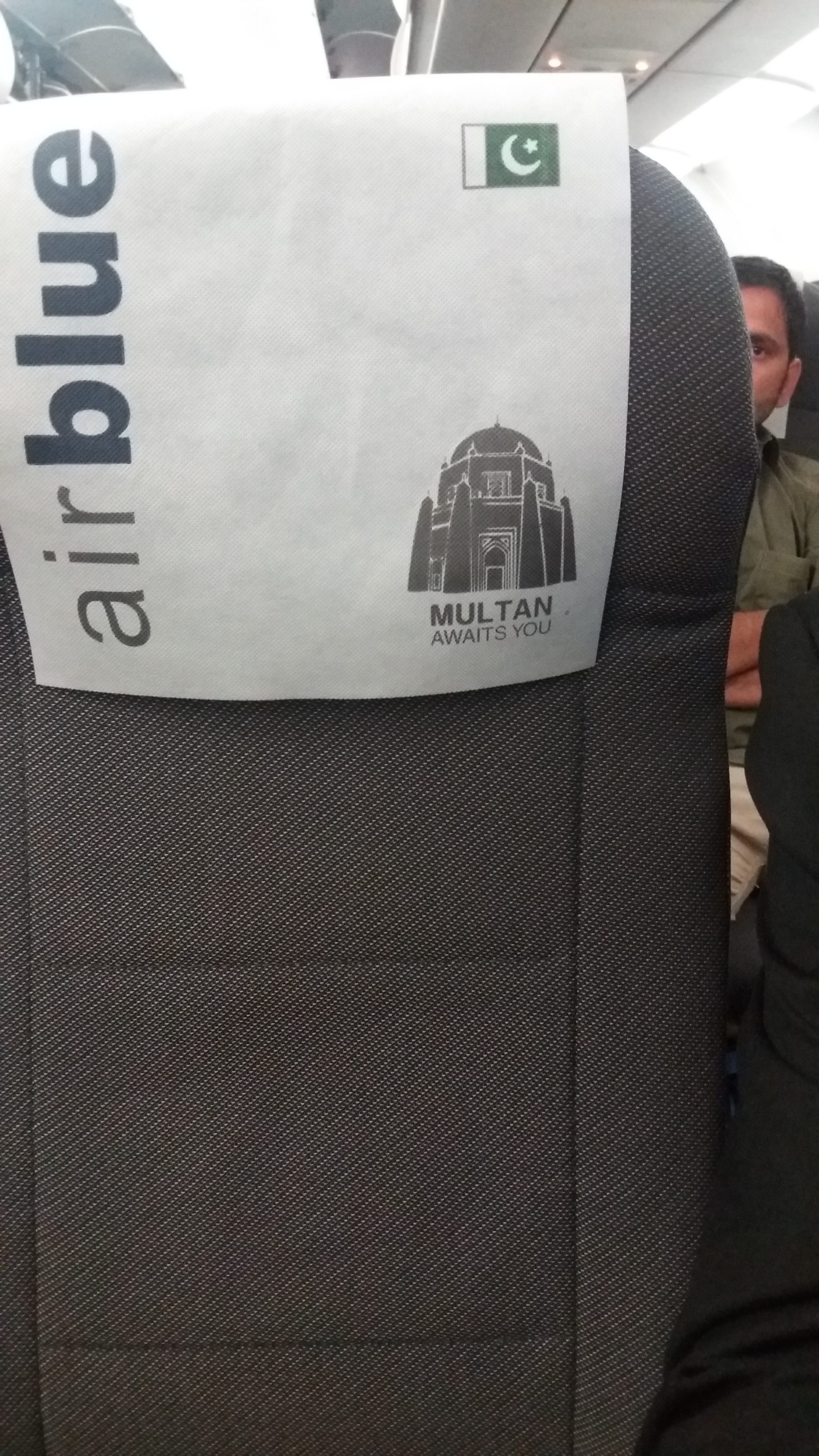 When the flight landed, it was 3:15 am in UAE. Again, before landing, there was a routine announcement thanking us, the passengers, for our choice of Air Blue. And, hoping against hope, there was this assumption that we'd keep choosing Air Blue again and again. We were also told that we'd be provided with comments cards if we needed to suggest or advise something for services' improvement.
A lady in blue travelled all the way through the aisle, with cards in her hand like a vendor, asking all if they needed to comment on the service. None bothered. Maybe, all of us thought our comments won't make a difference.
Flight experience.

Food and Beverage

Crew and service

Inflight entertainment

Outside aircraft
Summary
This flight score is